I looked up from my yogurt and fresh fruit just as a wonderfully strange bird landed on the low wall around the rooftop of Beit Sabee Guest House. The Hoopoe is a fairly common bird in Egypt, but I'd never seen anything like it. His red-crested head swept backward to a perfect point, while his long stiletto beak arced downward – two ends of a double-tipped javelin. One beady black eye peered at me with curiosity. Slowly, I picked up my camera and snapped a photo. Seconds later he unfolded his peach and black-striped wings and launched off the ledge into the vast sepia-colored plain on the West Bank of the Nile River.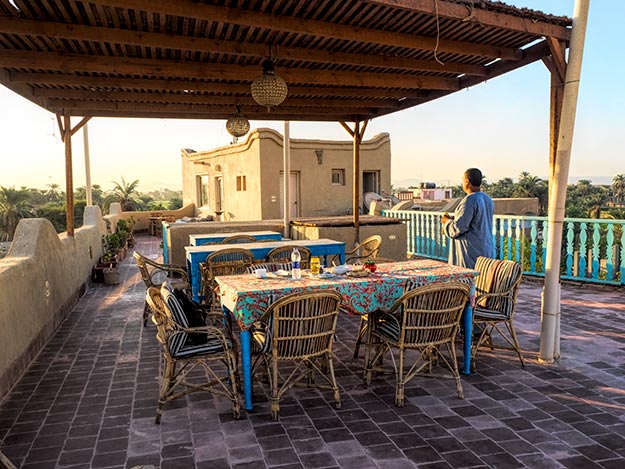 I closed my eyes, leaned back, and basked in the sunshine. The rich fragrance of fresh-ground coffee suffused the air. A light breeze rustled fronds of the date palms in the surrounding gardens. Scores of unseen birds chattered and chirped. I was utterly at peace. A faint whooshing sound interrupted my reverie. Perhaps a leaf blower, I thought. A few seconds later, I heard it again, this time louder. "What is that?" I wondered. The third time was so loud that I jumped and opened my eyes. So close I could have reached out and touched it, an enormous hot air balloon floated past the rooftop and into the desert.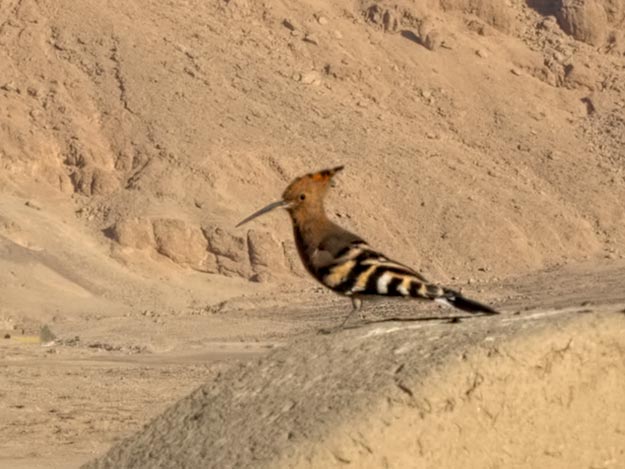 I could have spent hours lounging on Beit Sabee's rooftop patio, but the fabulous Egyptian temples and tombs of Luxor beckoned. Fortunately, I wouldn't have far to go. Many of the famous tombs of Luxor were within easy walking distance of my guest house. I began with Medinet Habu, just a short stroll down a sand road. Located somewhat off the beaten track, few tourists bother to visit this site, which is a huge mistake. Medinet Habu was the Mortuary Temple of Ramesses III, the last of the great pharaohs of Egypt. Unlike other archeological sites in Luxor, the intricately carved walls of Medinet Habu are largely still intact, and many of the original paintings are clearly visible. I had the complex all to myself for nearly an hour, before I stepped into the fray.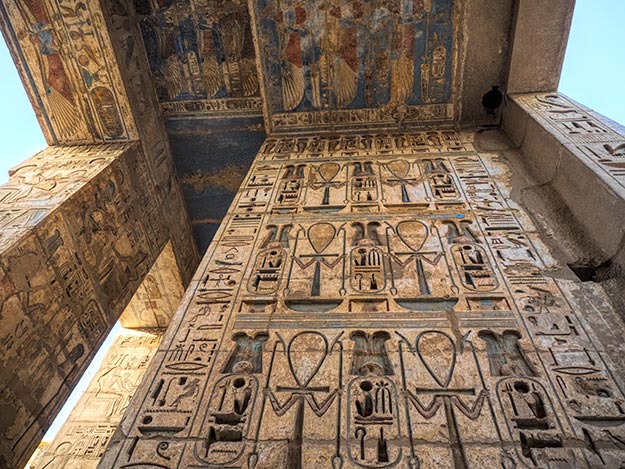 The first tout attached himself to me on the road outside of Habu Medinet. "Habibi, I remember you from last year! You remember me? I will arrange best price for you." I didn't have the heart to tell him I'd never been to Egypt before. Instead, I answered, "Such a good memory you have! I'm sure you also remember that I don't want a guide." He harangued me right up to the ticket booth, walking away dejectedly only when I pulled out money.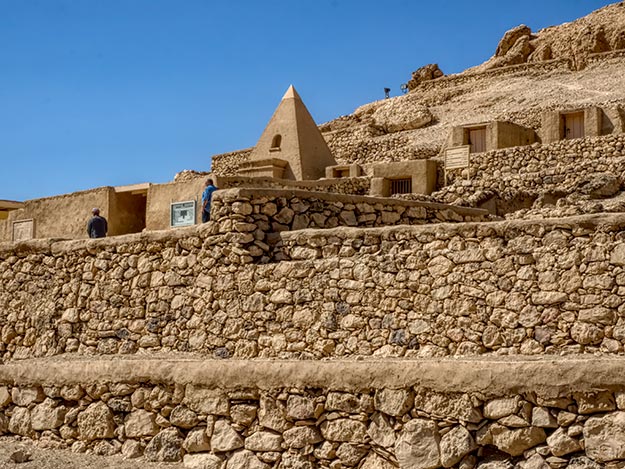 Tickets in hand, I headed up the desolate hill under a scorching midday heat. Tucked into a niche near the top was Deir el-Medina, the Valley of the Artisans. This ancient Egyptian village was home to the artists who constructed and decorated the tombs in the Valley of the Kings. Initially, Egyptians believed that a deceased pharaoh would ascend to the sky and dwell among the stars. By the Middle and New Kingdoms, a more elaborate creation and rebirth myth had developed. The Sun God, Ra, was believed to travel through the underworld each night. Ra's dawning each morning signified rebirth and renewal.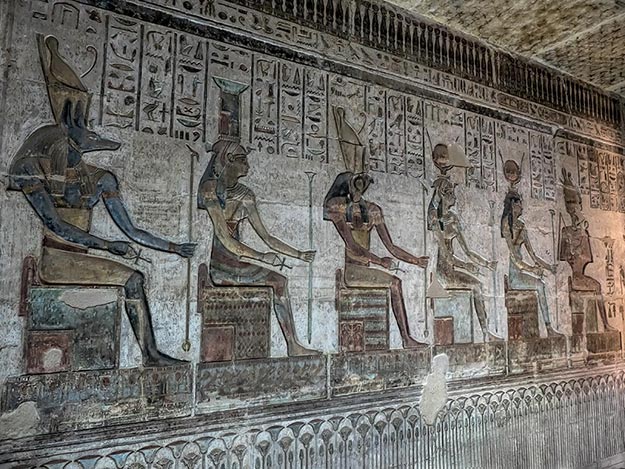 Like Ra, the life force of humans was believed to endure after death, thus burial tombs were required to contain everything necessary for the survival of the body as it journeyed through the underworld. These items were either placed within the burial tomb, or carved or painted on the walls. Due to the important nature of their work, the artisans who decorated the tombs were held in high esteem. They were paid in food rations equal to three times the salary of an average laborer. They had six days off each month, and during this free time they were allowed to work on their own tombs. As a result, many of the tombs at Deir el-Medina are just as elaborate and stunningly decorated as the royal tombs.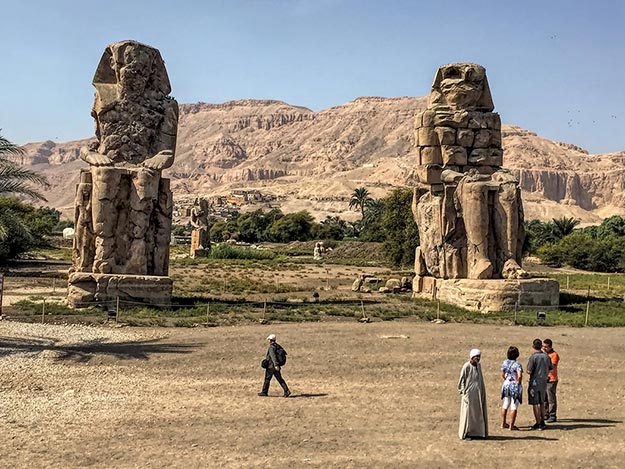 The Tomb of Sennedjem was one such crypt. I noted the sign that said "NO PHOTOS" in big block letters above the entrance. I was disappointed, but understood the need for preservation. I slipped my camera back into my bag and cautiously descended into the darkened tomb via a steep rock-cut stairway. At the bottom, a tout awaited. He led me down a long corridor and into a crypt where the walls were covered with gold leaf paintings of barques (royal boats), wheat harvests, gods, ceremonies, hieroglyphics, and more.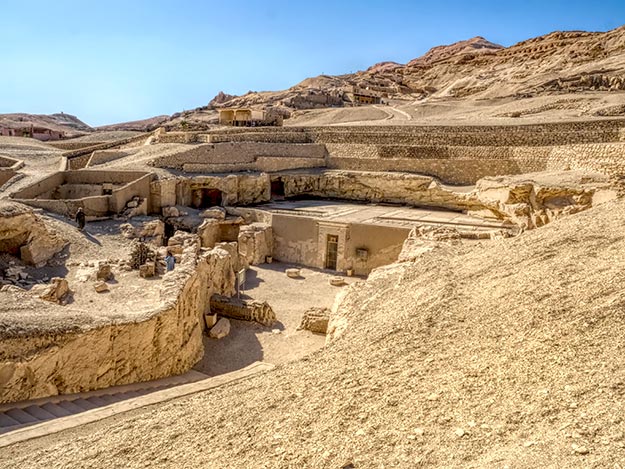 Once we were out of sight of the authorities, he offered to let me take a photo. He put his forefinger to his lips and held out the other hand. The message was clear. I was expected to pay a bribe – baksheesh – for he privilege. "How much?" I asked. 'Little, little," he said. "But hurry, before someone comes." I handed him a small note and snapped a couple of photos, delighted that I'd been so lucky.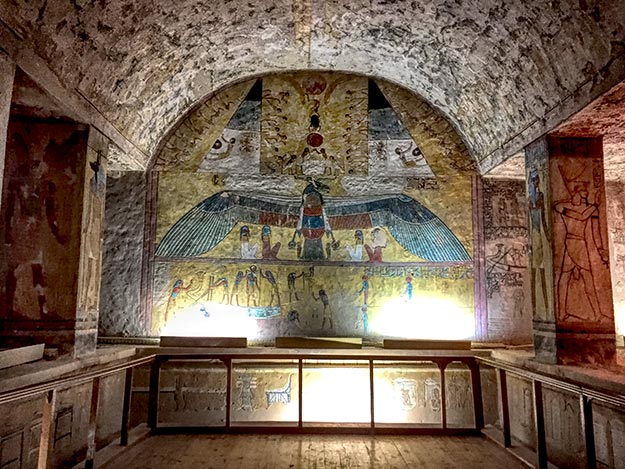 I soon found out that luck had nothing to do with it. Every tomb broadcast the same NO PHOTOS warning, and a baksheeh-soliciting tout waited at every entrance. The word went out that I had paid up. Soon, I couldn't take ten steps without being harangued. One tout followed me a half-mile, from the Tombs of the Artisans, through the Tombs of the Nobles, all the way to Ramesseum Temple. He finally believed me when I said I had no more money, but no sooner had he left than another sidled up to me. The new one was old, with a deep-creased, leathery face and such skinny limbs that I wondered how he could stand up. He smiled broadly and his eyes crinkled up. I couldn't turn down his offer of a tour.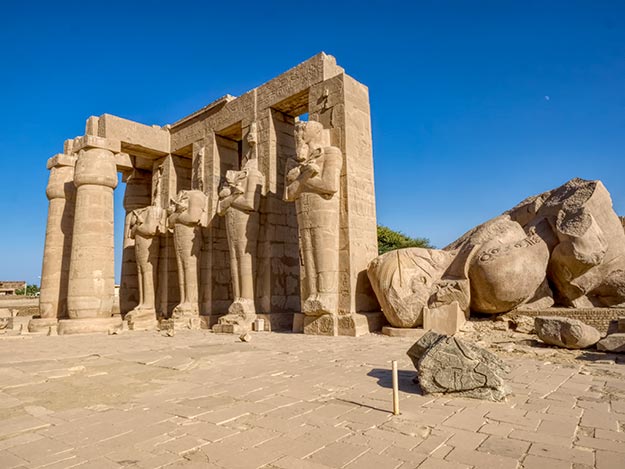 An hour later, exhausted, I hailed a taxi and headed home. Serenity descended on me the moment I stepped back over the threshold of Beit Sabee Guest House. I collapsed on a sofa in the open air courtyard and didn't move for half an hour. After dinner, I retired to my room, with its huge bed and Nubian-inspired decor, and fell into a deep sleep.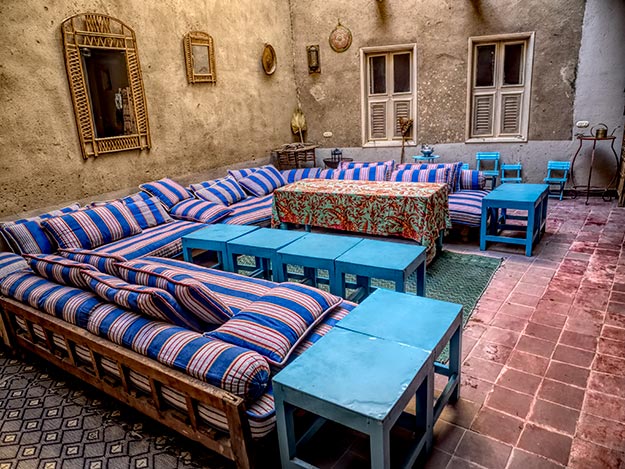 The following day I was smarter. I asked the owners of my guest house to arrange for a tour guide and driver, who would take me to the Valley of the Kings, Karnak Temple, and the Luxor Museum. With the guide by my side, not a single tout approached me, and I learned a great deal more about ancient Egyptian culture than I had the previous day. Moral of the story: Don't try to go it alone when touring the ancient temples and tombs of Luxor.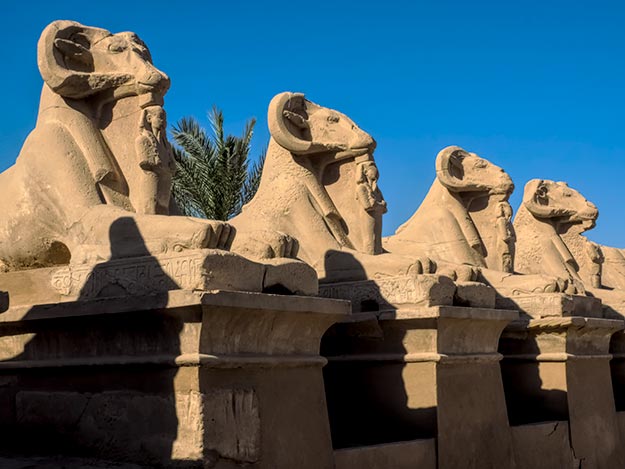 Disclosure: My Nile River Cruise was partially hosted by Nour El Nil Cruises, which also owns he fabulous Beit Sabee Guesthouse. However, the receipt and acceptance of complimentary items or services will never influence the content, topics, or posts in this blog. I write the truth, the whole truth, and nothing but the truth.