Last fall, I met an Omani man at my guest house in Delhi, India. When he learned I was a travel writer, he began to gush about Oman. "You must go! It is so beautiful. Muscat is gorgeous and people are so friendly." I was sold. I added Oman to a list of Middle Eastern countries to visit this spring.
I arrived in Muscat, the capital of Oman, on a balmy March evening on the heels of visiting Dubai in the UAE. I'd thoroughly enjoyed my time in Dubai and, if reports I'd read on the Internet were any indication, I'd be even more wowed by Oman.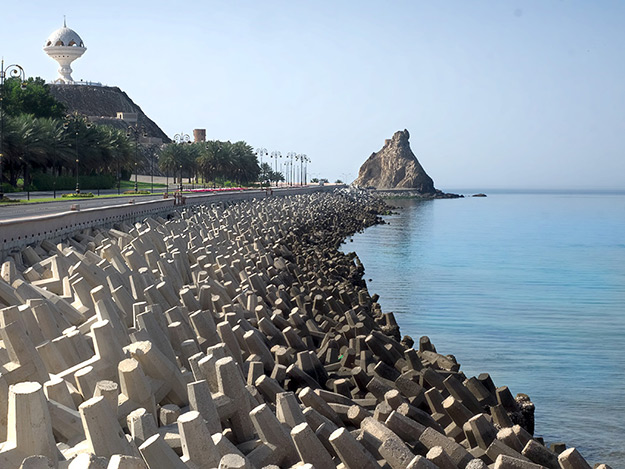 My first inkling that Oman might not be all that I hoped came a few minutes later. The driver of the taxi who met me at the airport started asking what I wanted to do in Muscat. I replied that I'd begin by taking the hop-on, hop-off Big Bus in order familiarize myself with the sprawling city. "Oh no! You don't want to do that. It's really expensive and you have to wait a long time between buses." His warning was quickly followed with a sales pitch. He could show me everything I needed to see in half a day and it would cost only $65.
I wasn't interested. As a photographer, I often need to wait for the right light, or for crowds to clear in order to get the best shot. As a writer, I must be able to roam at my own pace, soaking up the atmosphere, talking to locals, and musing over story angles. Being tied to a tour where I'm allowed 15 or 20 minutes at each stop simply doesn't work. I politely declined, but he wouldn't take no for an answer. Trapped in his vehicle, I suffered the hard sell all the way to my hotel.
It was late and I was exhausted by the time we reached my hotel. I wanted nothing more than to fall into bed and sleep for ten hours. But my room fronted on a six-lane highway and the traffic noise was so bad I knew sleeping would be impossible. I asked for and was given a second room…which had a balcony with sliding glass doors that would not lock.
As a solo female traveler, I have a few non-negotiable rules for staying safe. One of them is never to stay in a room where the doors won't lock. Once again, I asked for my room to be changed. The third try was even worse. The room reeked like a dead animal and there were dark brown spots on the carpet the size of dinner plates. I'm sure the Filipino staff hated me by that time, but I had to demand a fourth room, which was finally acceptable.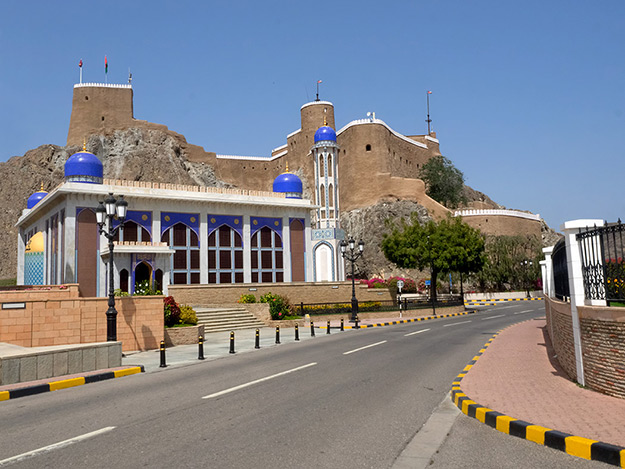 My experience did not improve over the next five days. I began in Old Muscat, where the only interesting sites among a sea of whitewashed buildings were the Al Alam Palace and two 16th-century Portuguese forts. None of which were open to the public. With everything closed during the midday heat, streets of the old town were deserted. The only sign of life was four Omani men wearing the traditional Omani Dishdasha, an ankle-length white caftan, and round embroidered caps known as kumma. They strolled slowly down the middle of the street, eventually disappearing into one of the brilliant white palaces. Little did I know this would be the closest I would ever get to Omani culture.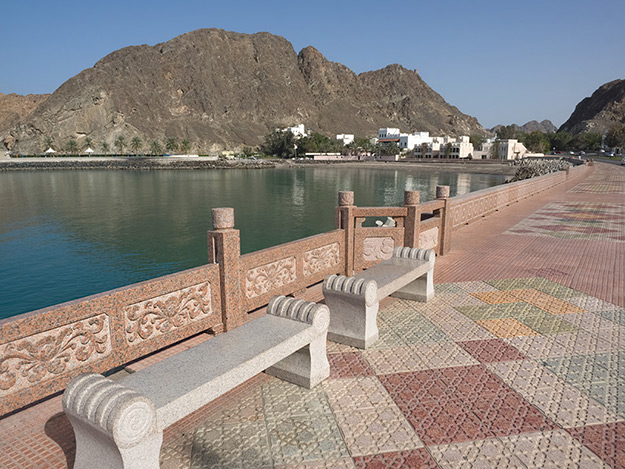 Dejectedly, I turned my back on Old Muscat and headed back down the 4-mile Corniche. It was a beautiful seaside walk, but as in Old Muscat, everything along the way was closed. I arrived at the Mutrah Suq just as the market was opening for the evening and ducked inside to wander its cool narrow alleyways. Like any other market in the world, merchants hawked wares ranging from gold to spice to pashmina shawls. But every single one of the shop owners was an immigrant. I met friendly Pakistanis, Filipinos, Bangladeshis, and even Nepalis. But not a single Omani was to be found.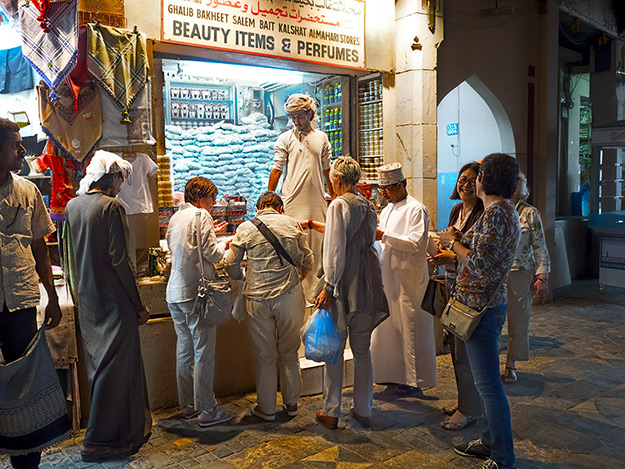 On day two I fended off multiple pushy taxi drivers, found the Big Bus stop, and sat down to wait. The bus arrived fifteen minutes later, but I wasn't allowed to board. A cruise ship was in town and the company was busy shuttling passengers back to the ship. When the next bus finally arrived, it did an "abbreviated" route that ignored some of the stops shown on the company's website.
We were well past the beach by the time I realized the driver had skipped it. My only option would have been to go all the way around and wait for the next bus. By that time it was too late. Even if I took a quick stroll on the beach and grabbed a late lunch, I would miss the last bus back. And a taxi back to the hotel would set me back another 25 bucks.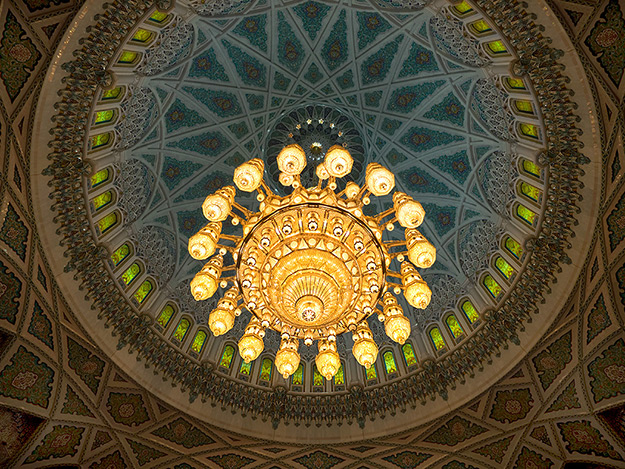 My Big Bus ticket was for two days, so I set out early the next morning. I was beginning to suspect that there was little to see or do in Muscat, and the Big Bus tour quickly confirmed my worst fears. Strangely, the two most visited sites, the Muscat Opera House and the Sultan Qaboos Grand Mosque, were not even included on the route. Unlike the hop-on, hop-off buses I've taken in dozens of other locations around the world, this one was a total rip-off. I did manage to see the mosque when a lovely French Canadian family at the hotel invited me to accompany them in their rental car. Good thing, too, because the taxi driver I'd hired to take me didn't show up.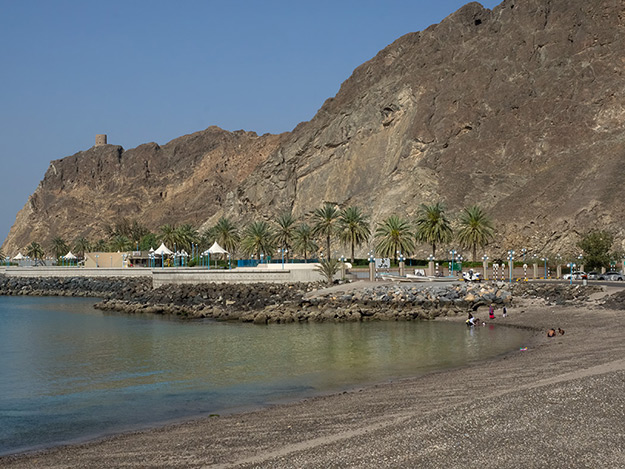 For the remainder of my time in Oman, I decided to focus on day trips outside of the capital city. I'd read about jeep tours in the surrounding Sahara-like dunes, off-roading through rugged mountain scenery, and wadis where hidden emerald pools offer opportunities for a cool dip. I tried my favorite go-to booking site, GetYourGuide, and even Viator, without success. Not only are tours in Oman extremely expensive, the minimum number of participants for any tour was two people. As a single person I would have had to pay double, even if other customers joined the same tour. The cheapest option was $250 for a half-day trip to a wadi. I just said no.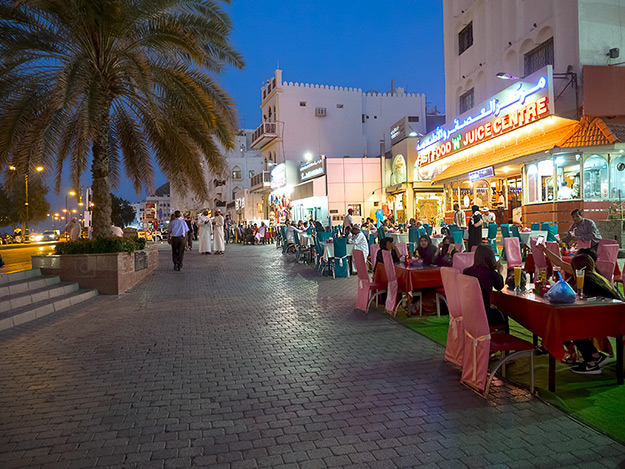 I spent my last day wandering around the Mutrah area, eating horrible fast food and trying to meet locals other than taxi drivers. The only Omanis I found were squatting on the sidewalk in front of a sand pit, playing an ancient game known as hawalis. The chess-like game involved moving a series of pebbles among four rows of holes dug in the sand. The men refused to acknowledge me and even my requests to take a photo went unanswered. Lacking denial, I snapped the photo. I stood there a while longer, trying to decipher the rules of the game, but their snub made me increasingly uncomfortable. I later learned the centuries-old game, which is just as incomprehensible as the local culture, is exclusive to Oman.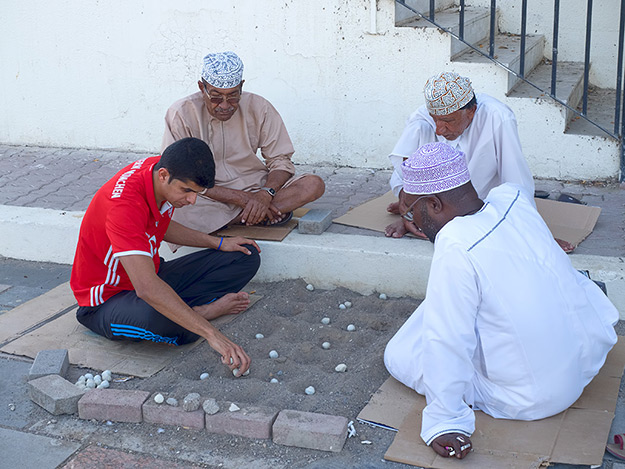 Others may wax lyrical about Oman, but the only friendly people I met were immigrants. And the countryside may indeed be beautiful, but since all the tours were exceedingly expensive, I never saw it. There is no published information about bus routes and no rapid transit. Even renting a car is problematic. My new French Canadian friends told me horror stories about getting lost in the interior on roadways completely devoid of any directional signs. Oman doesn't have a clue how to handle tourism. Until it does, I can find lots of other places to spend my money.
Author's note: Since publishing this article, I have been flooded with comments from travelers who love Muscat. I'm the first to say that different places resonate with different people. I may not want to return, but those of you who are intrigued by Oman as a destination may find both this comprehensive travel guide to Oman and this 10-Day Oman Itinerary helpful.