The bus braked suddenly, jolting me awake. I blinked rapidly, trying to reconcile the scene outside my window. Somewhere between Agra and Delhi, India, hundreds of sheep crossing the highway had brought us to a dead stop. Slender women draped from head to toe in black gauze walked gracefully among the animals, prodding them with wooden staffs. Ever so slowly, the bleating flock meandered to the opposite side and we resumed our journey.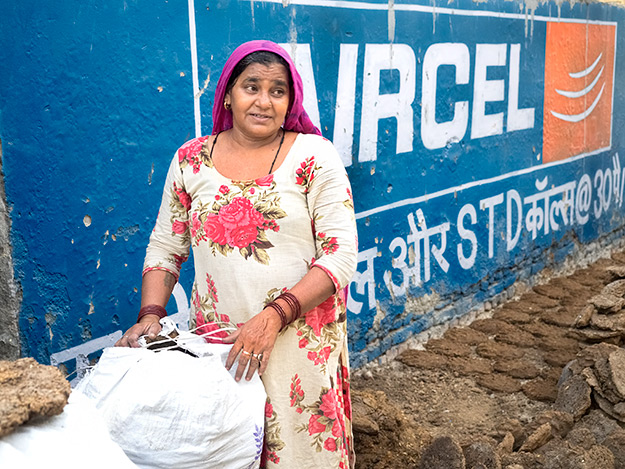 I was amused but not surprised. After eight days in Delhi, nothing shocked me. Raw sewage ran down the center of dirt lanes where houses had no access to water or proper sanitation. Women sat by the roadside pounding cow and buffalo dung into patties for use as fuel and fertilizer. Men urinated against walls in public places. Carry-wallahs toted enormous loads on their backs from one end of the city to another. And everywhere, every moment, men hawked food and merchandise from Lilliputian storefronts that lined the roads.
What did surprise me was how quickly I adapted to India. Initially, I was wide-eyed at the sheer mass of humanity. On my second day, my hosts at Prakash Kutir B&B took me to visit their lace manufacturing factory. Six lanes of traffic choked the three-lane highway, with no one paying the least attention to lines painted on the asphalt. When I remarked about it, Sagar replied, "Oh, lanes are only there for the few foolish drivers who choose to pay attention to them." I later learned that there is no such thing as driver's education in India. Young men (and increasingly, women) teach themselves to drive. There is also no formal driver's licensing process. Most people simply pay a bribe to be issued a license, which explains why all vehicles, from the oldest moto-rickshaw to the newest luxury Mercedes, are scraped and dented.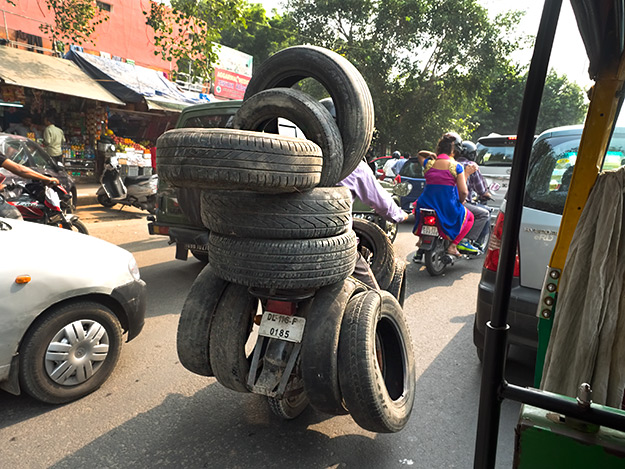 A few days later, when a motorcycle laden down with three compete sets of car tires whizzed past my moto-rickshaw, I didn't even blink. One evening in Old Delhi, I got caught in a crush of shoppers making last minute purchases for the Hindu festival of Diwali. Eager to escape the crowd, I headed for the opposite side of the road. Halfway across, I was trapped between yellow metal police barriers that funneled pedestrians into a narrow gap.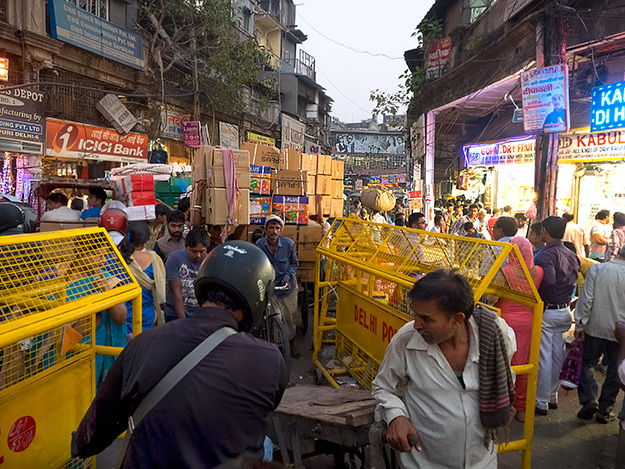 Torrents of traffic hurtled by in front of me. Behind me, a tsunami of people piled up. Suddenly, a motorbike roared up and bullied its way into the narrow pedestrian area. The biker abruptly turned left in front of me and got stuck on a low metal barrier separating the lanes. Over and over he revved the engine, trying to force his way across. Vendors with pushcarts inserted themselves into the fray and shoved past the paralyzed biker. I looked up from his spinning wheels and realized that a cycle rickshaw carrying a mountain of teetering boxes was bearing down on us. Instinctively, I grabbed the back seat of the motorbike and shoved. Three more people joined in and with one last roar, he was up and over. I scampered through the Gordian traffic knot to the other side of the road…and never gave it another thought.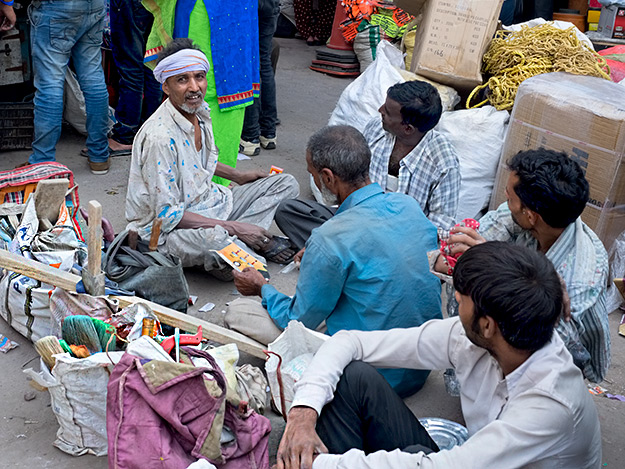 By the time I departed from Delhi India, my wide-eyed wonder had evaporated into the ether. Workers sitting cross-legged in the street, waiting to be hired for the day, seemed normal. Motorcycles whizzing by with inches to spare no longer made me jump. I stopped squirming whenever women in exquisite silk saris walked blindly past beggars with stumps for legs. Even the buffalo and cows that roamed the streets ceased to startle me. As I sat in that bus on my way to Agra, I marveled over the human capacity to adapt and survive, even in the most challenging of circumstances. Little wonder, then, that a herd of sheep blocking the highway seemed humdrum.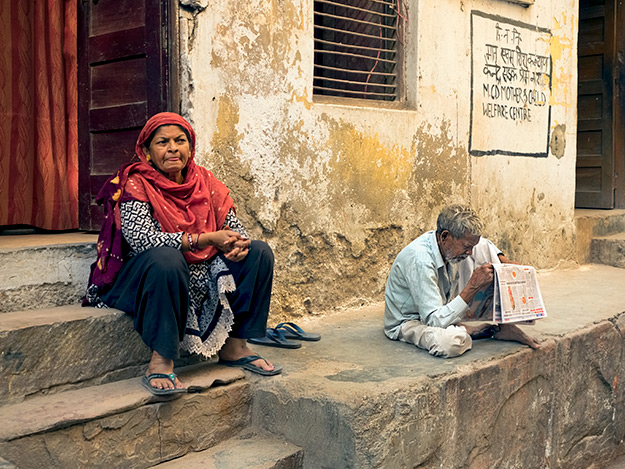 Disclosure: I was a guest of Prakash Kutir B&B during my visit to Delhi. However, the receipt and acceptance of complimentary items or services will never influence the content, topics, or posts in this blog. I write the truth, the whole truth, and nothing but the truth. They truly are an exemplary B&B/Homestay in Delhi.