There's a lot of chatter these days about cultural immersion and authentic travel experiences. One of the best ways to have such experiences is to stay in a local home or a B&B. I've traveled the world for the last ten years, staying in dozens of local homes, and I can tell you with authority that not all homestay properties are created equal. Every once in a while, however, I come across a gem like Prakash Kutir Homestay in South Delhi, India.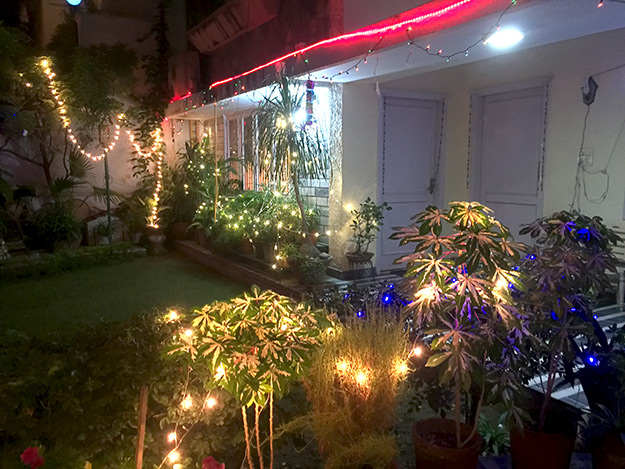 I first learned about Prakash Kutir B&B/Homestay in September 2015, when owner Ajay Gupta contacted me by email:
"I would here like to take this opportunity and introduce myself and my family as homestay owners in the heart of South Delhi, India which goes by the name and style – Prakash Kutir B&B – named after my father and literally meaning – "The House of Light."We have been successfully running the accommodation for the past five years and welcoming guests from all parts of the world with open hearts into our family, making them feel at home whilst enjoying many a conversations with them over fresh home cooked Indian breakfast or a hot cup of coffee."
Ajay invited me to be a guest of his family and experience their particular brand of hospitality first hand. It took me a while to get there – more than a year, in fact. I finally boarded a Delhi-bound plane this past October, clutching my passport with its new 10-year Indian visa.
This wasn't my first go-around in India. In 2005, I visited Mumbai, Goa, and the ancient cave dwellings at Ajanta. I'd also been to the lesser-visited State of Madhya Pradesh in the center of the country, where the largest remaining population of Indian tigers dwell. But I'd heard repeatedly that Delhi, with its estimated 25 million residents, seething crowds, and incessant din, is the most intense travel destination in India. Additionally, recent media coverage of unfortunate events in India suggested that solo female travel in India was not a good idea.
…recent media coverage of unfortunate events in India had many insisting that solo female travel in India was not a good idea
I'm not one to take these rumblings at face value. I almost always discover that they are wildly exaggerated and not based in fact. Still, I thought it best to "ease back into" the subcontinent and Prakash Kutir Homestay seemed the ideal way to do so. Not only would it be safe, I would experience true Delhiite life with a family whose ancestors have lived in the area for more than 250 years.
Having such an experience in Delhi is becoming more difficult with each passing year. As immigrants from other parts of India flooded the city over the past few decades, much of the traditional Delhiite culture was lost. Fortunately, the Guptas are deeply rooted in the traditional festivals and celebrations of South Delhi. They still celebrate all the major festivals of north India, including Diwali, Holi, Janamastmi, and Dussehra. Ajay provided a fascinating example of one such festival:
"An example…is the recently concluded Janamashtmi festival…the birthday of the revered Lord Krishna. We celebrate this by laying out a huge 10 x 10 feet grid of "Rangoli" on the floor made out of dyed sawdust, carefully sprinkling it on a specially designed pattern, laying it neatly so that it looks like a carpet. This we overlay with toys and artefacts as our offering to an infant Lord Krishna, whom we lovingly call Laddu Gopal."
My visit coincided with Diwali, one of the largest and most important religious festivals of northern India. I arrived a week prior to the festival day and preparations were well underway. Ajay, his wife Savita, and their son, Sagar, were busy buying gifts to exchange with family and friends. Heavenly smells wafted up to my room every day as the family whipped up traditional holiday sweets. Fireworks started a few evenings prior to the actual holiday and ramped up a bit more each night. Spooked by the bottle rockets and cherry bombs, neighborhood dogs howled through the night. By Diwali eve, so many tons of fireworks had been set off that a thick smoke hung over everything for days afterward.
Outside may have been smoky and deafening, but inside Prakash Kutir Homestay was snug and cheery. Diwali decorations began appearing a few days before the holiday and the family included me in a small puja to give thanks to the gods on Diwali eve. The next morning, living room furniture was pushed back to make room for friends and relatives who stopped by throughout the day to deliver gifts and share a plate of food.
Just before dusk, Sagar put me to work. Using white paste made from rice flour and water, we created a huge Rangoli (decorative painting) on the floor around a miniature Mandir (temple) set up in the living room. Then we used colored powders and stencils to create smaller Rangoli on the patio and at the street-side gate. These brightly colored symbols and footprints ensured that the gods would find their way into the home.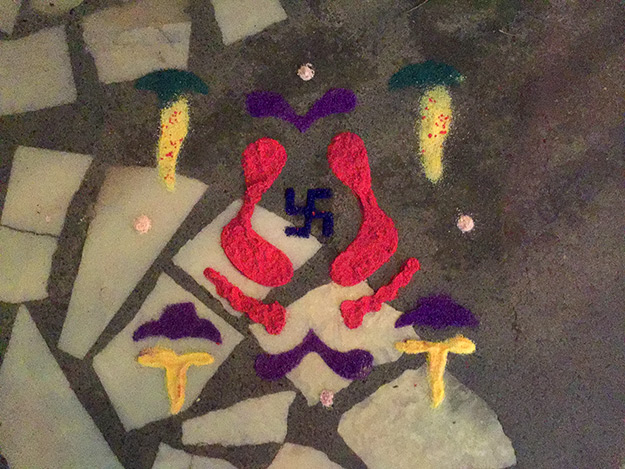 The clock ticked down slowly to 7 p.m., the hour deemed by the State Astrologer to be most propitious for this year's celebration. At the stroke of seven, Ajay, Sagar, and Savita lit candles on the altar, draped statues of the gods with flower leis, murmured prayers, and tossed colored power and rice onto the Mandir. Devotionals complete, we eagerly tucked into the heaps of food awaiting us in the dining room.
By the time I was summoned for the family's fireworks display, I could barely move. Each time I cleared my plate, another mound of food magically appeared. I groaned and waddled out to the front porch, where we set off dozens of multi-colored rockets, waterfall sparklers that spouted six-feet high, and ear-splitting cherry bombs. It was late by the time I crawled into bed, but it didn't really matter. With fireworks continuing until dawn, there was little opportunity to sleep.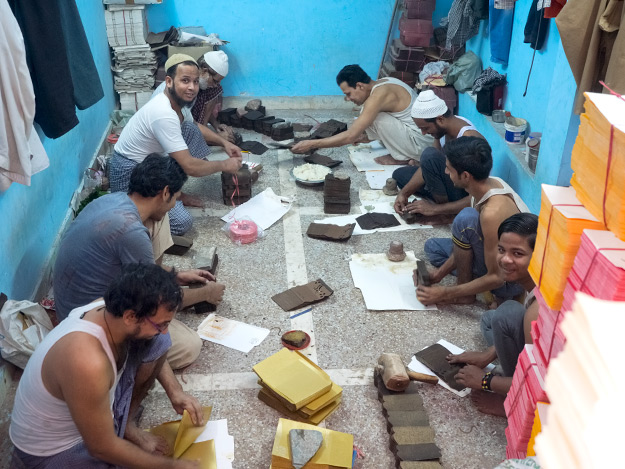 My indoctrination into Delhi culture wasn't limited to Diwali. One day prior to the holiday Ajay, Sagar, and I hopped onto the Metro, just a short walk from the B&B. Twenty minutes later we disembarked in Old Delhi, where we ducked into a warren of narrow alleys and postage-stamp size shops. Ajay was born and raised in Old Delhi and knows every nook, cranny, and shop owner. In one lane, men sat cross-legged on the floor, assembling thousands of envelopes by hand. In another, a young man scooped homemade Rabri Kulfi, a thick, creamy ice cream made with saffron and pistachios.
Between rickety wooden tables groaning with fresh vegetables, men dipped fabric into boiling vats of dye. In the bowels of Old Delhi, men hawked used auto parts from shops where merchandise reached to the ceiling. My mouth dropped open at the teetering stacks of chrome. "How do they know what merchandise is in their inventory?" I asked. "Oh, they know every piece and where it is," Ajay assured me.
Prakash Kutir Homestay is also ideally located in Hauz Khas, an upscale neighborhood that is the most "happening" place in Delhi. Since the village center was an easy stroll away, I whiled away hours in its quirky coffee houses, clubs, and restaurants. A ten-minute walk in a different direction took me to the Green Park neighborhood, where millions of white lights were strung over the sidewalks in preparation for Diwali. Another day, I took a rickshaw to Lajpat Nagar Central Market, where I was the only Anglo in sight. Despite the throngs of shoppers, I never once felt uncomfortable. Every single person I met welcomed me with a broad smile and a Namaste. And that may be the real beauty of staying at Prakash Kutir. More than the wonderful Gupta family, more than their delicious food, even more than their personalized tours, staying at their home in South Delhi allowed me to "acclimatize" to India again. By the time I left eight days later, I was fully immersed in Indian culture and eager to set off for Agra, Varanasi, and Bodh Gaya.
Facilities Offered by Prakash Kutir Homestay
The Gupta family operates a true homestay. This means the family lives full time in the home and rents out rooms to guests. In the spirit of B&B's, breakfast is included and is served in the family dining room each morning between 8:30 and 10 a.m. Lunch and dinner are available by prior arrangement for an additional fee, however there are also numerous restaurants located nearby. Prakash Kutir has seven rooms available, all of which have ensuite bathrooms, cable TV, in-room wifi, overhead fans, and air conditioning. The four individual rooms on the second floor surround a common lobby and kitchen. The third floor is a three-bedroom family apartment with kitchen, sitting room, and living/dining room. When not occupied by a family, these bedrooms can also be rented out on an individual basis.
How to reach Prakash Kutir Homestay from Delhi Airport
The homestay is approximately 13 kilometers (eight miles) from the Indira Gandhi International Airport, about 30-35 minutes by road. After clearing immigration and customs, go to the prepaid taxi counter, which is located along the near wall at the exit gate. These cabs are police verified and provide a safe means of travel. Tell them you are going to A-34, Hauz Khas, which is in Zone D. You will pay in advance at the counter and they will provide you with two receipts. Retain one for yourself and the cab driver will take the other copy upon arrival.
The Airports Authority of India has set the official price for a prepaid taxi between Delhi Airport and Hauz Khas at 125 Rupees plus 10 Rupees for each piece of luggage (there is a 25% premium between the hours of 11 p.m. and 5 a.m.). Even though this price list is required to be posted in the taxi booth, be prepared to pay more (I arrived after midnight and had to pay 410 Rupees). Once you have your receipts, go out the doors of the terminal and cross the first street to the concrete island, where you will find the prepaid taxis (yellow and black color) parked between pillars 34-40. DO NOT listen to anyone who tries to direct you to any other taxis or forms of transport.
If you are lucky, you will get a driver who speaks a little English, but that is not assured, so be sure to print out a copy of the map that the Guptas will email to  you. It is also helpful, if you have a smart phone, to install the free app Maps.me. Use the app to download the map of India onto your phone prior to arrival. Once you have done that, the app operates without a cell or wifi connection, using the mobile's internal GPS. The nearest landmark to Prakash Kutir is Hauz Khas Police Station, which is just 100 meters away. If you have international calling or get to the airport early enough to purchase an Indian sim card, you can also dial the B&B's number and hand your phone to the taxi driver so the Guptas can give him exact directions.
Disclosure: I was a guest of Prakash Kutir Homestay during my visit to Delhi. However, the receipt and acceptance of complimentary items or services will never influence the content, topics, or posts in this blog. I write the truth, the whole truth, and nothing but the truth.