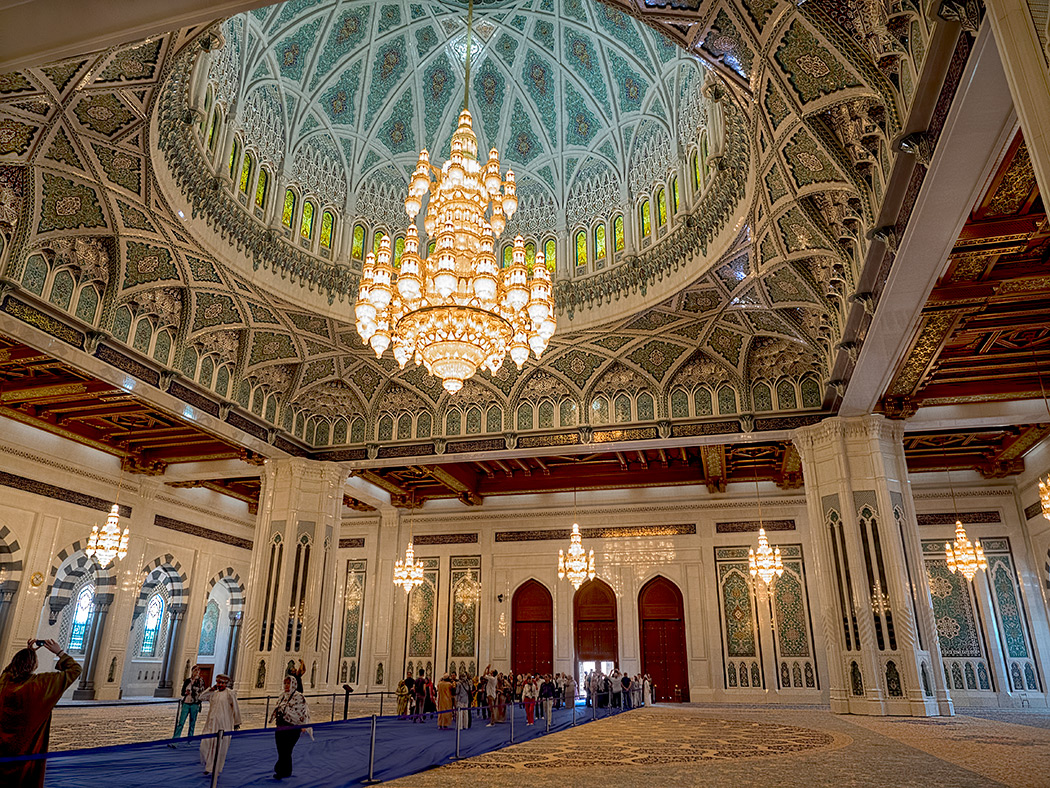 The Sultan Qaboos Grand Mosque in Muscat, Oman, is one of the one of the most spectacular things to discover in Oman. It is named for the country's late leader, Sultan Qaboos bin Said Al Said of Oman, who was the Arab world's longest-serving ruler when he passed away in January of 2020. The main prayer hall alone (above) can hold up to 6,500 worshipers, and 20,000 worshipers can be accommodated when the women's prayer hall and exterior courtyards are included.
The walls of the main hall are covered in white and dark grey marble panels that are decorated with geometric designs and motifs from nature. The Persian carpet that covers the floor was woven in Iran, using 28 different colors made from natural plant dyes. Some say that 600 women worked on it for more than two years, although other reports claim it took them more than four years to weave. Upon completion, the 21-ton carpet was cut into sections and transported to the mosque, where it was pieced together around the massive supporting columns.
The gold-plated chandelier that hangs from the hall's 165-foot high dome is the largest in the world. It weighs 8.5 tons and is trimmed with Swarovski crystals. Thirty-four other chandeliers, smaller but otherwise of identical design, surround the main one. Non-Muslims may visit the mosque every day except Friday, from 8:30 until 11:00 am.