There is a place in Italy where things are still done the old way. Where value is measured by the preservation of ancient traditions. Where life is often difficult, but luxuriously slow and overflowing with simple joys. That place is the region of Le Marche.
My first inkling that Le Marche would offer a different kind of Italian experience came at Ristorante da Uto, located in the ancient market town of Mercatello sul Metauro. With a flourish, owner Umberto Sacchi set bowls of Passatelli with black truffle Alfredo sauce in front of us. Like any self-respecting American, I am intimately familiar with spaghetti, linguini, lasagna, cannoli, ravioli, and tortellini. Having recently visited Bologna, where the exact dimensions for Tagliatelle are guarded in the Town Hall, I even knew about this ribbon pasta. But Passatelli was new to those of us sitting around the table. The fat noodles were more reminiscent of German Spaetzle than Italian pasta.
Umberto was delighted. He rushed off and in a flash returned with two kitchen instruments. The first, a traditional potato ricer, he pronounced as adequate for making Passatelli. "But the ferro per passatelli is much better," he insisted, holding up a slightly curved, perforated steel disc with wooden handles on each end. He mimicked pressing down on a ball of dough, forcing the noodles up through the holes. "Of course, you know all about truffles from Le Marche?" he asked. We admitted to having only passing knowledge about truffles and the pigs that hunt them.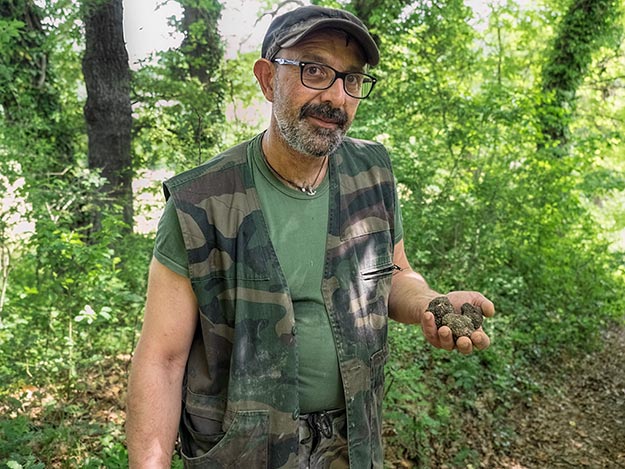 "No, no, we do not hunt them with pigs," he said in horror. "The pigs are so big and strong that they would eat the truffle before we could take it from them. Here we use specially trained dogs." Again he rushed off, returning with a hand-held slicer and two black lumps that looked like giant warts. He made the rounds of our table, adding heaps of paper-thin truffle slices to each of our bowls. I speared a forkful with dread. I had tried truffles once before and found the taste so revolting that I quickly spit them out. But these were magnificent. Their earthy aroma was reminiscent of mushrooms, but not overly strong. Paired with the pasta and cream sauce, they were heavenly. Seeing us swoon over his food must have melted Umberto's heart. "All of you must come truffle hunting with me!"
And so it was that I found myself at the edge of a forest early the next morning with Umberto and his dog, Nina. Umberto confessed that it was not the height of truffle hunting season, so he had buried a few truffles to make sure we would see Nina in action. The moment he released the dog's leash, she was off. She raced from tree to tree, sniffing the air and rooting in the dirt with her nose. Suddenly she stopped and began digging furiously between the roots of an enormous oak tree. Umberto rushed to the hole, dug a bit deeper, and came up with a fair size black truffle. Surprisingly, it was not one that he had hidden. I sniffed the black lump in his outstretched palm and involuntarily recoiled. "The smell is very strong," he agreed. "Nina finds them easily."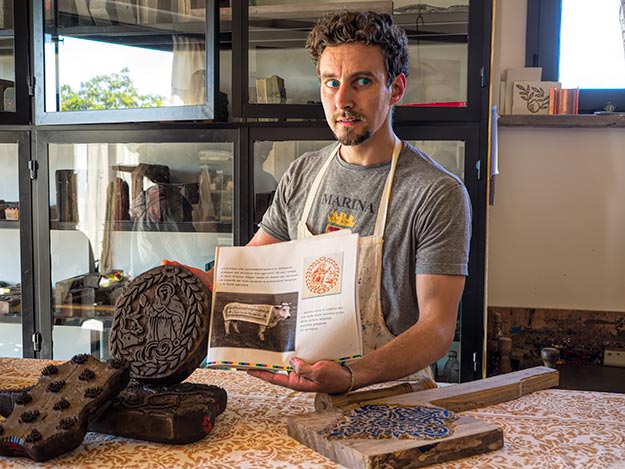 Later that week, I was assaulted by another pungent smell when I stepped across the threshold of Antica Stamperia Carpegna. Owner Emanuele Francioni took a break from mixing ink made from wine vinegar, wheat flour, and rust, to tell us about his family's shop. For six generations the Francionis have been printing patterns on linens with ancient hand-carved wooden stencils. Until the 1960's, the Le Marche region was home to dozens of such shops; today Antica Stamperia is one of the few that remain.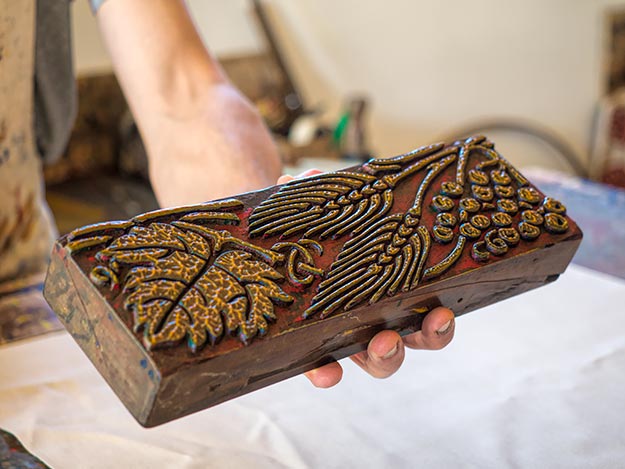 In the early years, his family dyed the wool, pressed it to make felt, and stamped patterns on the finished goods. Their work with felt ended in the 1950's, but Emanuele still creates all his own patterns with scores of antique wooden stamps he has collected from around the region. One in particular holds great meaning for him. The yellow cloth draped over his worktable is one of the oldest pieces in the shop, made by his grandfather in the 1940's. He found all the old stamps that were used to make it.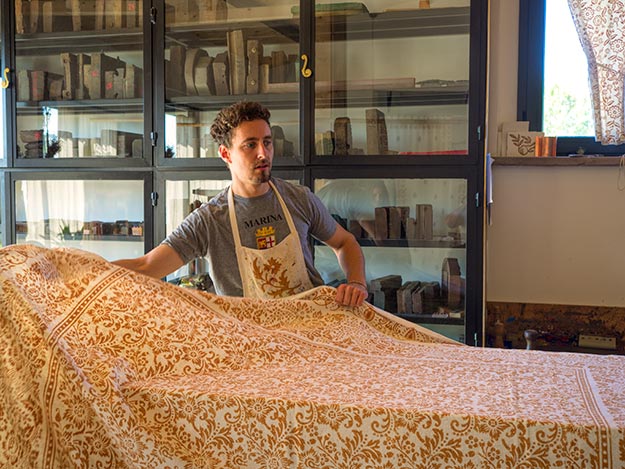 Emanuele turned his attention to a chef's apron waiting to be stamped. He picked up one of the heavy carved stencils and repeatedly dabbed it in the ink. Each time he raised the block from the ink pad it sounded like lovers smooching. "That's how you know the ink is ready," he explained. He lowered the block to within an inch of the apron and dropped it in one swift motion, then tapped the top it with a heavy metal rod to ensure an even distribution of ink. Carefully he peeled off the block to reveal a rust-colored pattern of leaves and fruit on the pocket of the apron. He repeated the process in the center of the bibb before turning the apron over to show us how the ink had bled through to the back side. "This is how you know that a fabric has been printed by hand. Machine prints do not bleed through the fabric."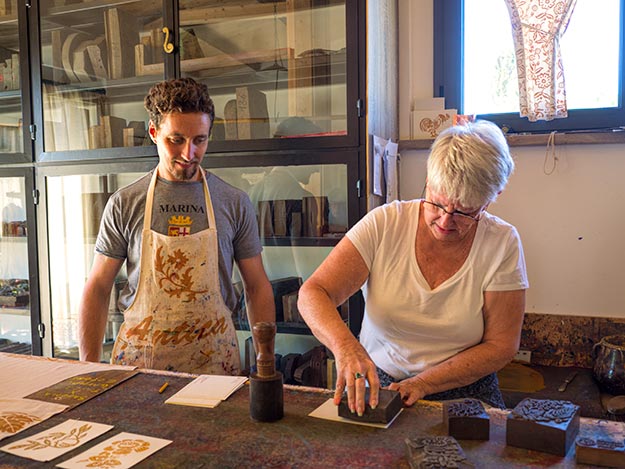 In addition to making goods for the retail market, Emanuele offers workshops for customers who want to design and print their own products. I wasn't in the market for linens or clothing, but to my delight, Emanuele let me choose one of his stencils to print a post card. I struggled to get the surprisingly heavy block into position and drop it onto the paper without smudging the ink. After pounding all four corners with the metal tamper, I held my breath and peeled it off. Perfect!
We left the village of Carpegna and headed for the medieval town of Urbania, famous for its ceramic art. During the Renaissance, more than 40 ceramic kilns in the area supplied the needs of the Duke of Urbino, and later, Pope Urban VIII. Some of the most exquisite pieces of Majolica pottery ever known were produced in Urbania, and ceramics that have survived from this time are exhibited in the world's greatest museums.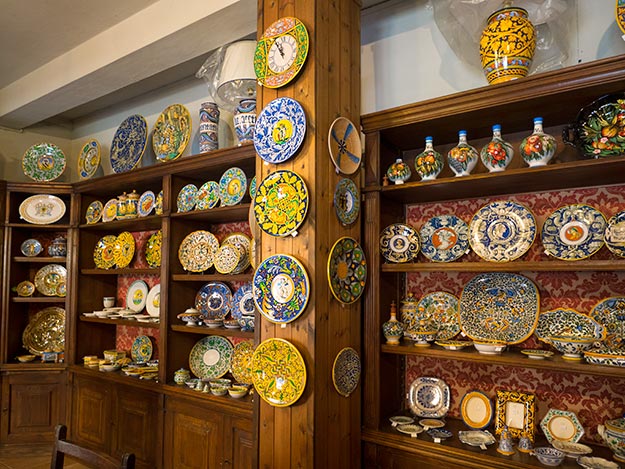 Ceramics as an art form, however, have suffered in recent years in Urbania. Ten years ago, there were just 12 ceramics shops in the town. When the Italian government subsequently stopped subsidizing potters, that number shrunk to four. One of them, La Bottega Ceramiche d'Arte, is the passion of Gilberto Galavotti and Giuliano Smacchia, better known as the "twins of ceramics." The two artists graduated in 1987 from the Urbino Art Institute, and Giuliano later received a second decree in scenography from the Fine Arts Academy. For the next eight years they studied the technique of Majolica, until in 1995, they opened their own shop.
Stepping into the showroom at La Bottega Ceramiche d'Arte was like walking through a field of brilliant yellow rapeseed under a sapphire sky. The artists have stayed true to a tradition that required Urbania's Majolica ceramics to be painted primarily in orange, yellow, and blue. But the back room was even more intriguing. I found Gilberto Galavotti there, wedged into a tiny space, surrounded by jars of paint and brushes. In his left hand, he grasped a bamboo shaft. His right, which held the brush, was balanced on top of the bamboo pole. Using tiny, delicate strokes, he painted a wreath of miniature flowers around the neck of a small vase.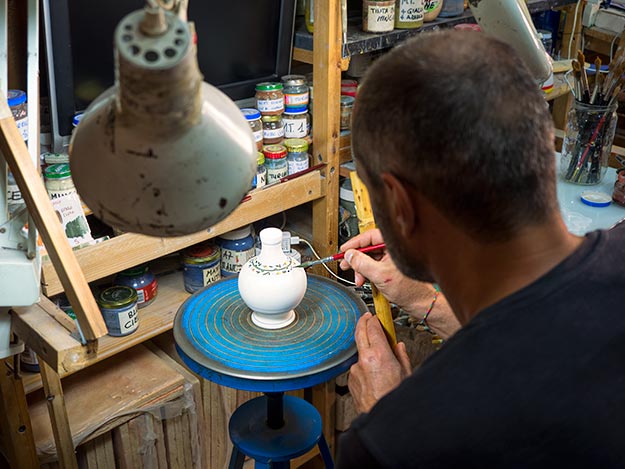 Galavotti was all concentration; I doubted he even knew I was in the room. Just as I was about to step back out he looked up, smiled, and invited me to ask questions. The blue color, he explained, was historically required because it was the official color of the Duke of Urbino. As has always been done, each piece is thrown by hand on potter's wheel, dried, coated with white glaze, painted, covered with powdered glass, and fired in a kiln. And the bamboo shaft? A technique he adopted from his teacher, who used one to steady his hand.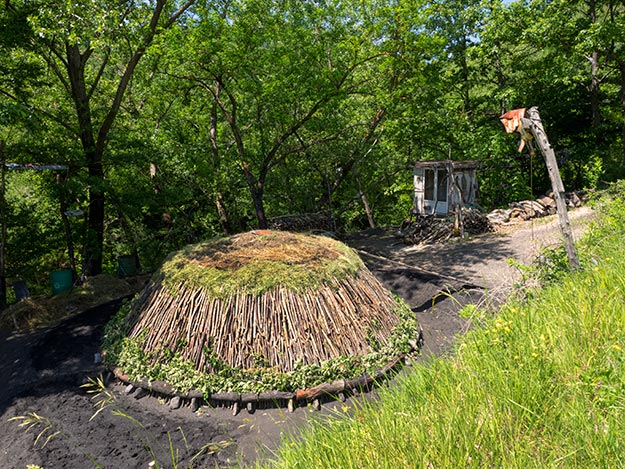 My hosts had kept the best for last. Our final artisan experience was a visit to the coalmen of the Metauro River Valley with Tonino Mosconi, a fine art photographer who has spent years documenting this vanishing way of life. Often covered from head to toe in black soot, these carbonai, as they are known, use an ancient process that turns wood into vegetable charcoal. In earlier times, carbonai lived in the woods in order to be near the source of the hardwoods required to produce charcoal. They rarely saw their families. Even washing clothes was a luxury.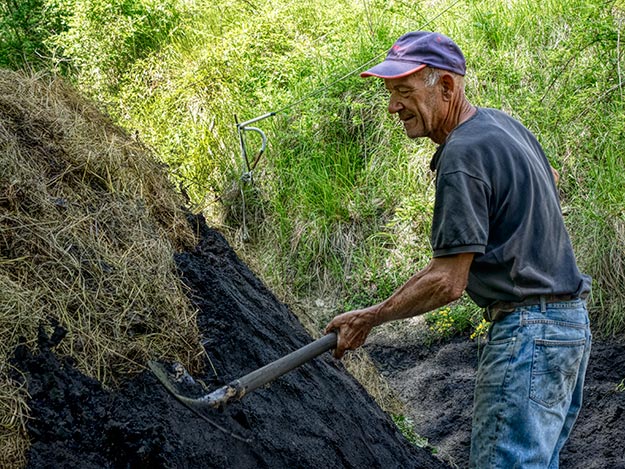 Life became easier once automobiles appeared, as they could transport wood from the forest to a central processing site. Still, the life of a carbonai is anything but easy. Medium size branches are carefully stacked into a high cone-shaped mound, which is then covered with a mixture of charcoal powder and soil. Vent holes are dug in the soil and the wood is set alight so that it smolders for five to six days. If the wood burns too fast or slow, the resulting charcoal will be worthless, so the carbonai must watch over the pyre night and day. If the wind kicks up, some of the vent hoses must quickly be closed. If there is little wind, more vents may need to be opened. The carbonai know from years of experience exactly what to do; even a slight shift in the color of the smoke is significant. When the fire finally burns itself out after 20 days, the soil is removed and the charcoal is harvested. For all this, the carbonai will earn slightly less than $900.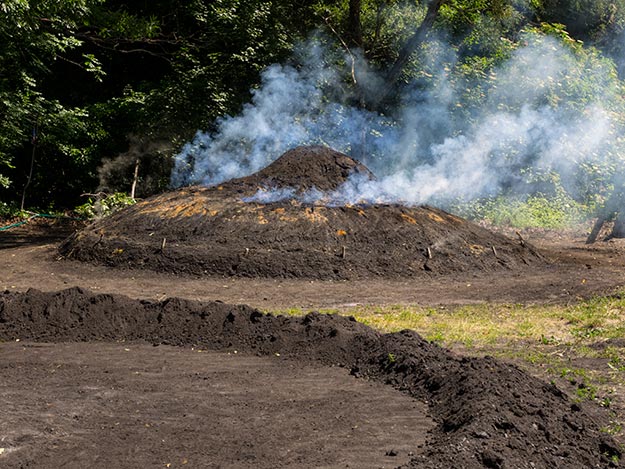 Sadly, the coalmen are a vanishing breed. Today, no more than five remain in the region. In the middle of the last century, cheaper charcoal from Eastern Europe entered the market. The imported charcoal is produced by burning with gasoline, which speeds up the process and keeps prices low. Carbonai are quick to point out that gasoline adds carcinogens that contaminate anything cooked with it, but fewer and fewer customers are willing to pay a premium for the slow-fired Italian charcoal.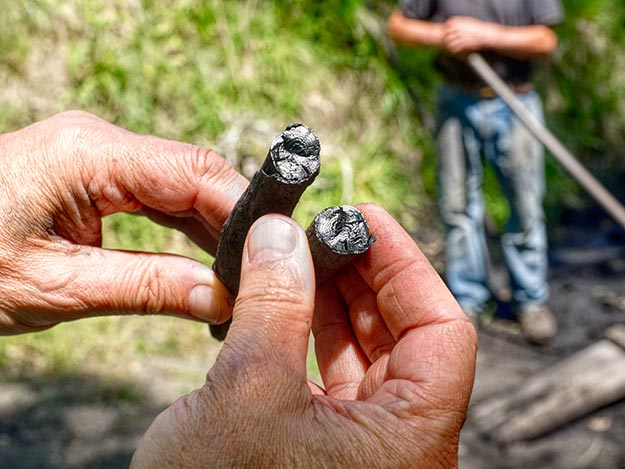 I would have loved to stay in Le Marche a few more days. I longed to enjoy a view of the landscape depicted in Piero della Francesca's painting "I Trionfi" at the organic farm, La Pieve del Colle. And workshops offered in the town of Fabriano, renowned for the art of paper making, sounded intriguing. Unfortunately, my next reservation was waiting. I feel quite certain, however, that tourists will continue to overlook pretty Le Marche in favor of its better known neighbors, Emilia-Romagna and Tuscany. When I return, Le Marche will still offer a different kind of Italian experience – one more fascinating, more unspoiled, and more real than in any other region of the country.
Disclosure: I was a guest of Palazzo Donati during my stay in Le Marche, Italy. However, the receipt and acceptance of complimentary items or services will never influence the content, topics, or posts in this blog. I write the truth, the whole truth, and nothing but the truth.
Save
Save