I scanned the equipment on the table in front of me with more than a little trepidation. Slicers, dicers, chef's knives, and immersion blenders waited patiently to be placed in the hands of the talented cooks who had gathered at Palazzo Donati to learn about vegan cooking. Anyone who knows me will shake their head in disbelief that I would attend a cooking workshop by choice. Simply put, I do not cook. I'm lucky if I can prepare an omelette without scorching it. With no home (and thus no kitchen) since 2009, any culinary ability I may have had as a younger woman has evaporated.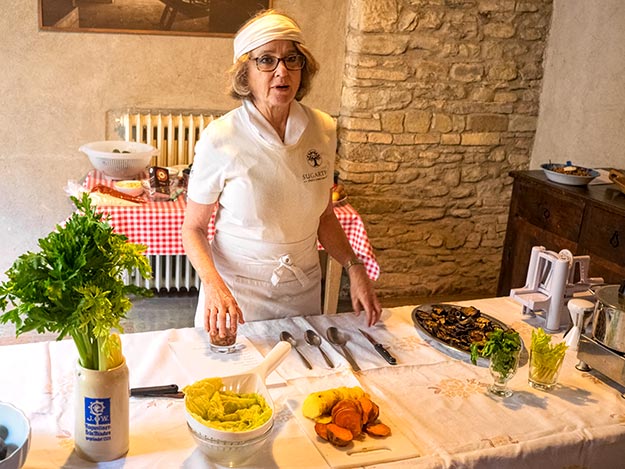 The only thing keeping me somewhat calm was that our teacher, Jenny Sugar, looked as nervous as I felt. Like me, Jenny's path to joy has been a circuitous one. Originally from Venezuela, she lived for many years in the U.S., Europe, and Israel, until a fateful vacation to Italy. "I knew instantly that I had to move here," she said. It took three attempts, but she finally settled in Milan, where she opened a gourmet pasty shop.
Jenny's conversion to a vegan lifestyle came after the death of her husband. Like so many of us who have had life-altering experiences, she began searching for meaning in her life. After 13 years as a pastry chef, Jenny decided to close the shop in Milan and embark on a journey of self-discovery. She traveled to India, Nepal, and Bhutan, where she was drawn to vegetarianism. Eager to learn more, she took a three-week SHARAN nutrition course in Goa, India. The course was transformational; she felt better than she had in years. Determined to share her newfound knowledge, Jenny returned to Milan and became a health and food coach, educating people about a whole food plant-based diet. Our workshop was designed to provide us with a small taste of the week-long wellness and health week that she will be conducting later this summer at Palazzo Donati.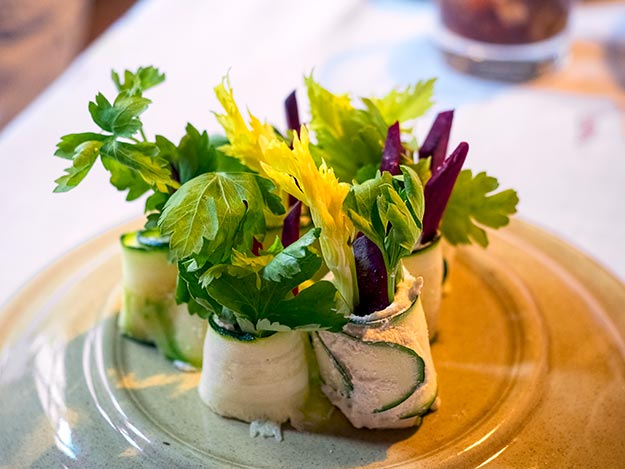 Jenny was patient with me. The slicer felt unfamiliar in my hands, but I was determined to make it work. Tentatively, I reduced a zucchini to a pile of tissue-thin slices. Following her guidance, I smeared a thin layer of cashew spread onto a slice and rolled it around a layer of celery, radicchio, and parsley. Wow! I thought. That wasn't so hard.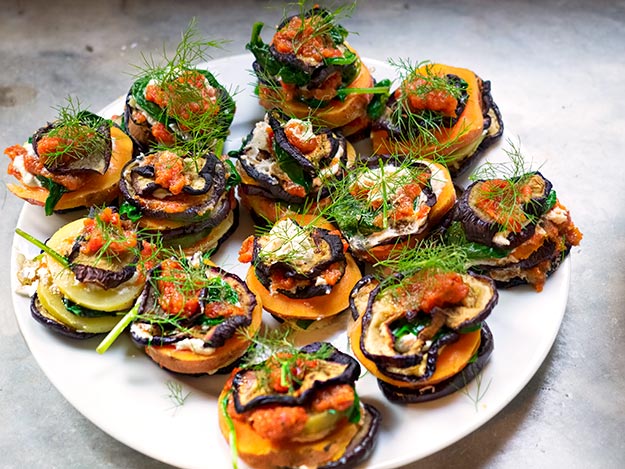 With mounting confidence I moved on to eggplant towers. I layered slices of roasted eggplant, white potato, and yam, using cashew paste and spicy tomato salsa to hold the concoction together. As I garnished the towers with a sprig of fennel, I thought, "I can totally do this!" Next we tackled cabbage rolls filled with shredded beetroot, carrot, and coconut; as well as a zucchini spaghetti with pesto; while Jenny prepared one of her famous lentil curries. With so many cooks at work, it wasn't long before we were enjoying her delicious vegan feast under the shade of a trellis in the garden.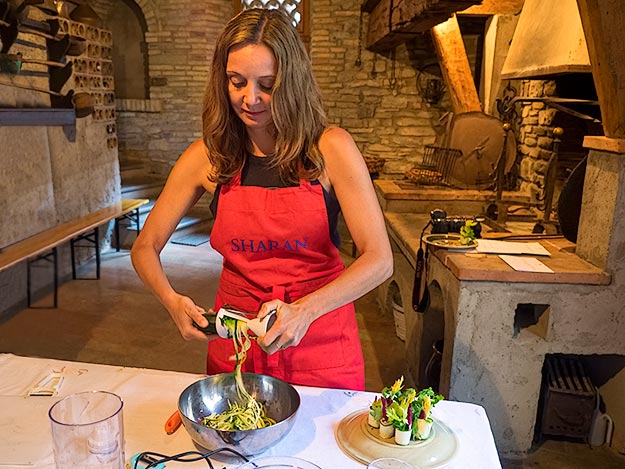 I could tell you that Jenny's vegan cooking workshop made me fall in love with Palazzo Donati, but the truth is that I was smitten from the moment I stepped across its stately threshold. My huge bedroom, one of eight scattered across three floors of the palace, was furnished with an antique bed and heavy wood dressers. Wooden shutters were thrown open to a view of the lush garden below. Stone staircases,  patterned wallpaper, and parquet floors added to the authenticity, while upgraded bathrooms offered all the modern amenities.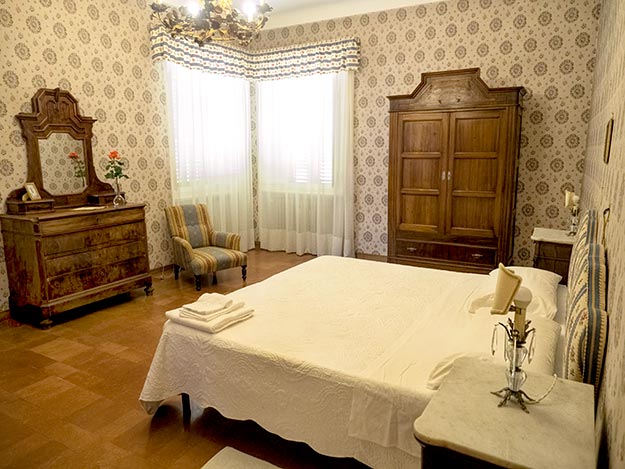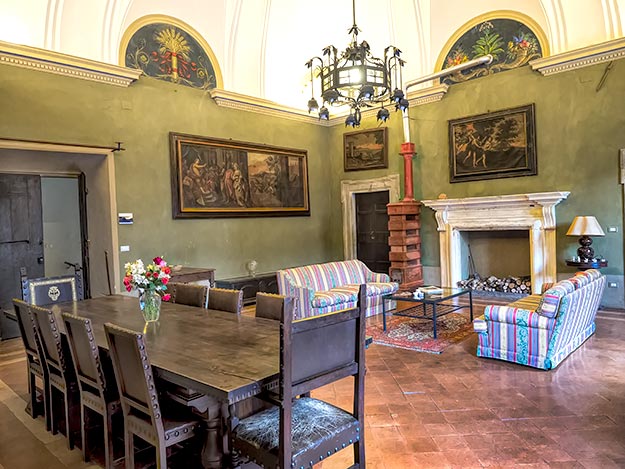 Palazzo Donati was acquired by the Donati family in 1689. Though they relocated to a hilltop farm in Tuscany in 1953, they maintained their roots in Mercatello. Gradually, the decision was made to convert the palazzo into a guest house and they began restoring the property. Today it is one the few places in Italy where guests can enjoy an authentic Italian experience.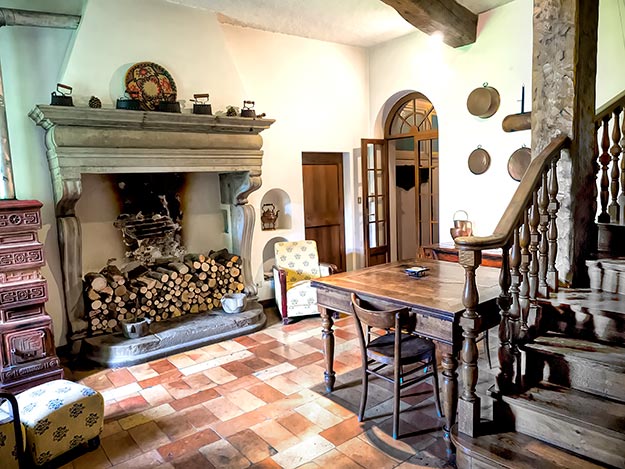 The palazzo anchors one side of the central piazza in the village of Mercatello sul Metauro, which is located the little-known Le Marche region of Italy. Surrounded by its more famous cousins (Tuscany, Emilia-Romagna, and Umbria), Le Marche is often overlooked. And this is part of what makes Palazzo Donati so special. Unaffected by the massive crowds that descend on Tuscany and Umbria every summer, life in Mercatello sul Metauro still exudes the grace and culture of the Renaissance.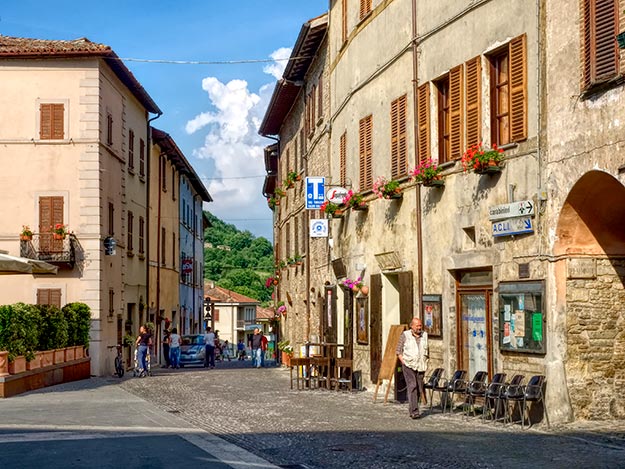 My love affair with Palazzo Donati was not a case of unrequited love. The residents of Mercatello sul Metauro seemed as enamored of us as we were of them. Shop owner greeted us with beaming smiles. Men sitting in front of the local bar happily posed for our incessant photos. Even the dogs loped up to us, tails wagging, and begged for kisses. Rarely have I been made to feel so welcome, anywhere in the world.
Luisa Donati and her partner, Piero Asso, spent the next few days showing us around Le Marche. We began in Mercatello, with a visit to the old Benedictine Monastery. Our mouths dropped open when the doors were thrown wide to reveal an astonishing collection of ancient art and sculpture. Further afield, we visited artisans who are maintaining ancient traditions in the printing of textiles, painting of ceramics, and production of charcoal.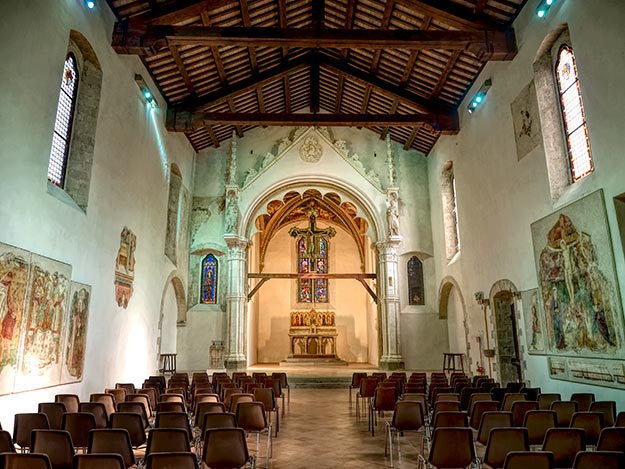 Topping off what had already been a spectacular visit, the Academia del Padlot prepared a traditional Italian dinner for us on our final evening. Members of the group vary in age, professions, and even political views, but they are united in their love of food and drink. For more than 20 years, they have gotten together every day for a drink, once a week for a dinner, and once a year they take a trip together to search for gastronomic bliss in other regions of Italy. The food was good but the experience was stellar, and it improved with each passing hour and emptied bottle of wine. Halfway through the dinner the men were humming Italian tunes under their breaths. By the end of the evening, they were serenading us in four part harmony.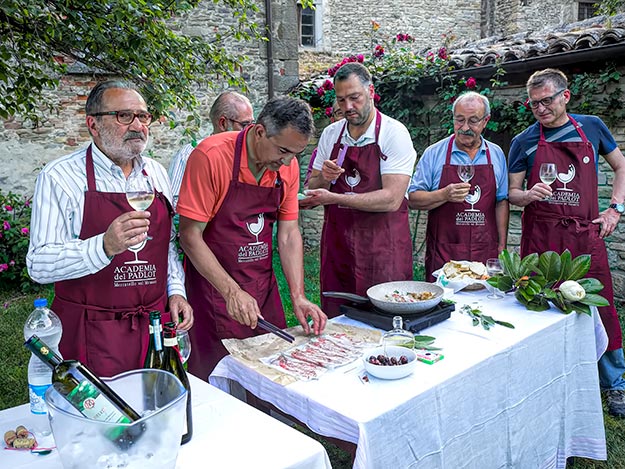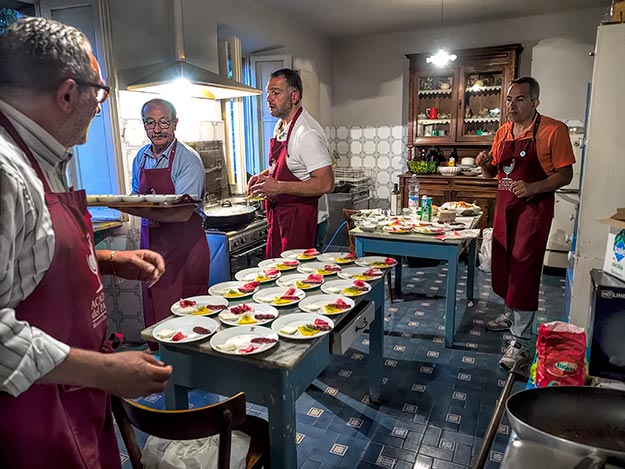 The Academia were still going strong at midnight, but we were departing early the next morning. With regret, I tore myself away from the party, waddled up the massive marble stairway, and fell spread-eagle into my thick fluffy bed. I still needed to pack, but I couldn't bring myself to think about leaving. The next morning, I couldn't put off packing any longer, but I found comfort in the knowledge that Palazzo Donati is one of very few destinations included on my list of places to which I must return. And in the fact that, should I ever have a home again, I will be able to prepare a meal for myself.
Author's Note: The Palazzo is available to rent for small groups seeking a creative holiday retreat in a small Italian village. Groups are welcome to create their own personalized experiences. Past themes have included itineraries based on cooking, painting, photography, Yoga, and creative writing. Alternatively, groups can book the "Authentic Italian Experience with Luisa – A One Week Holiday in Le Marche." Luisa tells me it is possible to make an individual reservation for the program, which is generally held in April, May, September, and October. However, it will only be confirmed if a minimum of six participants have booked. The price per person for Luisa's Authentic Italian Experience is €1,600 ($1,819 USD at the time of this writing) based on double occupancy, or €1,850 ($2,103 USD) for single occupancy. The price includes everything except airfare.
Jenny Sugar's week long ABC Avventura Benessere Cucina wellness package will be offered on September 2-9, 2017 at Palazzo Donati, and it is already confirmed. The cost is €1,600 per person ($1,819 USD at the time of this writing) based on double occupancy. Single room supplement is available upon request. The seven day package includes all meals, activities, handouts, attendance certificate, and local transportation to and from activities. Airfare and transportation to and from the town of Mercatello sul Metauro are not included but, Palazzo Donati we will help to coordinate and arrange the best option for you.
Disclosure: I was a guest of Palazzo Donati during my stay in Le Marche, Italy. However, the receipt and acceptance of complimentary items or services will never influence the content, topics, or posts in this blog. I write the truth, the whole truth, and nothing but the truth.
Save