Hummus. Falafel. They're two of my favorite foods, and Jerusalem is one of the best places in the world to sample them. For two days after arriving, I gorged on them at every opportunity. My first hummus and falafel fix was at the city's mind-boggling Machane Yehuda Market. I sampled the duo at tiny shops inside the Old City and in a variety of cafes and restaurants around the city as well. But in the end, I found the world's best hummus and falafel through a fascinating new mobile app named Bitemojo.
Billed as the "world's first culinary city tour via app," bitemojo is the brainchild of husband and wife team Michael Weiss and Yael Weiss-Gadish. After running food tours in the Machane Yehuda Market for years, the couple decided to take their expertise into the digital world. With the help of a smart phone and GPS navigation, bitemojo takes users on a walking tour of the city. Along the route, participants stop at six eateries to enjoy "bites" that represent a variety of Israeli food. Key points of interest along the route are highlighted, so participants can stop as long as they like between bites, but if done non-stop, most tours are designed to last around three hours.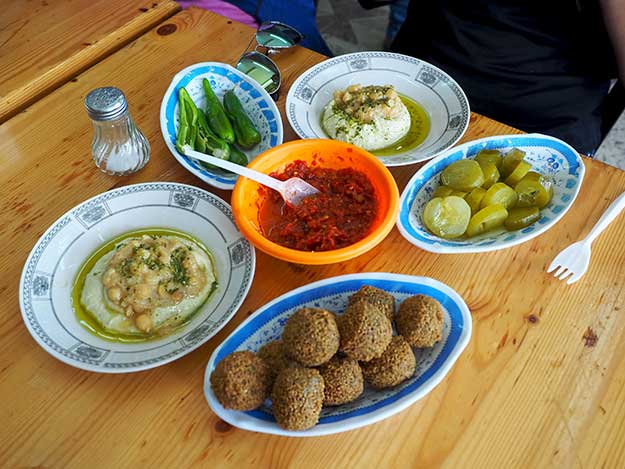 My tour had been set up especially for those of us attending the Travel Blog Exchange Conference (TBEX). Tuckered out after two hours of tramping through the warrens of the Old City, our group plunked down at a row of tables outside of Hummus Ikermawi Restaurant, located just outside of Damascus Gate. Muhammad, part of the extended Palestinian family that has operated the restaurant since 1952, began loading down our tables with food. Bowls of creamy golden hummus were accompanied by crispy, steaming hot balls of falafel. Plates of hot peppers, pickles, raw onions, and pita bread followed. From my first bite, I knew the falafel and hummus were the best I'd ever tasted.
We devoured the spread, giving little thought to the rest of the tour. Too late, we realized that the term "bite" had been a tad misleading. I made it to the second stop on my Israeli food tour, the El'am'in Bakery. There, I managed a pastry and a cup of mint tea, but had no room left for the next four stops. Rather than continue, I ended my tour for the day and planned to pick it up sometime during my remaining time in Jerusalem. Unfortunately, I had to leave Israel earlier than anticipated, but even that wasn't a problem. I can use the four remaining "bites" during the next six months in any of the cities where bitemojo operates (Rome, Berlin, London, anyone?).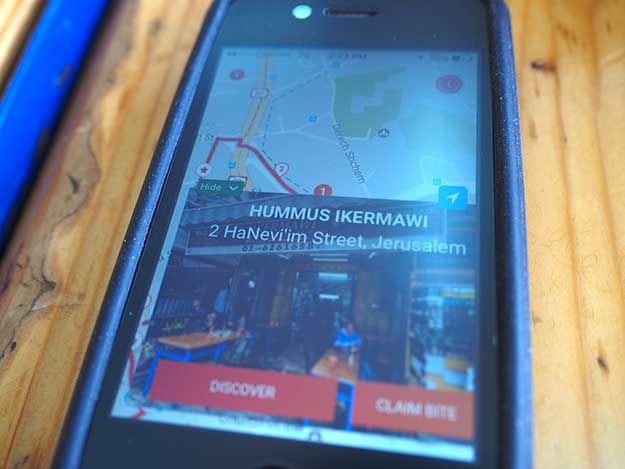 Bitemojo is especially attractive to anyone traveling on a budget. Of the six tours offered in Jerusalem, the highest price is 27 Euros (slightly less than $30 USD). The "bites" are generous enough to replace a lunch or, in some cases, even a dinner. And with six tastes, one could easily make the tour last over three days.
While I wasn't surprised to find the world's best hummus and falafel in Jerusalem, I hadn't expected that the city would also offer world class gourmet cuisine. How wrong I was! Later that same week, our group was treated to a spectacular four-course feast at Anna Italian Cafe.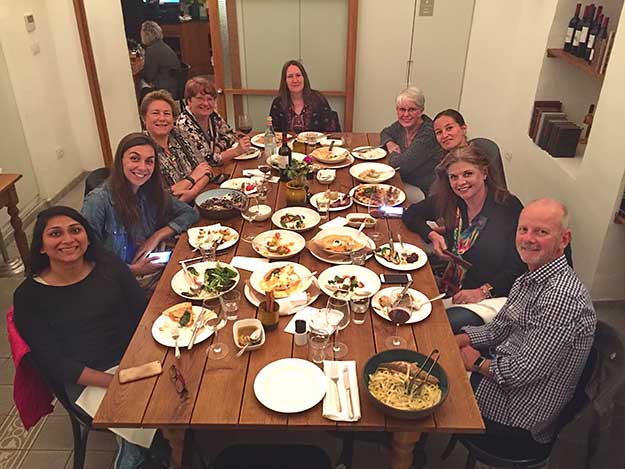 Anna's Head Chef, Nimrod Norman, insists on uncompromising quality for the kosher, dairy restaurant. He uses only fresh ingredients to create classic Italian dishes, to which he adds Mediterranean-inspired twists. On the night we visited, Chef seemed determined for us to sample everything on the menu. We began with a selection of appetizers: goat cheese with roasted peppers; fresh baby tomatoes and basil, drizzled with balsamic vinegar; and slabs of roasted root vegetables. The clear winner among the appetizers was a cheese gnocchi with sautéed spinach and sweet peas in pods, topped with a dollop of creme fraiche. The ambrosial pasta, potato, and cheese combo was light as air and dissolved instantly on my tongue.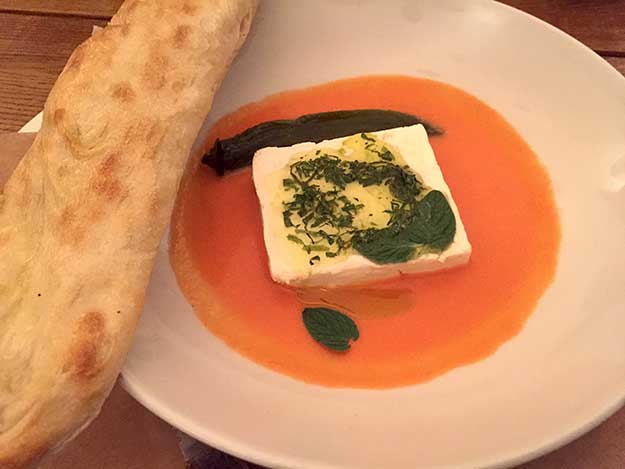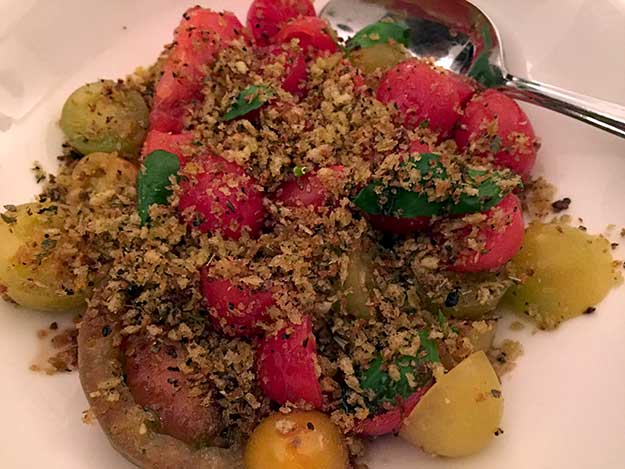 Vegan and Margarita pizza starters were followed by main dishes of seafood: black risotto with fresh grilled Sea Bass and luscious, creamy fettuccini noodles topped with fresh seafood. If that wasn't enough, four different desserts topped off our meal, including the restaurant's famous Key Lime pie. I was amazed to learn that our dinner, had we paid for it, would have set us back only about $85 per person.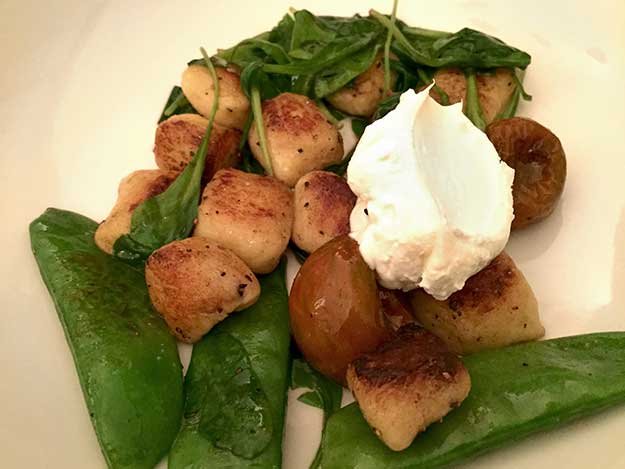 Though I unequivocally recommend Anna Italian Cafe for its delicious fare, there are even more reasons to support this fledgling operation. Anna opened in 2016 as a "social business." The management team trains and employs youth in distress, providing them with an opportunity to acquire a profession and change the course of their lives. After a year, the employees spread their wings and go out on their own.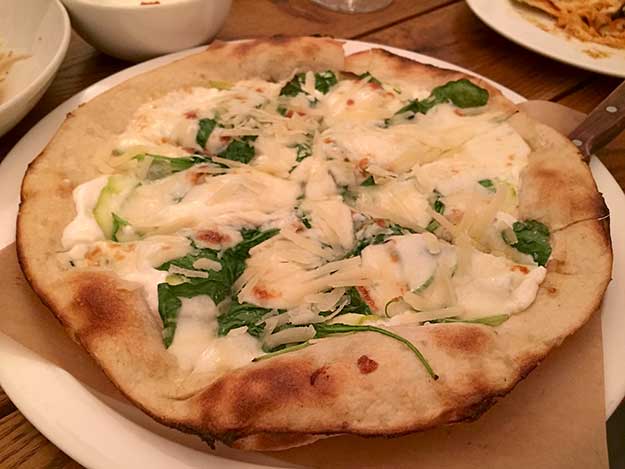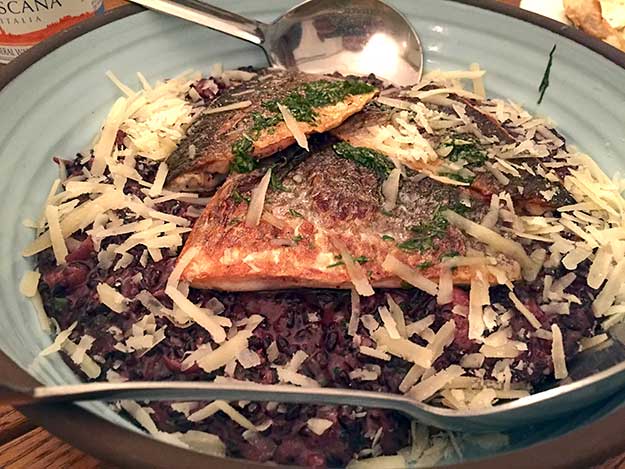 The restaurant, located at Harav Agan 10, is well hidden at the rear of a dark courtyard on a back street in downtown Jerusalem. It occupies a 200-year old landmark known as the Ticho House, which was formerly the private home of Anna and Dr Abraham Albert Ticho. Anna left the historic house to the Israel Museum when she died. The museum partnered with the City of Jerusalem and numerous private donors to restore the property, and subsequently leased the space to the restaurant. Though Anna Italian Cafe is somewhat hard to find, it is definitely worth the effort. As they say on their website, "If you are looking for an Italian restaurant that serves food at the highest standards, but isn't satisfied with just good food, you've come to the right place."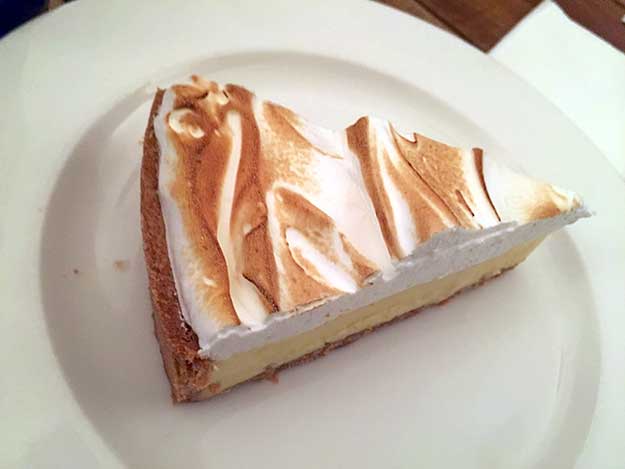 On the final day of my TBEX press trip, Jerusalem Tourism arranged for us to have lunch at Kadosh Cafe. It was pure bedlam when we arrived. At first glance, it appeared that every seat in the tiny cafe was occupied. Somehow, the owners cleared a corner for us and proceeded to cover our table with platters.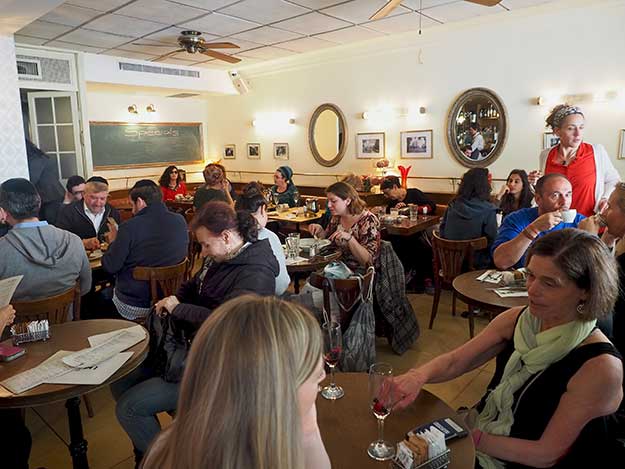 First out was a beet carpaccio with Mascarpone cheese, chives, and pecans. The roasted eggplant that followed was slathered with Labane (a thick yogurt-based cheese), drizzled with almond cream, and sprinkled with spicy chili.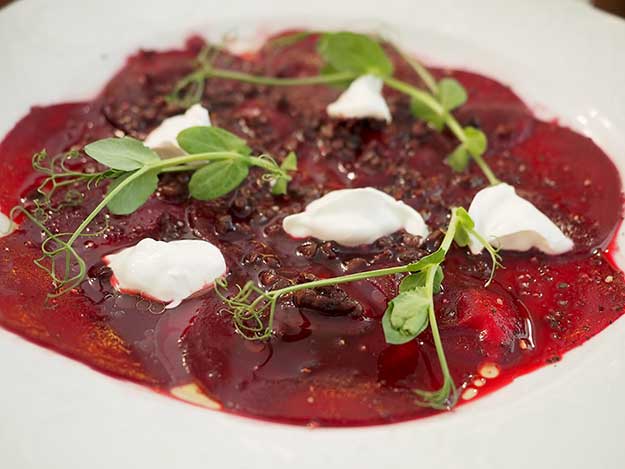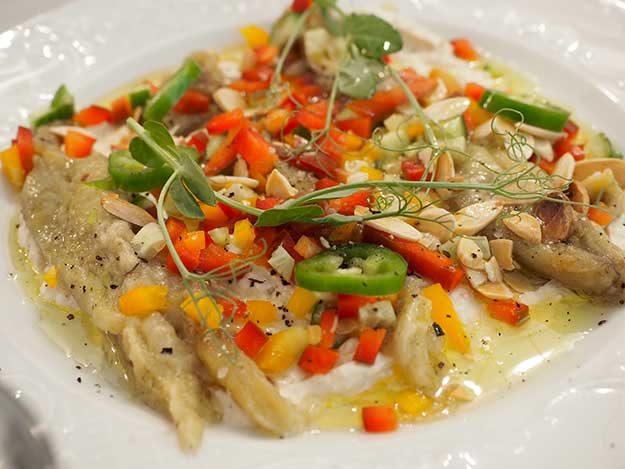 We'd barely touched the mound of chopped salad before four different pasta dishes appeared. The spinach ricotta tortellini with pistachios; potato gnocchi with mushrooms and parmesan cheese; and fettuccine with Romana artichoke hearts, kashkaval cheese, and parmesan were delicious. But my hands-down favorite was the sweet potato ravioli with creme fraiche; I crave it to this day!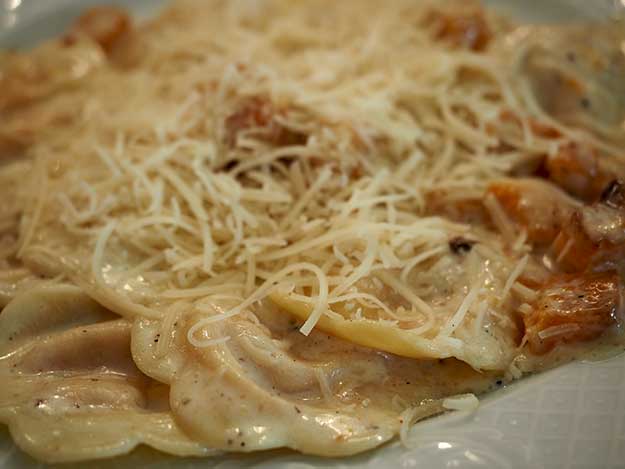 Between the mains and our desserts, owners Itzik and Keren Kadosh stepped out of the kitchen to introduce themselves. Itzik's father, Meir, started the cafe in 1967 in the tradition of a European cafe. Like the coffee shops of Budapest, Vienna, and Paris, literati and government officials have always gathered at Kadosh. And like those European cafes, in the early years Kadosh served only homemade pastries and beverages.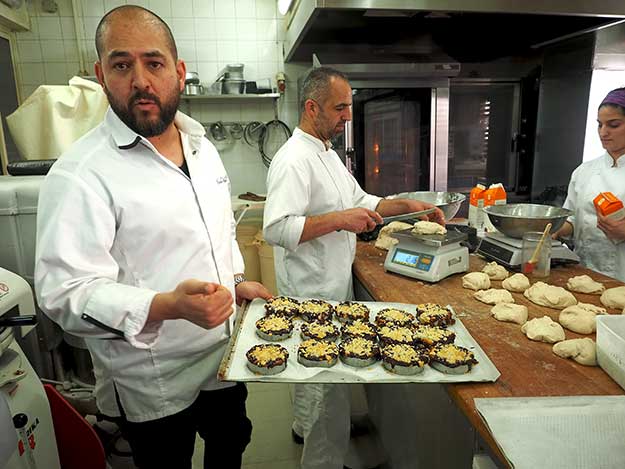 Itzik took over the business when his father died and some time later Keren joined the team. While Keren appreciated tradition, she also felt the cafe could be even better. She began tinkering with recipes, focusing on specialty pasta and fresh seafood. Those new items were eventually added to the menu and today they are among the cafe's most popular items. What hasn't changed is that absolutely every item sold at Kadosh is homemade from scratch, every day.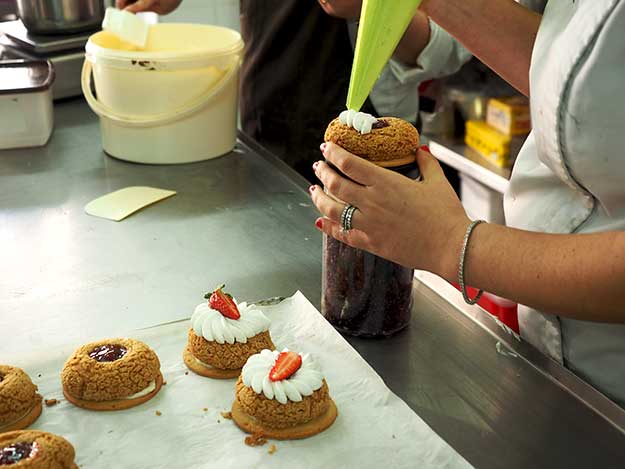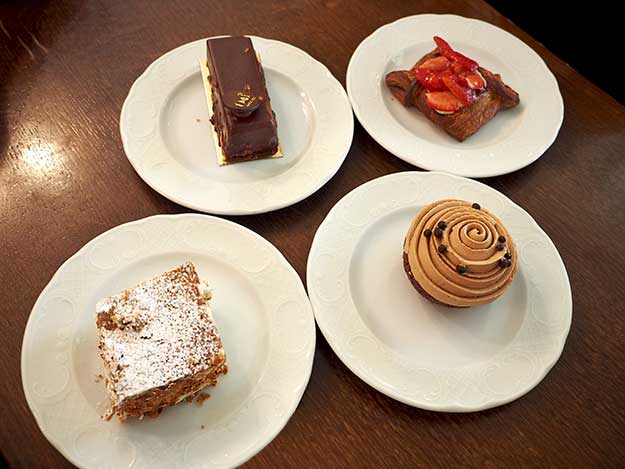 My press trip may have been over, but I wasn't done sampling Israeli food. Over the next few days I became a fixture at Machane Yehuda Shuk (Market). This impressive fresh market, which spreads across ten city blocks, is more than 100 years old. Like generations before me, I shopped for the day's food during daylight hours. In the evening, after the produce stalls were shuttered, I noshed at the restaurants that threw open their doors.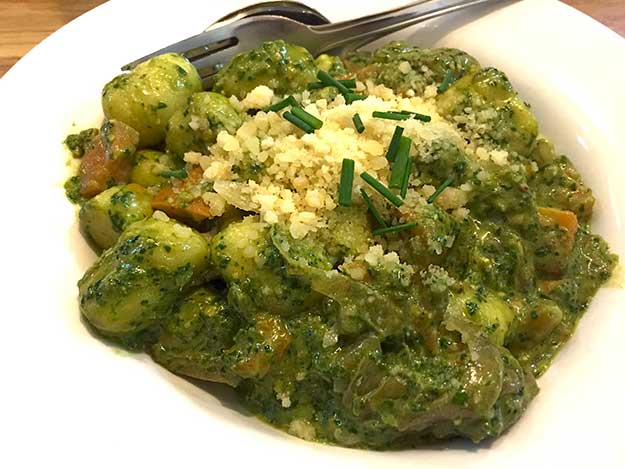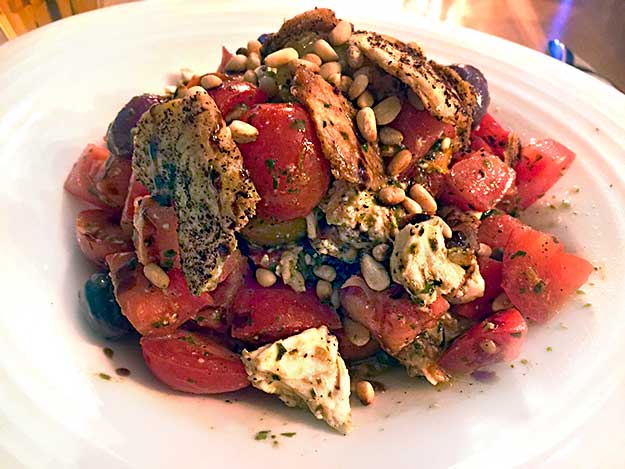 One day, I made the mistake of shopping at Basher Fromagerie and Deli. The shop owners happily sliced samples of their gourmet cheeses for me to try. I couldn't resist. Wedge after wedge went into a bag, accompanied by plastic containers of marinated artichokes, olives, sun-dried tomatoes, roasted almonds, and a fresh-baked baguette. My bill came to $111. Too embarrassed to change my mind, I gulped and handed over my credit card. But it ended well. Between the delicious Shakshuka prepared for my breakfast each morning by the folks at Avital Hotel, and my deli rations, I ate like a queen for more than a week.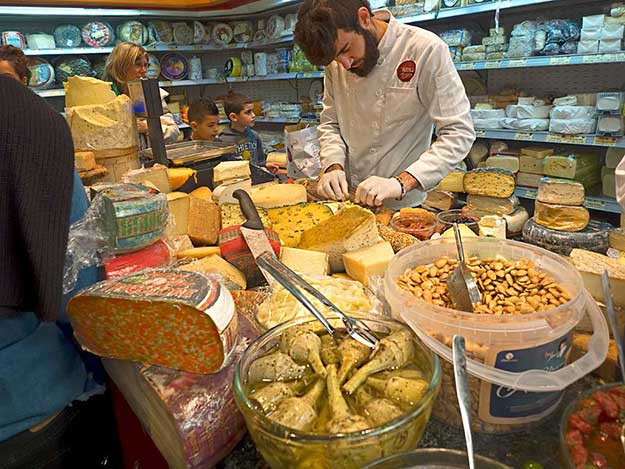 Ask anyone what the most important tourist sites are in Jerusalem. Their lists will inevitably include the Old City and places such as the Tower of David, the Church of the Holy Sepulchre, Temple Mount, the Western Wall, and Yad Vashem Holocaust Center. But more and more, those in the know are insisting that sampling Israeli food is one of the best reasons to visit the Holy City. It's up-and-coming reputation as a foodie destination is well-deserved.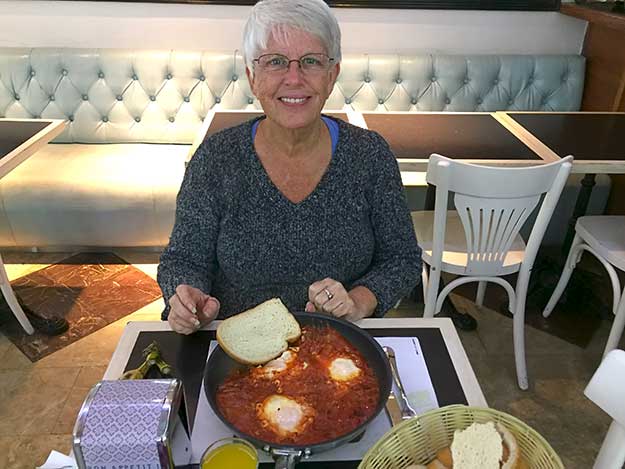 I Travel Jerusalem, the official Jerusalem travel website, explains the meaning of the terms "kosher" and "dairy," as they relate to Israeli food:
"Kosher dietary laws…add an interesting perspective to the local culinary scene. Most of Jerusalem's restaurants – although not all – adhere to kosher standards, meaning that they use ingredients derived only from kosher animals and from those animals that were slaughtered in a ritually proper manner. They also don't combine meat and milk, meaning that chefs often come up with interesting alternatives to dishes that traditionally do. It also means that most restaurants will have menus that consist of meat only, or milk only. For example, you won't find meat toppings in a kosher pizza place or Parmesan on your (Bolognese) dish in a kosher restaurant."
Check prices for accommodations in Jerusalem at Booking.com, Hotels.com, or HotelsCombined.com. Read reviews about hotels and guest houses in Jerusalem, Israel at TripAdvisor.
Disclosure: This article contains affiliate links to hotel booking sites. If you click on any of the links and make a booking, I may earn a small commission, which keeps this blog free to read.