As a travel writer specializing in culture, I'm often asked how I tap into the culture of the destinations I visit. I must admit to having a secret weapon – well maybe two secret weapons. First, I will talk to anyone. But I have to find an opportunity to open a conversation, which leads me to tactic number two. I literally haunt coffee shops and cafes.
As my visit to Budapest neared, I was excited to learn that the city has one of the most impressive cafe cultures in the world. By the beginning of the 20th century, more than than 400 coffee houses (kávéház) were attracting writers, painters, musicians, philosophers, and actors who gathered daily to sip espresso and discuss politics. More importantly, these poor artists found sustenance in the form of cheap food, free paper and ink, and a warm refuge from rented rooms they could not afford to heat during the brutal Hungarian winters. It is said that entire books were written in these coffee houses. Many of the original cafes were destroyed during World War II and the remainder, seen as a breeding ground for political dissidents, were closed down during the communist era, but since the 1989 revolution quite a few have been restored to their former glory.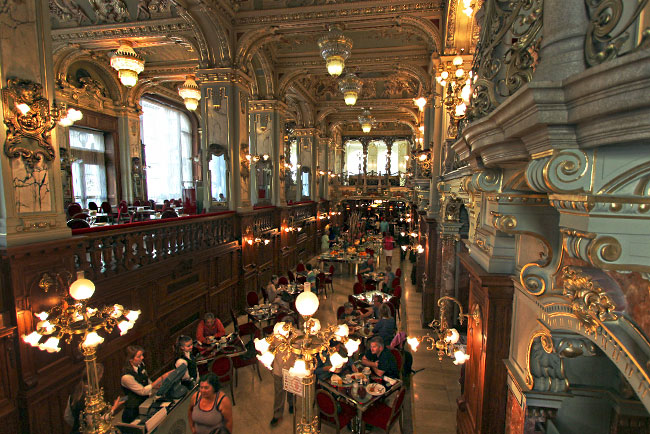 Determined to discover this alternative culture, early one morning I met a guide from Budapest Underguide for their Delicatessen Tour. My guide for the day, Bogáta, wasted no time, waltzing me into the New York Kávéház. Reputed to be the most beautiful of all the cafes, it was such a popular spot that writer Ferenc Molnár is said to have tossed the key to its front door into the Danube in an effort to keep it open around-the-clock. I could understand why; what writer wouldn't want to spend his days and nights spinning words beneath the obscenely opulent gold-leaf decor that spread before me?
Half an hour later we were at Le Bar, where the owner whipped up an ambrosial fresh-squeezed juice drink of greens and raw beetroot before we headed to Central Cafe, one of the oldest coffee houses in the city and the first to reopen after the fall of communism. I perused the breakfast menu as my eyes adjusted to the dim interior and at the suggestion of Bogáta, ordered a traditional Hungarian breakfast of cheese, nuts, and Korozott (cottage cheese mixed with sweet paprika, butter, and onions), of course accompanied by a strong Viennese coffee.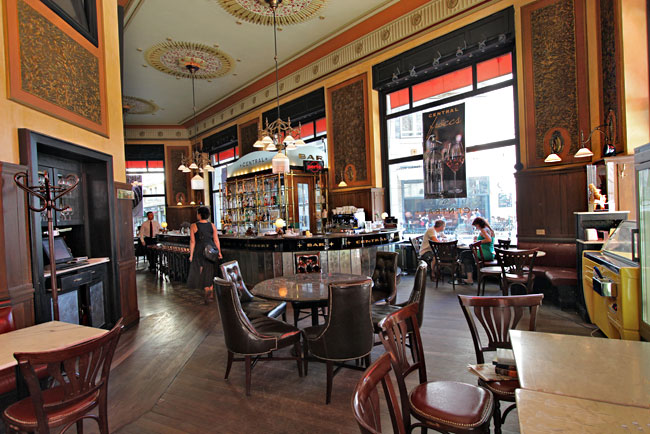 From Central Cafe we made or way to the Central Market Hall, a cavernous two-story building where polished pyramids of fresh fruit and vegetables competed with rows of hanging sausages, sparkling bottles of palinka, and stacks of Hungarian paprika. Markets were old hat to me, but it wasn't the vendors we were here to see. Bogáta led me up to the second floor to the food koisks.
"You've got to be kidding!" I said. "I'm still stuffed from breakfast."
"You have to find some room to try our Hungarian Langos," she insisted.
Can't view the above slide show of the Central Market in Budapest, Hungary? Click here.
She ordered up what looked like a round Indian fry bread, slathered with a sour cream sauce and topped with tomatoes, Bermuda onions, diced peppers, and feta cheese. Though traditional Langos (pronounced LAHN gosh) are served only with sour cream and grated cheese, over the past few years new combinations have begun to spring up. Indeed, after I polished off most of mine, she offered to buy me a dessert Langos, filled with my choice of fruit compote and dusted with powdered sugar. Already reeling, I politely declined.
I waddled out of the hall and we hopped on the tram, bound for our final stop, Szamos Gourmet Palace in Vörösmarthy Square. This sweet shop offers a selection of pastries, 40 types of handmade chocolate bonbons, and a variety of marzipan delicacies. It also features an open kitchen where diners can watch the desserts being made and a life-size reproduction of the female figure in the Dutch painting, "The girl with chocolate." Made from 70 kg of marzipan, the sculpture took approximately 800 working hours to create.
Can't view the above slide show of Szamos Gourmet Palace in Budapest, Hungary? Click here.
I tried, I really tried to get out of ordering more food, but Bogáta was having none of my excuses. I groaned and tackled the Dobos torta, Eszerhazy torta, French chocolate truffle, and coffee set before me. Fortunately, just before I exploded, our four-hour tour came to an end and I dismissed my guide with the excuse that I wanted to sit a while and have another cup of coffee. I never did finish those last three pastries, and I didn't need to eat another bite for 24 hours, but I'd do it again in a heartbeat, especially since I now know that there are at least another dozen cafes around the city that I haven't yet tackled.
My Deli Tour was arranged through Hungary Tourism and provided by Budapest Underguide, the tour company that promises you'll never be an outsider tourist again, however, the receipt and acceptance of complimentary items or services will never influence the content, topics, or posts in this blog. I write the truth, the whole truth, and nothing but the truth.