I lugged my backpack and suitcase up the steep metal steps of the train in Bratislava, Slovakia and collapsed into my seat. Two and a half months earlier I had arrived in England after an unusually long winter stay in the States, during which I got precious little exercise. I was out of shape and nursing a bad hip and knee, but London beckoned. Never one for moderation, I walked for eight hours on day one. The following morning I was in agony and for the next month I battled pain and soreness that had me limping and struggling to climb steps.
After England I joined a Morocco tour that challenged my patience and sanity, then spent a whirlwind three days in Paris before hopping a plane to Prague, which was a severe disappointment. Poznan, a delightful town in Western Poland, raised my hopes, but four days later I was in Bratislava, where the people were just as cold and uncaring as they had been in Prague. So far, Eastern Europe had been one big challenge that left me exhausted. So I sat back in my first-class seat, grateful for an air conditioned car that offered wifi and electrical plug, and hoped for the best as I researched what to do in Budapest, Hungary.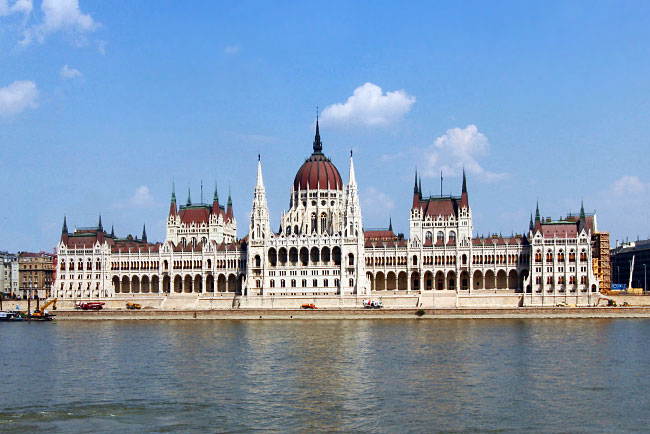 From the moment I stepped off the train in the Hungarian capital, I sensed that this city was different. Weaving and dodging through throngs of pedestrians as I walked the five blocks to my rental apartment, I tried to hide my astonishment at the flamboyant architectural styles lining the broad avenues. Art Nouveau mingled with Secessionist, Art Deco, Romantic, Classic, and Neo-Classic buildings, some nicely restored and others crumbling, but all massive and fully in use. Intrigued, I dumped my luggage and hopped on the Metro for the 10-minute ride to the heart of the city, the Pest side on the banks of the Danube River.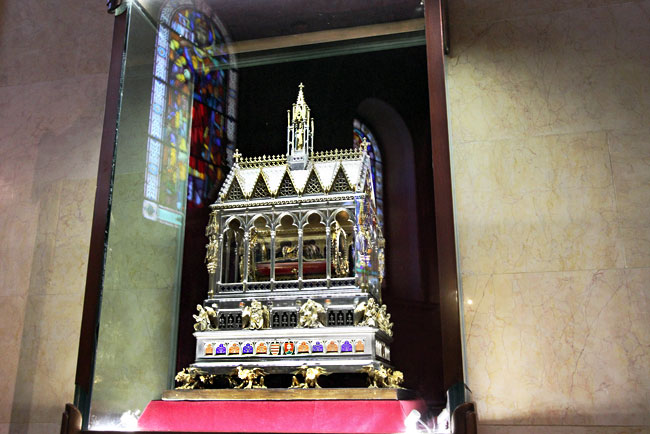 I had been underwhelmed by my first sight of the storied Danube in Bratislava, but in Budapest it was bejeweled with stately bridges and lined with lavish edifices. Neo-Classical St. Stephen's Basilica parried with the Neo-Gothic Hungarian Parliament Building for bragging rights. At first blush Parliament, which resembles an obscenely decadent wedding cake and is the largest building in Hungary, wins hands down. But in a rear chapel of the basilica a silver and gold châsse holds the right hand of St. Stephen I, first King of Hungary. In 1083, 45 years after his death, the saint's tomb was opened and his right had was found whole and unputrefied. Said to be symbolic of a life never empty from giving gifts to nourish the poor, the relic draws faithful from all over the world who believe that it has the ability to heal.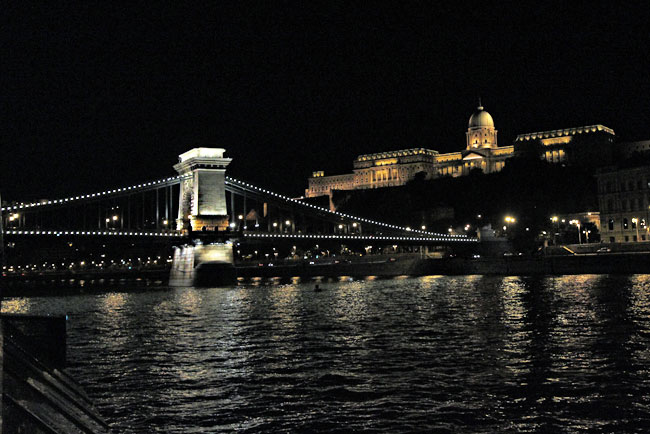 Later that week I crossed over to the Buda side to check more off my list of what to do in Budapest. On this hilly side of town, colorful old houses line cobblestone streets leading uphill to Fisherman's Bastion and St. Matthias church. Taking advantage of puffy white clouds floating on a crystalline blue sky, brides and grooms posed for wedding pictures among its spires. Farther up the hill I peeked between potted cedars at wedding reception on the terrace of Buda Castle. Ladies in floor-length silk gowns and impossibly high heels spilled out of black stretch limos at the front entrance.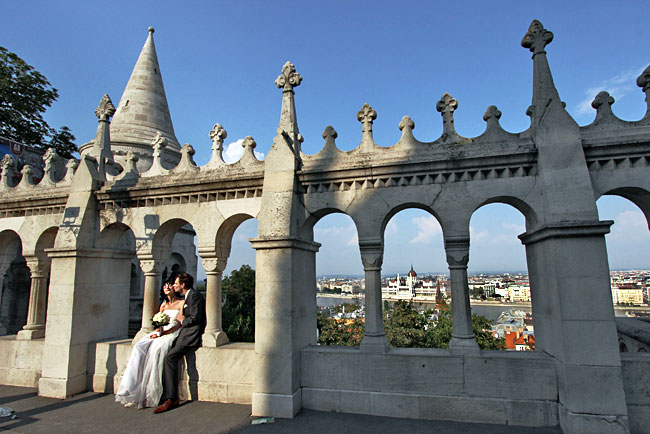 When the sun ducked behind the hills I rode the Funicular back down and walked over the historic Szechenyi Chain Bridge. I boarded the Legenda Sightseeing Cruise as a full moon rose over the gloriously blue and dappled Danube. Beautiful by day, after dark Budapest's illuminated buildings are magnificent, and there is no better way to see them than on a river cruise.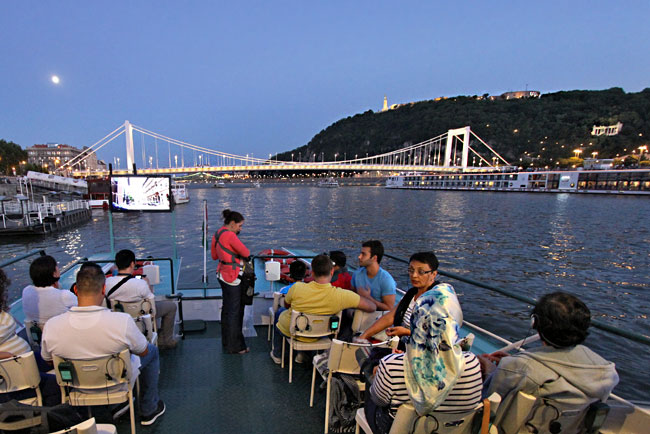 Visitors who have scheduled a shorter time to explore will find this suggested two-day itinerary for Budapest helpful. But I was lucky. I had scheduled nine days to wander this fascinating capital city. I discovered squares sandwiched between high rises and neighborhoods punctuated with parks. Joining gleefully in its thriving cafe life, I sipped strong coffee for hours and watched the life of the city flow by. Some days, I rose early and strolled the aisles of indoor markets suffused with the yeasty aroma of fresh-baked bread, returning to my apartment to feast on dried apricots, artisan goat cheese, and thick, rich yogurt.
Other days I slept in and took in the city by night, visiting "ruin bars" and Elisabeth (Erzsebet) Square, where Hungarians go to see and be seen. One afternoon I happened upon a beer tent in City Park, where a live band was playing classic American rock music and singing lyrics in English that only I understood. As I sang along, a 70-ish man wearing a straw fedora and pants pulled up near his armpits led his silk-clad wife out onto the artificial turf to cut a rug. Their family cheered and clapped; they outlasted most of the youngsters on the dance floor.
Can't view the above slide show about Budapest, Hungary? Click here.
Budapest has no central square with fairy tale castles. It has no Old Town where tourists congregate. Rather, it is a real city, made for living. More than just a tourist destination, Budapest has soul. It also has much else to recommend it, including a great public transportation system, excellent food, and extremely affordable prices. There is so much to like about this Eastern European city that I might just consider spending summers there. On the other hand, I suspect there are even more fascinating things to do in Budapest during the winter months, when all the tourists have fled. I have more of Eastern Europe to see, so only time will tell. But for now, Budapest has made me fall in love with travel all over again.
Disclosure: My Legenda Danube Cruise was provided by Hungary Tourism and my Eurail Global Pass was provided by Eurail.com however, the receipt and acceptance of complimentary items or services will never influence the content, topics, or posts in this blog. I write the truth, the whole truth, and nothing but the truth.