More than 15 years ago, one of my co-workers vacationed in Prague. The Czech Republic was only a few years out of communism at the time, and she described an Old Town Square with exquisite architecture and locals overflowing with gratitude for tourists. That image hung in my head like a ripe plum waiting to be picked, growing juicier and more delicious with every passing year, so when I finally arranged to visit Eastern Europe this summer Prague was my obvious first stop.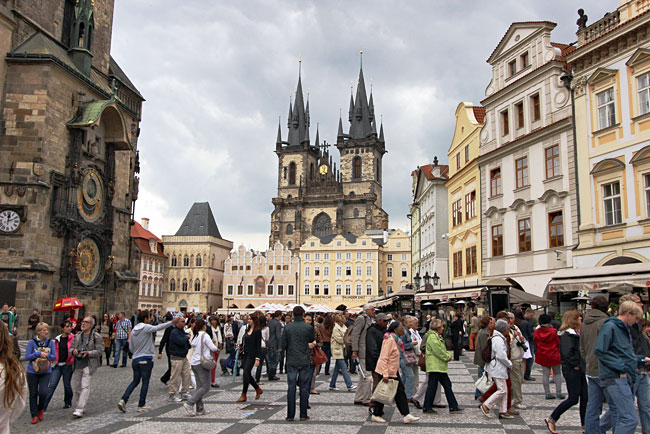 I wish I could say that it met my expectations. The architecture of Old Town Square was stunning, including the magnificent Disneyesque Our Lady before Tyn Church, whose twin spires peek over the square like a Gothic castle, and the equally beautiful baroque St. Nicholas Church. Off to one side of the square, the famous Astronomical Clock is mounted on the southern wall of Old Town City Hall. Installed in 1410, it is the third-oldest astronomical clock in the world and the oldest one still functioning. Each hour, animated figures representing the twelve apostles, greed, vanity, pleasure and death emerge from doorways in the face of the clock while the skeleton (death) strikes the hour.
Unfortunately, Old Town Square is the place to be in Prague. From early morning until late at night, it was packed shoulder-to-shoulder with tourists and crowds began to assemble in front of the Astronomical Clock a quarter before each hour. Though I spent two weeks in Prague, I could never get close enough to see the show due to the massive crowds.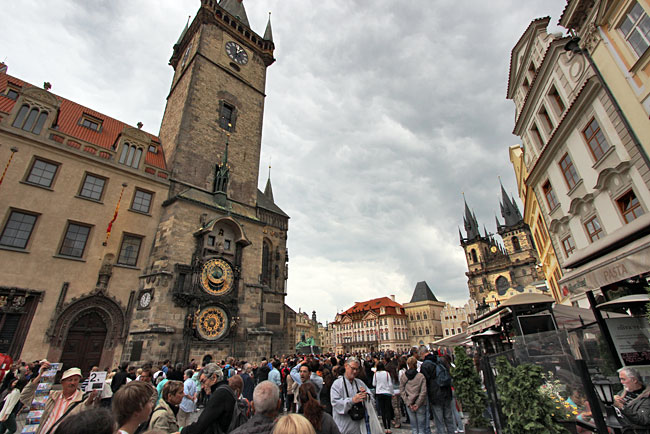 The pedestrianized Charles Bridge is the second most popular attraction in Prague. It is, indeed, a beautiful structure, however not much of a pleasure to walk due to the mass of humanity streaming across and kiosks selling junk merchandise and caricatures along its entire length. On the far side I fought the crowds once again to see Lesser Town, and made my way up the hill to tour Prague Castle and St. Vitius Cathedral (you'll have to pay if you want to see the front of the nave inside the cathedral). Here the legions were fewer, but still too large for my comfort.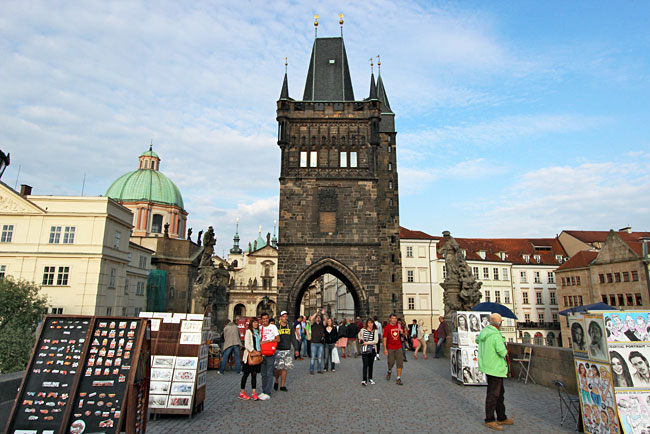 In an effort to escape the crush, I did seek out alternative sights. I spend one lovely afternoon wandering through Petrin Park's rose gardens and climbing Petrin Tower for a fabulous view of the city. Another delightful afternoon was spent investigating the nooks and crannies of the gardens on the southern slope of Prague Castle. And my visit to the John Lennon Wall was a very moving experience. But all-in-all, I found the city to be extremely touristy and incredibly overpriced. The day I tried to buy a small bottle of water in Old Town Square and was told it was $4 (double what I'd pay in the U.S.) was the day I hit my limit of patience with Prague. I handed it back to the vendor and said, "ridiculously expensive." He shrugged his shoulders and replied, "This square is the most expensive place in all of Europe to buy anything."
Frankly, I could have dealt with the crowds and the prices if I had been made to feel welcome, but I wasn't. Though I tried mightily, very few Czechs were willing to have a conversation with me. Wait staff suffered me only long enough to collect my money and it took me ten days to coax a smile out of the woman in the shop where I bought my tram tickets each day; in the beginning she refused even to say hello, and I seriously doubt that my pronunciation of the Czech greeting was so bad she couldn't understand me. With one exception, the only friendly people I met in Prague were from Poland. I broached the subject of unfriendly Czechs with my Polish tour guide one afternoon and he laughed. "Many Czechs go to Poland for vacation," he said. "I've asked a few of them why and they tell me it's because Poles are so friendly." It seems even Czechs think Czechs are cold and unfriendly.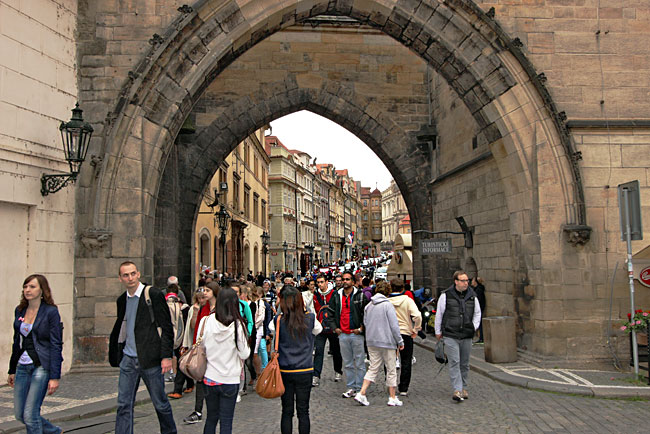 There was, as I said, one notable exception. One day I was feeling quite sick to my stomach and popped into a Bohemia Bagel shop to rest. The young man who waited on me could tell something was wrong and asked if he could help. When I explained, he said, "I know just what you need." Within minutes he delivered a pot of tea with fresh mint leaves and honey, a bowl of soup, and a bagel. I returned several times to that shop and absolutely everyone who worked there was pleasant, the food was delicious, and the prices were reasonable. I later learned that this particular chain, which is a partnership between Americans and Czechs who wanted to bring a healthier menu to Prague, has a reputation for having the friendliest employees in Prague. They opened their first shop in 1996, featuring a variety of bread with a hole in the middle – thus the bagel was introduced to Prague – and the previously unheard-of policy of providing free refills of coffee. Today there are three Bohemia Bagel restaurants in Prague, all offering salads, sandwiches, soups, desserts and a variety of grilled options in addition to coffee and bagels.
I had no commitments or plans at the end of my visit. I was free as the wind and could go anywhere. The question was where to go. I was intrigued by other possibilities in the Czech Republic. To the southeast lay Brno, with its inspiring architecture, including the restored Villa Tugendhat, designed by architect Mies van der Rohe; the medieval Špilberk Castle; and the baroque Cathedral of St. Peter and Paul. Alternatively, the many things to do in the South Bohemian region of the Czech Republic were pulling me toward the southwest region of the country. As often happens, the answer came in the form of an invitation. I received an email from the town of Poznan, Poland, inviting me to visit their lovely city. I hadn't planned to visit Poland on this trip and had never heard of Poznan, but based on all the friendly Poles I met in Prague I figured, why not? I departed Prague on the PolskiBus, bound for Wroclaw (pronounced VRO-shaf), where I transferred to a train for Poznan. As my bus pulled out of the station, I said a sad goodby to Prague, knowing that I would probably never return.