Poland wasn't even been a blip on my radar when I decided to wander around Eastern Europe this year. I knew I'd be visiting the Czech Republic, after which I intended to continue to Slovenia, Croatia, and points south, but when Prague turned into a giant disappointment I began to rethink my route. About the same time I received an email that invited me to visit Poznan Poland. With no concrete plans holding me back I thought, "Why not?" Two days later I hopped onto the morning PolskiBus in Prague, changed to a train in Wroclaw, Poland, and rolled into Poznan later that same afternoon.
The following day began my acquaintance with this mid-size city that is the capital of Western Poland. A walking tour led through parks and past myriad memorials dedicated to the various uprisings that eventually led to the 1989 Velvet Revolution, a bloodless coup that resulted in Polish independence, and Citadel Park was a monument to World War II. But my history lesson really began when we stepped onto the small island in the center of the Warta River, which runs through the middle of Poznan. The Kingdom of Poland began on that very spot and the country's first rulers were buried in Poznan's 10th century cathedral, whose stately twin spires still rise over the island. Over the ensuing centuries Poznan was sacked by invaders, divided into separate duchies, destroyed by floods and fires, devastated by plague, and endured a series of wars and attendant military occupations that virtually destroyed the city.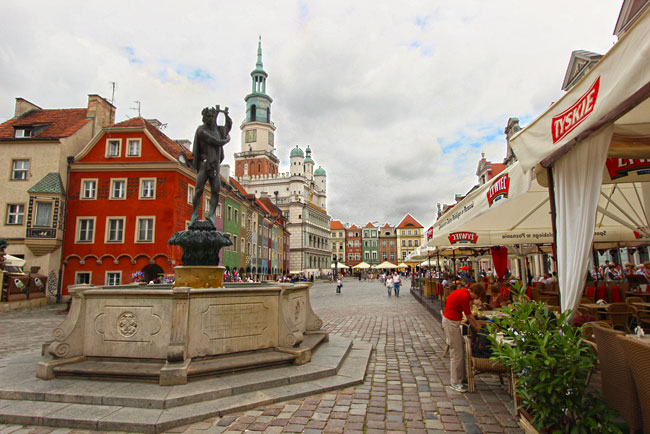 With that history in mind, my expectations for the Old Town were decidedly low as we headed for the Old Market Square to watch the mechanical goats pop out of Poznan's Town Hall clock tower at noon. We turned the final corner and my jaw dropped open in astonishment. Rather than crumbling buildings and peeling paint, the square was lined with exquisitely restored tenement and merchant houses, most of which have been converted to restaurants and shops. Painted in riotous colors, they bloomed like a royal garden surrounding the prize rose, Poznan's three-story Renaissance-style Old Town Hall. I grabbed a seat in a nearby sidewalk cafe and joined the 40 or 50 people who had turned out to watch the noon show, thinking how much more pleasant this was than battling the crowds in Prague.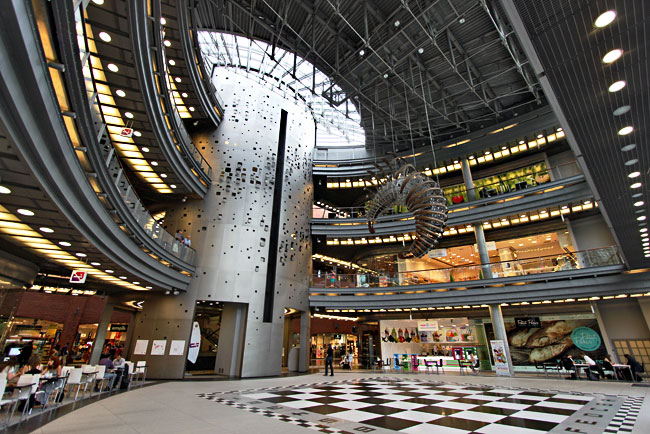 I spent the next three days exploring every nook and cranny of Poznan. I shopped at Stary Browar, the city's new multi-level shopping center that was converted from an old brewery. I sampled traditional Polish cuisine such as Pierogi (dumplings stuffed with cheese) and cold beet soup with a dollop of sour cream on top. I walked completely around Malta Lake, an artificial lake within the city center that offers beaches, an ice rink, roller coaster, artificial ski slope a world-class regatta course for rowing and canoeing, and is home to the the largest indoor water park in Poland.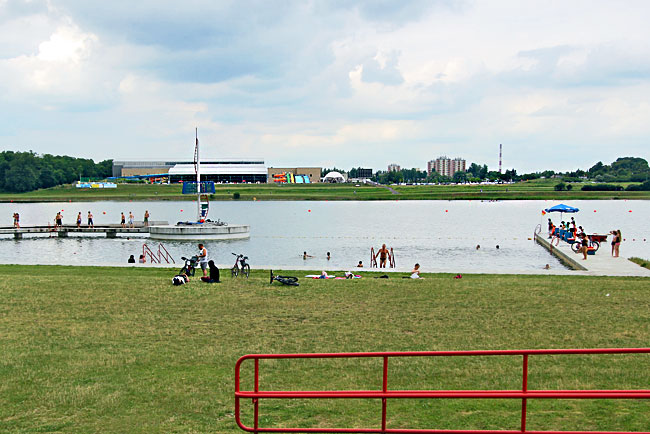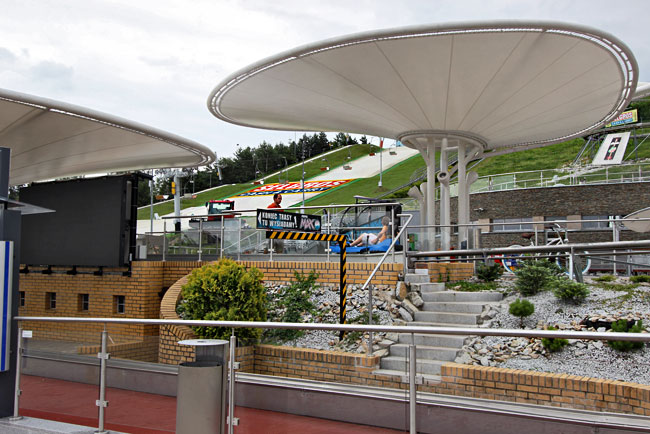 In addition to Malta, several other surrounding lakes are popular with beach-goers, including Strzeszynskie Lake, which is easily accessed by public transportation and offers walking and biking trails in addition to grass and sand beaches. Even the undeveloped banks of the Warta River have been put to recreational use at Beach Park, an enormous sand lot where old cargo containers painted in psychedelic colors serve as classrooms for art projects by day and live music venues by night.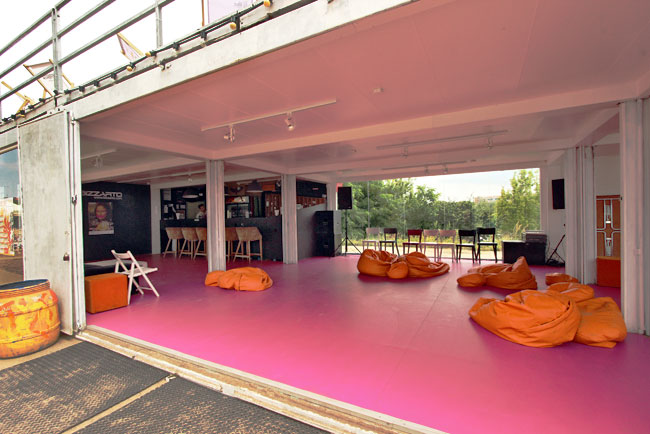 Yet even with so much to do, I was drawn back to the Old Market Square time and again. One afternoon I rocked along with some very talented performers during a stage show set up in the center of the square, including an electric violinist who performed a smokin' hot rendition of Alanis Morissette's "Uninvited." Other nights I sipped coffee at outdoor cafes and watched a sea of bio-luminescent stars populate the sky as darkness fell.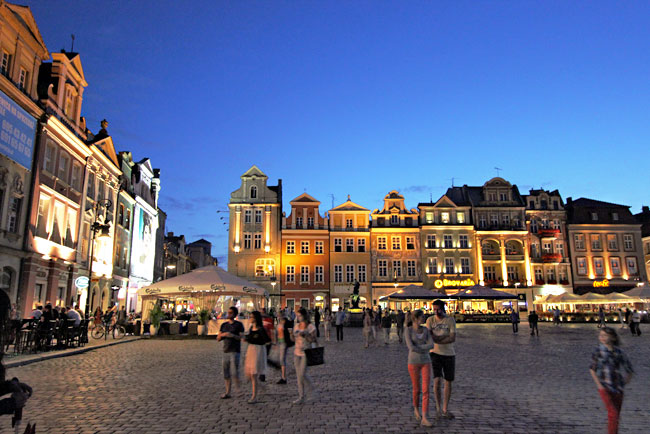 On my last evening in town I once again allowed myself to be drawn by the Market Square magnet. I chose one of the cafes that hosts live acoustic music and settled contentedly into a street-side table where I could people watch. As couples strolled by hand-in-hand, grandmothers wheeled babies around in carriages, and local men sat on benches to exchange the day's news, I had the delightful sense of being a part of real life in Poznan, rather than having a purely tourist experience. And that, in my opinion, is what makes an ideal holiday destination.
Where to stay and dine in Poznan, Poland:
While visiting Poznan I stayed at the Soda Hostel and Apartments, located just outside the historic center and just steps from a trolley stop. My twin room with private bath was spotless and the bed was very comfortable. Unlike most hostels, Soda has a huge common kitchen equipped with an espresso coffee machine  and a good breakfast is included in the price of the room. A spacious chill-out room offers a newspapers, books and PlayStation 3. Though they call themselves a hostel (and they do offer traditional dorms in addition to private rooms), Soda feels more like a boutique hotel. Check out the photos of Soda in the slide show below.
Dining choices in Poznan are plentiful and varied, ranging from traditional Polish dishes to cuisine with a more modern twist. In all cases the quality of the food was excellent and the prices were extremely affordable, including those in the Old Market Square. My favorite, however, was Vine Bridge Restaurant, which claims to be the smallest restaurant in Poland and serves what they refer to as "new Polish cuisine." With only three tables, the smallest restaurant claim is entirely believable and it's certain you won't find any traditional Polish Kielbasa on their menu. In fact, you won't even find a menu. The owners prepare dishes with the freshest ingredients available on any given day. My vegetarian entree was a mouth-watering array of fresh vegetables, slow-cooked in a clay pot and garnished with fresh herbs, while my hosts dined on fresh Salmon, seared and served on a wooden slab. Check out the photos in the slide show below, including my favorite part of the meal, the desert of white chocolate foam, coffee crumble, raspberry sorbet, boiled rhubarb, strawberry mousse, chocolate straw, and edible Corn flowers.
Can't view the above slideshow about food and accommodations in Poznan, Poland? Click here.
I was a guest of Poznan, Poland during my stay in their fair city. However, the receipt and acceptance of complimentary items or services will never influence the content, topics, or posts in this blog. I write the truth, the whole truth, and nothing but the truth.