There's a book in my future. More precisely, there's a book in my past that I need to get back to writing if I ever expect to finish it. The problem is, it's hard to write a book when I'm traveling around the world, switching countries every few weeks. Rumbling around in the back of my head was the idea that I might just stop for a while, if I found a place that I liked well enough. I'd often thought that Spain might be that place, so I was pleased last fall when I learned that a travel blogging conference would be scheduled in Girona, located in the far northeast part of the country, in an region known as Costa Brava.
Unfortunately, three back-to-back press trips booked immediately after the conference left me little time to explore Catalonia before I was scheduled to leave for Paris. But the idea of Spain as a temporary base just wouldn't go away, so at the end of my French experience I returned to Girona for a longer stay. This time, because I wanted to connect with the locals as much as possible, I arranged to rent a room from a young couple who had an apartment near the city center. In theory it was a good idea but sometimes things just go awry. Rather than being born and bred Spaniards, my hosts both turned out to be struggling immigrants, one from South America and the other from Palestine, who had only just moved in together. To save money they kept the heat turned off, even when temperatures began to dip, relying instead on one small electric space heater that was alternated between bedrooms. It was a relief when they informed me that family was unexpectedly arriving and I would have to find someplace else to stay.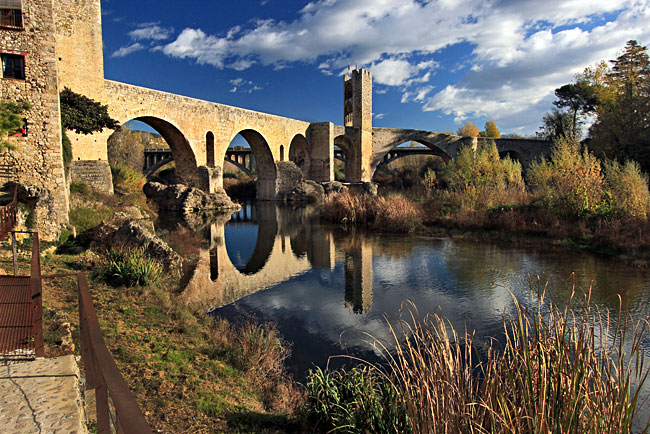 A few days later I moved to the Equity Point Hostel, just a couple of blocks away. I should have suspected that something wasn't quite right when I was required to sign a form stating that I understood refunds were not possible for any reason, but the front lobby looked fine so I didn't question it. Five minutes later I walked into the hostel hallway and was assaulted by the rank odor of sewage welling up from the floor grates. Breathing through my nose, I quickly found my dorm room and pulled the door closed to shut out the odor, only to realize that the room was freezing. The window next to my bed was broken and could not be shut, not only letting in the icy air but also leaving the first floor room totally accessible from the outside. Over the next few days I learned that the thermostats for room were all controlled by the front desk, and that heat was turned off early each morning and not turned back on again until night. The only place in the entire facility that was warm enough to write was the lobby, but the only seats were hard plastic chairs. Even the showers were impossible. They turned off automatically after thirty seconds, not even long enough for the water to become hot, and each subsequent push of the handset kept the water on for less and less time. In short, the place was one of the worst hostels I've ever encountered.
With no way to get my money back I decided to spend most of my time outside the hostel. One afternoon I discovered Context Libreria Cafe, a cozy (and warm) bookstore/cafe that offered live music, performance art, and literary events several evenings each week. The owner, Frederik, happily allowed me to while away the hours sipping espresso drinks and snacking on their delicious hummus. Another day, Richard Calvin, the owner of  Charming Catalonia Villas, a company specializing in high quality vacation rental homes and villas, took me hunting for wild mushrooms. When hunger set in we hiked a couple of miles to the tiny village of Orfes, where a handful of modest cottages clustered around an old stone church. There were no stores in sight and certainly no restaurant. Puzzled, I followed Richard up an enclosed stairway to the second floor of one of the homes, where he knocked on the unmarked wooden door. Seconds later the owner, Albert, threw the door open with a smile, revealing the mint green walls and white tablecloths of La Barretina Fonda d-Orfes Restaurant. Albert learned I was a vegetarian and began clucking over me like a mother hen, insisting I try the specialty of the house, a homemade sweet onion tart. Translating from Catalán, Richard explained that Albert roasts the baby onions for six hours, drawing out their sweetness before wrapping them in a flaky pastry crust. The first exquisite bite made me swoon. This simple onion tart was the most delicious dish I'd had in all of Spain.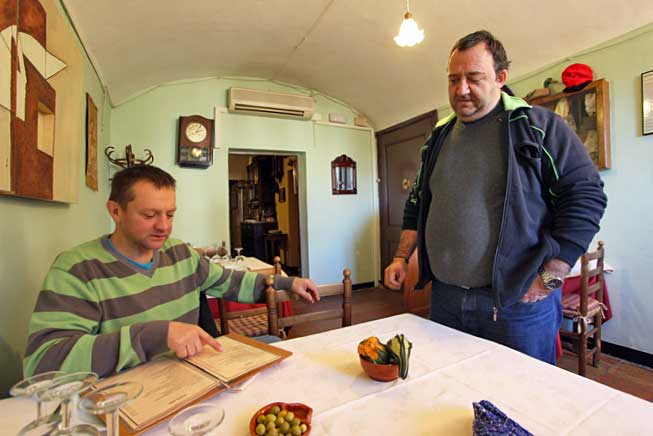 Later that same week, Richard invited me to spend the day with his family. I hopped aboard a local bus for the hour ride to the town of Besalú, a historical national property since 1966. Richard met my bus and we headed off on a walking tour of the town's 12th-century Romanesque stone bridge (see top photo), 11th century church, and central square, where the daily produce market was still underway. Being accompanied by a respected local businessman had distinct side benefits, as Richard was also able to show me a restored 11th or 12th century ritual Jewish bath (mikveh) not open to the public. As early as 1090, Besalú was home to one of the oldest Jewish settlements in Costa Brava. With the protection of local authorities, Jews living in Besalú escaped the atrocities suffered by other Jewish settlements during the purges of the late 14th century but by the 15th century they were evicted from Spain. The synagogue and mikveh were abandoned, not to be discovered again until 1964.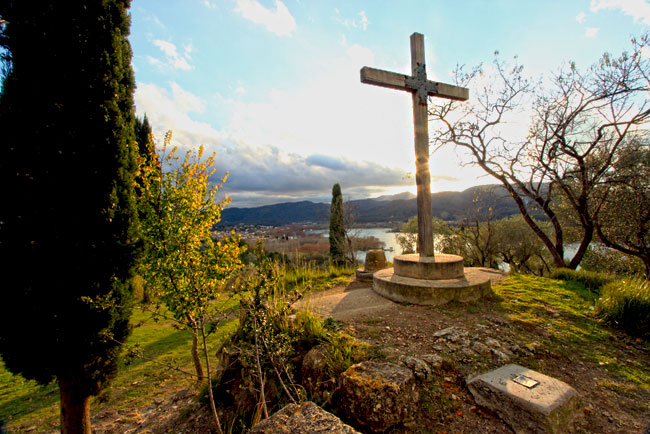 A short time later I was sitting at the kitchen table with Richard's wife, Sara Marti, swapping tips about technology, blogging and press trips, as Richard slaved over the stove. Richard insisted on driving me back to Girona; I didn't yet know it but he had one more surprise in store. In Banyoles, he diverted onto a pothole-ridden dirt lane and bounced up a hill., where we strolled through a grove of gnarled olive trees and looked down upon Lake Banyoles, glistening in the setting sun.
Two days prior to my scheduled departure I made one last discovery in Girona. Hunched down into my jacket with collar pulled up around my ears, I was hurrying across Plaça de Independencia when a mouth-watering aroma stopped me in my tracks. I followed my nose to a food wagon on the far corner of the square, where long coils of batter sizzled in hot oil, puffing up and turning golden brown. These Churros (Xurros in Catalán), are usually consumed with Chocolate (Xocolate), a thick  liquid that is a cross between hot cocoa and melted chocolate. I surveyed the choices and knew that moderation was not an option. I had to have one each of the chocolate covered, creme filled, and plain varieties. Though they were all delicious, the plain was my indisputable favorite. The light-as-air pastry was crispy on the outside, soft on the inside and melted in my mouth. Churros were my breakfast, lunch and dinner during my last two days in Girona.
Can't view the above slideshow about Catalonia, Spain? Click here.
I never really made my mind up about staying long term. I liked Catalonia and the energetic can-do spirit of Catalonians but the winter temperatures were a bit chillier than I preferred. The food, farmers markets, and abundance of organic products were a definite bonus, as was the fact that Girona offered a real coffeehouse culture. Located less than an hour from the Mediterranean coast and only minutes from the mountains, Girona seemed like the perfect place to put down temporary roots but in the end my wanderlust got the better of me. I may well return, especially since the folks from Costa Brava Tourism informed that there is another hostel in town, but for now the road still beckons. My book is going to have to wait a little longer.