"If you're a vegetarian how do you get enough vitamin B?" Harold asked.
Charles chimed in on my behalf: "Quinoa. It's an ancient grain that was originally cultivated in Peru and it has one of the highest concentrations of vitamin B of any food, plus it's high in protein." I checked his information; as usual he was spot on. I've never met another individual who knows so many facts about so many things.
For the next three hours in REV Coffee, our little group expounded on matters small and large. A discussion about the destruction of the Amazonian rainforest in Brazil, which is irrevocably changing the lives of natives who rely on the jungle for their existence, led to speculation about whether the fabled "Lost City of El Dorado," said to be filled with riches beyond imagining, ever really existed in the Amazon. When Ray wandered in and announced he was thinking of buying a DSLR Canon Camera, conversation turned to the relationship between aperture, speed, and ISO. And when fellow writer, Roger, asked me what reference materials I use when writing, I pointed him to Strunk and White's "Elements of Style."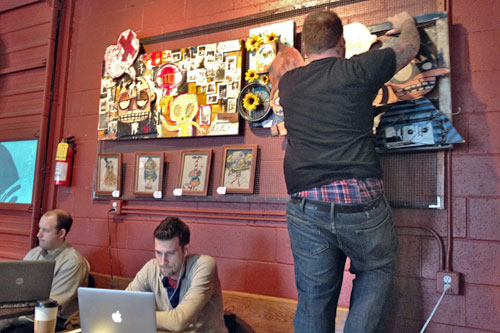 Over the years, I've been a regular at any number of coffee shops but none compare to REV Coffee in Smyrna, Georgia. When owner Nick Bimmerle bought the coffee shop in 2008 it had good bones. The cavernous space in which it is located, an old auto repair shop with a soaring ceiling, roll-up garage doors, and exposed air conditioning ducts, was furnished with overstuffed couches, armchairs, and a scattering of cafe tables. Area rugs dotted the concrete floor and the walls displayed original creations from local artists. But it was Nick's special touch that turned REV from just another coffee shop into the "Cheers" of the greater Atlanta area.
In addition to Wednesday night open mic and Friday night live music programs, Bimmerle encourages groups of all kinds to meet at REV. "I've never been close-minded when people asked me if it would be cool if we did this or that, whether it's knitters or chess players, because that's what this place is all about, the community and giving people a place to come." One of his great successes has involved teaming up with Cumberland Community Church. "A lot of the congregation frequent REV. They're just great people, so whenever they need something we're happy to help out and vice versa." The church lends chairs to REV for their bi-monthly 'Bleep-Free,' family-friendly comedy night, which features amateur Atlanta-area comedians, some of whom, insists Bimmerle, are very funny. At the end of the evening the audience votes for their favorite and the winner goes home with $100 cash. "It really fills the place up," he adds.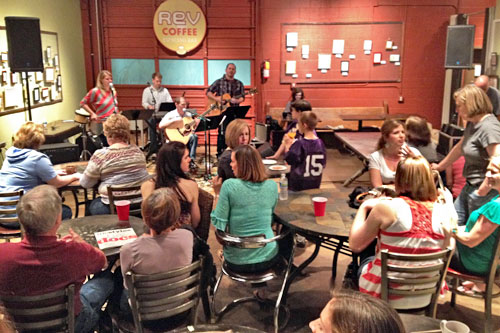 Eliciting this kind of devotion in customers can also have drawbacks. Whenever I'm in town, I spend hours at REV, writing. Because I'm taking up a seat, a parking space, and surfing the web on their free wifi connection, I buy things throughout the day: a grilled cheese sandwich here, an Americano there; but I was curious how he felt about customers who are not as considerate. "It kind of comes with the territory," he says. "There are some who I wish would buy more, but if you buy something, then it's OK." The only thing that irritates him is when people sit down, hook up to the wifi, and don't buy a thing. "That happens?" I asked incredulously. "Oh, it happens a lot. That's why we change our password. So, every time you come in and we've changed our password, I've just had enough." That Bimmerle knows who and who doesn't buy is no surprise. A good deal of REV's success can be attributed to the employees being keenly aware of their customers' preferences."People come in and most of the time we know what you want before you order." In the morning, regular customers find their favorite morning cuppa waiting for them when they walk in the door.
Not one to sit on his laurels, about a year and a half ago Bimmerle began roasting his own coffee. He buys green beans from the two U.S. importers who have teams on the ground in coffee-producing regions around the world. "Their people go from farm to farm, purchasing the best beans. We know they're good coffees, because they care about coffee as much as we do." Recently, he began thinking about taking his roasting operation to the next level by establishing a personal relationship with one grower from whom he could import directly.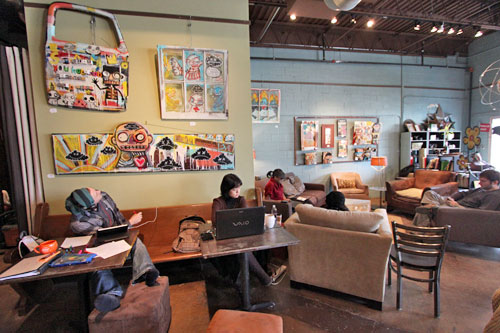 With that goal in mind, he flew down to El Salvador during the recent harvest season. "It wasn't really about establishing relationships yet; I needed to gain knowledge. I learned a ton; I'm still digesting all the information about how we're processing our coffee, how we're roasting and brewing it." Bimmerle explained that coffee cherries can be processed in a variety of ways. African coffees are processed in an entirely different way than South American or Latin American coffees. Some wash the cherries while others don't, and each type of processing creates a different flavor profile. Even within San Salvador, there were major differences between varieties of coffee grown at lower, middle and extreme high elevations. By this time next year, he hopes to be importing his own coffee, beginning with beans from El Salvador and then perhaps Guatemala and Colombia. "It'll be great to say 'I shook this man's hand and this is our coffee.'"
But even the finest coffee doesn't guarantee a delicious brew. When I mentioned that my preferred drink, an Americano, can taste different depending on which barrista made it, I got a surprising lesson about what's involved in making the perfect Espresso shot. "We use 20 grams of coffee and we want that shot to be pulled for anywhere between 23 and 26 seconds, and we want it to yield 1.5 ounces." As if that weren't difficult enough, the grind can affect the shot, as can how hard the coffee is tamped down in the filter. Given the variety of factors, the quality they maintain is nothing short of remarkable.
Plans for the future include ramping up the roasting operation and selling their beans to restaurants and cafes around the city, developing a website for online sales, and potentially opening a second shop in Sandy Springs. How Bimmerle intends to do that is a mystery, since he already works up to 100 hours per week and has a year old son with his wife Jenn. Whether he'll be able to create the same great energy at a second coffee shop remains to be seen but one thing is certain; in Smyrna, magic happens at REV Coffee.