Some cities beckon sports lovers, others are the darlings of festival lovers. Some delight the palate while others offer up a smorgasbord rich in history, art and architecture. Girona, Spain is all of the above.
I first arrived in this Catalonian capital back in September to attend the Travel Blog Exchange Conference, sponsored by Costa Brava Tourism. My plan had been to spend a few days in Girona, followed by several weeks traveling around France, ending with two weeks in Iceland before heading back to the U.S. to spend Christmas with my family. As often happens, my plans were thwarted.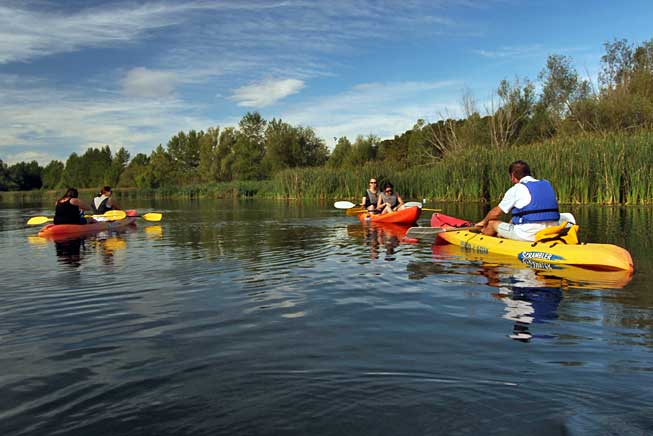 Post-conference, the tourism board went into high gear, chauffeuring me to Vall de Nuria, high in the Spanish Pyrenees for a day, followed by a three-day press trip that promised to make me "feel like a local." I milked a cow at an organic farm, hiked to the top of a ring of volcanoes, enjoyed a traditional Catalonian breakfast of tomatoes rubbed on fresh bread and slathered with olive oil at a 700-year old farm. I explored a natural spring at Canet d'Adri and spent a day with one of the city's top chefs, learning about the gastronomic delights of Catalonia. One morning I kayaked the rapids of the Ter, one of four rivers that converge in Girona, then joined an afternoon walking tour of Barri Vell, the old town in Girona where eye-poppingly colorful houses reflected in the mirrored surface of the River Onyar.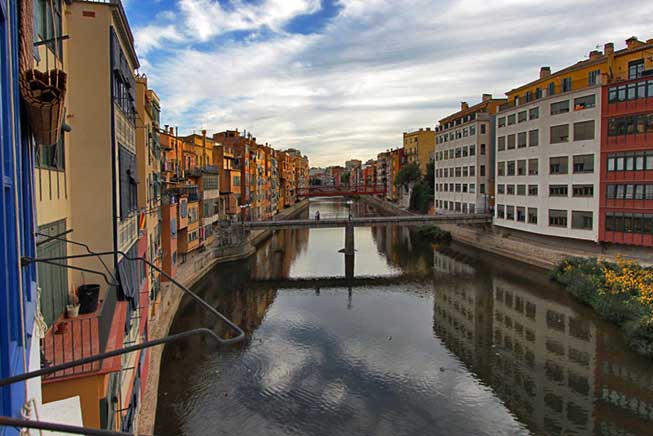 A little taste of a place can be a dangerous thing. My appetite whetted, I craved more. About the same time someone pointed out to me that there are only three or four hours of daylight each day in Iceland in December. In the blink of an eye I had rearranged my schedule; Iceland was put on hold until spring and I decided to return to Girona after my travels in France.
I returned two weeks ago and have been exploring ever since. Passieg de la Muralla, the Medieval wall that still surrounds much of the city, offered spectacular views across the valley to the Pyrenees, already blanketed in snow. Inside Girona's magnificent cathedral, I marveled at its cavernous nave, said to be the broadest Gothic architecture in the world. And at the Museum of Jewish History I learned that at the beginning of the 13th century, Jewish scholars from Girona came in contact with the Kabbalist known as Isaac the Blind (Sagi Nahor), from the south of France. They brought his theosophical doctrine back to Girona, where the leaders of the Jewish community developed it so well that the city became known around the world as the "Mother City of Israel." Today the Kabbalah is an important Jewish mystical tradition that examines the concepts of creation and spirituality.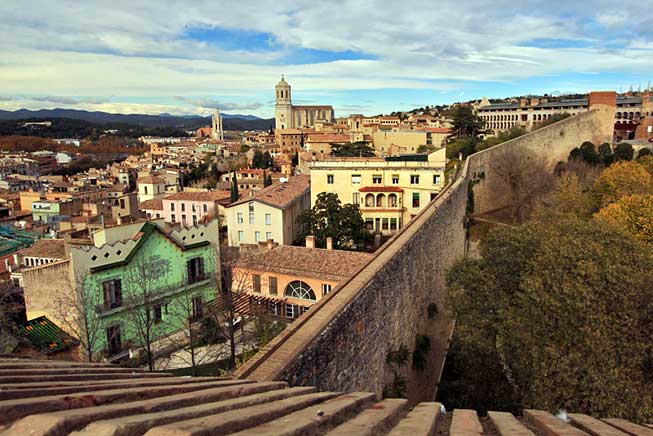 Frankly, I am fascinated by this city and I am not alone. National Geographic chose this rugged Catalonian region known as Costa Brava as one of their top 20 travel destinations in 2012. In my all-too-brief time here I have tried unsuccessfully to exhaust the opportunities that Girona offers but for each item I tick off my list three new ones appear. With only two days left, I have admitted defeat and admitted that I will just have to return, perhaps for the Temps de Flors (Flower Festival), when the city is bedecked in flowers for a week in May. The proposition is a bit scary. If I am enchanted when it is uncomfortably cold and slightly dreary, how will I ever tear myself away in the springtime?
Can't view the above slideshow of Girona, Spain? Click here.
My tours of Girona and the surrounding Catalonia countryside were jointly hosted by Costa Brava Pirineu de Girona (Costa Brava Girona Tourism Board), the regional Girones Centre de Visitants, and the Ajuntament de Girona (Girona City Hall). However, the receipt and acceptance of complimentary items or services will never influence the content, topics, or posts in this blog. I write the truth, the whole truth, and nothing but the truth.