Our group clustered around Chef Xavier Arrey in the busy market, intent on learning as much as possible about the fresh local ingredients available in the Catalonia region of Spain. Through our headsets, he spoke to each of us in the language we understood – to me in Spanish, to another in Catalan, a third in Italian, and a fourth in French – switching so effortlessly between languages that he made my head spin. At one vendor he picked up a fresh fig and peeled it open, revealing the delicate rosy fruit within, explaining that it would make a delicious appetizer when paired with slices of homemade goat cheese. From the butcher he selected blood sausage to be fried up with Faisol beans, then stepped across the aisle and picked up a plastic container of roasted red peppers and onions. He tore off the lid, closed his eyes and inhaled deeply. "Fantastic," he pronounced. Shoving the container beneath each of our noses in turn he commanded, "Breathe!"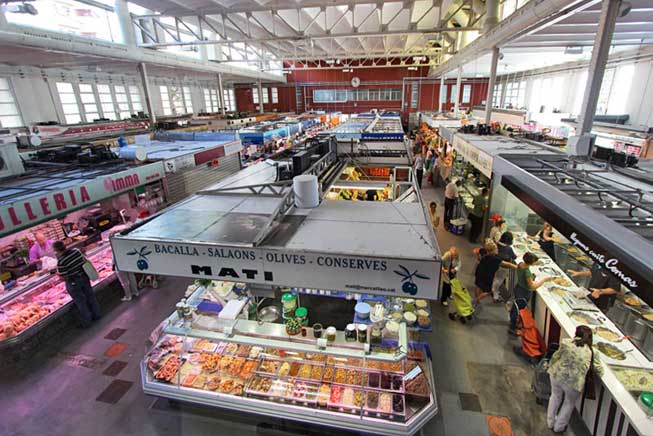 Chef Arrey took one woman by the hand and led her to a kiosk where spices were heaped in glass bowls. We sniffed redolent paprika and cumin and sampled exotic dried fruits while he selected the perfect spices for the cooking class that would follow. I felt heat rise to my cheeks as Chef draped his arm around my shoulders and led us to the seafood stall, where he waxed poetic over tripe then plopped a crayfish in his palm, explaining that the freshest have clear eyes. After selecting jumbo shrimp and Red Mullet, he turned his attention to the Bonito, selecting a large one from the case. "Ah, bellisimo!" he cried, raising the fish to his lips and planting a kiss on its mouth.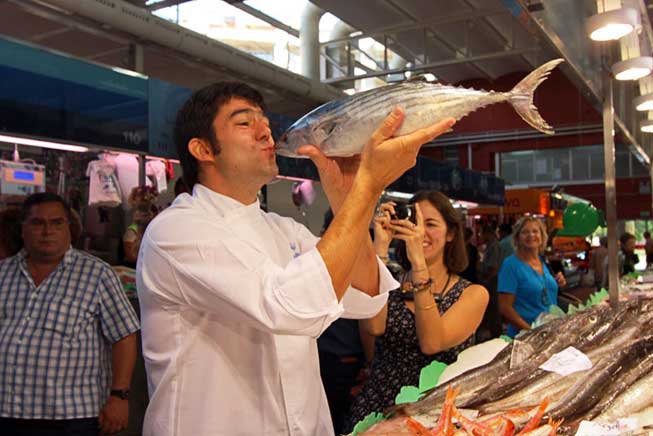 Whether greeting students with double kisses on cheeks or smooching fish, Chef Xavi is clearly a passionate man and I was not immune to his charms. Like a love-struck puppy, I followed him to the second floor kitchen that overlooks the market, where I eagerly filleted fish, chopped octopus, and sliced figs and cheese, despite the fact that I am no cook. Chef flitted among us, assigning tasks, correcting techniques, praising our efforts. His infectious grin and an occasional pat on my arm was enough to keep me begging for the next task. When the appetizers were completed, we turned our attention to the main dishes. Sauteed vegetables sprinkled with black and white sesame seeds sauteed in one pan, while fresh asparagus with soya, lime zest, and lime juice simmered in another. Chunks of octopus were added to a pan of golden fried potatoes and drizzled with a red pepper-infused olive oil. At a second stovetop, three of our group labored over vegetable paella, prepared with locally-grown artisan rice.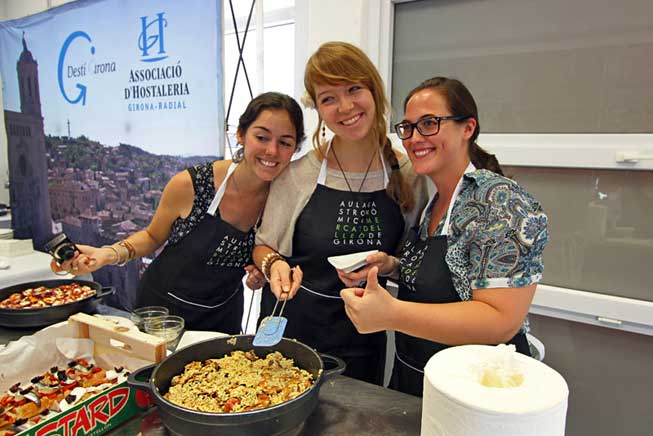 As all the dishes neared completion it occurred to me that none of the recipes had been overly complicated. I am not the world's worst cook, but I struggle; everything I make tends to be either overcooked or over-spiced. That afternoon I realized two secrets to being a good cook: first, do all the prep work ahead of time so that your attention is not diverted during the actual cooking of the food and second, keep it simple. Too many flavors spoil the dish.
Can't view the above slideshow of my cooking class in Girona, Spain? Click here.
Miraculously, everything came together at precisely the same moment. We toasted our chef and eagerly dug into the feast. I gobbled down one entire plate of the fig appetizers and then set my sights on the vegetables and paella. Shopping and cooking had taken four hours, but the eating part was done in twenty minutes. Xavi stood on the sidelines, beaming as we demolished his morning's work and lavishly praised his creations.
I would gladly have stayed the rest of the day; I even offered to wash the dishes but of course, I was not allowed. There was nothing more to do but say my goodbyes. Chef Xavi took my face in both his hands and thanked me profusely for coming. I looked into his sparkling black eyes and melted. As I floated down the stairs I realized we had prepared and eaten everything purchased that morning with the exception of the big silver bonito. Somehow, that was fitting. I will always remember Xavier Arrey as the chef who kisses fish. If only I could be a fish for a day.
My market tour and cooking class was hosted by Costa Brava Pirineu de Girona (Costa Brava Girona Tourism Board) and presented by Chef Xavier Arrey and General Manager Jordi Mias Morell of Hotel Carlemany in Girona. However, the receipt and acceptance of complimentary items or services will never influence the content, topics, or posts in this blog. I write the truth, the whole truth, and nothing but the truth. If you are planning a trip to the Catalonia Region of Spain and would like to attend a cooking class, contact Costa Brava Pirineu de Girona, Av. Sant Francesc, 19, 4t, Girona, 17001, Spain, Phone: 972 208 401 (country code +34), Website contact form.