When my sister Nancy and I checked into Four Seasons Resorts Lana'i – The Lodge at Ko'ele, the front desk clerk explained how we would prepare for moving to their sister property, Four Seasons Resorts Lana'i – Manele Bay, two days hence:
"You can leave everything hanging in the closet. We'll cover your clothes with plastic and move them, along with any luggage you have, down to the beach. Just bring us the key and let us know you are ready to check out."
I could hardly believe my ears. Fast travel usually means I live out of my suitcase without unpacking, but this unique offer meant I could actually hang my clothes up for a change. I decided in that instant that I liked this resort and over the next four days in Lanai, Hawaii I discovered just how much the two properties had to offer – and how very different they were.
The Lodge at Ko'ele has been carved into a verdant forest of Cook Island Pines that march halfway up Kolo'iki Ridge, which stands statuesque behind the lodge. We tackled the trail to the top first thing after checking in, taking a circuitous path through gorgeous manicured grounds and crossing Ko'ele's signature golf course – The Experience – on our way to the trail head. Just beyond the golf course the pine needle padded path climbed steeply before descending sharply to connect with the Munro Trail, perhaps the most famous trek on Lana'i. We followed the Munro for a while before veering off to the left and pushing upward to the top of the ridge. Wishing I had more time to soak in the beauty of red volcanic hills crowned with apple-green bushes and herds of spotted Axis deer munching on nearby tender grasses, I snapped a few photos from the top and turned to leave, as I was due back at the lodge for a massage.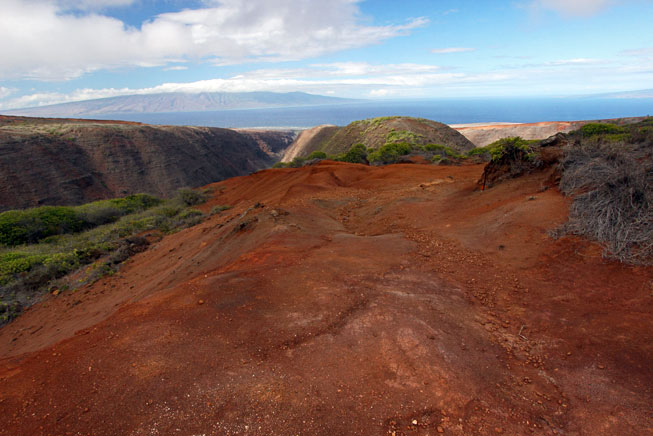 After a two-hour massage that can only be described as magical, I floated down to the lobby where Nancy and I enjoyed a delicious dinner. Although Ko'ele offers a more traditional dining room we ate at the Terrace, located in the main hall, with its floor-to-ceiling glass doors that look out on the exquisite grounds and bookend floor-to-ceiling stone fireplaces where logs crackled to ward off the cool night temps.
Following two days of bliss at Ko'ele we were spirited away to their sister property, Manele Bay. Our descent from the pine forests of the plateau carried us into a wildly different landscape of ultramarine seas crashing against torturous black lava cliffs, tropical vegetation, and temperatures that were at least ten degrees warmer than the uplands. We threw off our sweatshirts, climbed into bathing suits, and strolled the golden sands of the beach at Manele Bay, nearly deserted by mid-afternooon. With an hour to kill before dinner at Frescos, we sunk gratefully into two poolside chaise lounges and watched with fascination as a Hawaiian man clad in a flowered loincloth repeatedly blew into a conch shell to announce the nightly lighting ceremony. When the last mournful sounds had faded, he ran from to torch to torch, illuminating the grounds in a golden glow just as the sun sank below the horizon.
I slept that night, as I had for the previous two, on a dreamy bed that seemed to reach up and embrace me the moment I climbed in, with a thick duvet pulled up to my chin and a feather-soft pillow under my head. Since 1970, Four Seasons Hotels and Resorts have focused on luxury and providing experiences of exceptional quality. Having grown from a single hotel in 1960 to 50 properties today, with hotels on every continent except Antarctica, it seems they are doing something right. While the Lodge at Ko'ele and Manele Bay be siblings with two distinct personalities, they are twins in their dedication to making sure guests have an enjoyable stay. In my case, they succeeded absolutely.
Can't view the above slideshow about Four Seasons Resorts Lana'i – The Lodge at Ko'ele and Manele Bay in Lana'i Hawaii? Click here.
The Lana'i Visitors Bureau kindly hosted the author's stay as part of the #VisitLanai Artist in Residence Program. However, the receipt and acceptance of complimentary items or services will never influence the content, topics, or posts in this blog. I write the truth, the whole truth, and nothing but the truth.