Over the years I've spent considerable time on O'ahu, Kaua'i and the Big Island of Hawaii, however I found these well known destinations to be so touristy that it was difficult to meet locals. I considered booking a Hawaiian Island cruise to check out the smaller, less visited islands, but decided that a cruise would probably not offer me the local connections I craved. So when the Lana'i Visitors Bureau invited me to the tiny Hawaiian island of Lana'i, I jumped at the chance. One of the smallest of the islands, Lana'i is said to be like the authentic Hawai'i of 25 years ago.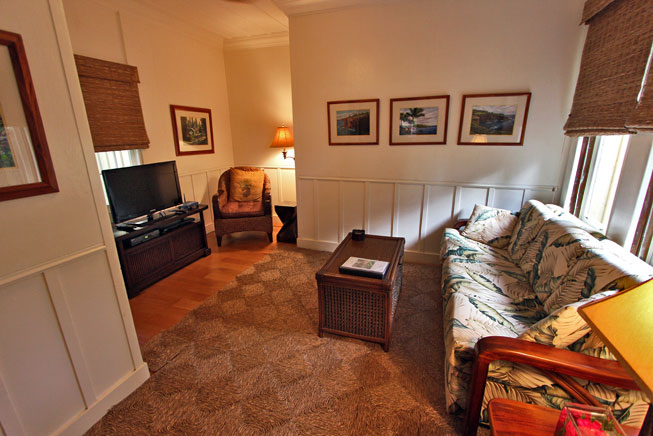 Appropriately, my sister, Nancy, and I began our six day stay at the Hotel Lana'i, a plantation style guest house built in 1923 by pineapple pioneer James D. Dole as a retreat for his executives and important guests. When pineapple farming ceased in 1992, it was converted into the first hotel on Lana'i, offering just ten rooms and one small cottage. As Mike Charles, one of the inn's owners, led us to the beautifully appointed cottage, complete with queen size bed, bath, and separate living room with a giant big-screen TV, we peppered him with questions about the history of the hotel and the island. He set our luggage down and suggested our questions would best be answered with a visit to the Lana'i Cultural Heritage Center (LCHC), located just steps from the hotel.
The next morning, following a delicious breakfast of miniature quiche pies, fresh fruit and chocolate chip scones at the hotel, we made a beeline for the Cultural Center. We were met by Mikala, who explained a bit about the Hawaiian race."Hawaiian folklore, if you listen to the chants, speaks of a homeland called Ka'hiki. That sounds very much like Tahiti, so many believe that the original inhabitants of Hawai'i sailed from Tahiti, or perhaps the Marquesas, and probably came from Asia before that." Since most Hawaiians today are a mix of Hawaiian, Japanese, Filipino, Samoan, Anglo, and even Puerto Rican heritage, most consider themselves to be Hawaiian if they have even a drop of Hawaiian blood in their lineage. Mikala insisted that what defines a Hawaiian today is not blood or genetics, but "having a responsibility to this place."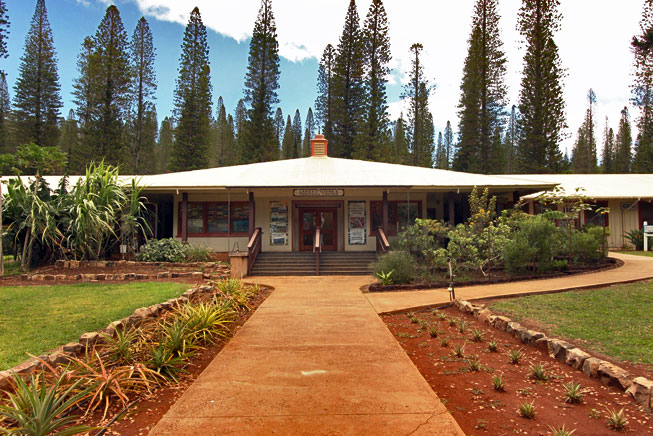 To learn more about the turbulent past and uncertain future of Lana'i she suggested we read the historical timeline that ran around the two exhibit rooms, ending in what she termed "an appropriately dark corner." According to island lore, around 1200 the son of Chief Kaululuaau was banished to Lana'i, believed to be the home of evil spirits.  The young prince successfully chased away the spirits, rendering the island suitable for habitation. He returned to Maui, carrying tales of the island's beauty, which attracted the first permanent residents. Settlers on Lana'i lived mostly in peace until around 1778, when Kalani'opu'u, King of Hawai'i, invaded Maui. His attack was repelled, forcing him to nearby Lana'i, where he encamped. Within a few months, he had consumed all food resources, burned the forests, and killed many of the residents. The Hawaian islands were subsequently unified in 1795 by King Kamehameha I, who made his summer residence on Lana'i. With his support, the population rebounded to about 6,000.
Upheavals continued throughout the 1800's. In the earliest years of the century, Chinese settlers began cultivating sugar cane and processing it into raw sugar, but abandoned the project within a year. Missionaries arrived in 1813, bent on converting the population, which had fallen to an estimated 3,000 residents. Thinking that the lands would be appropriate for grazing, goats and sheep were introduced in the 1830's. In 1948, King Kamehameha III created a land division system that apportioned land among the government, chiefs, and people, reserving many lands for himself and granting only a few small house lots and planting fields to about 55 native tenants. In the 1850's, with the population numbering just 604, Mormon leaders arrived to "gather saints on Lana'i." Mormon leader Walter Murray Gibson managed to secure leases or purchase outright huge tracts of land from the government and began ranching operations, running 40,000 head of sheep, 300 cattle, and 200 horses, but the animals soon ruined the island's forests, which subsequently caused the only natural water source on Lana'i to dry up. When Gibson died in 1888, only 200 residents remained on the island, all of whom were "fishers, shepherds and patch cultivators."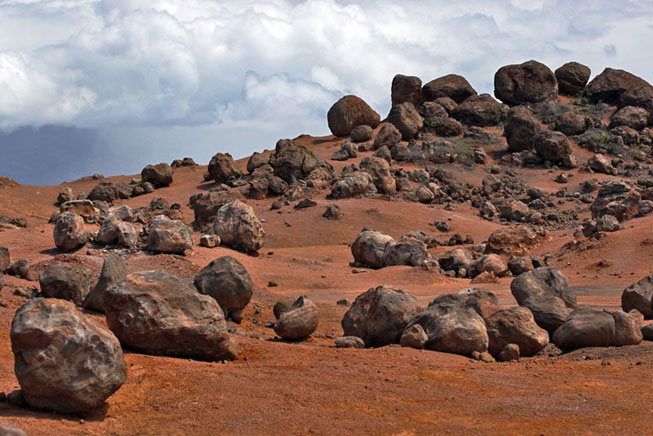 Gibson's lands were inherited by his daughter and son-in-law, who formed the Lanai Land Development Company and began sugar cane operations, but by 1901 that company was also bankrupt. Ownership was vested in several entities, all of which failed, until 1922, when James D. Dole purchased the holdings and set in motion plans that ultimately made Lana'i the world's largest pineapple plantation. The island's 150 residents rapidly grew as Dole mapped out the town, improved the harbor, and built stores, banks, churches, a hospital, theater, and a park; by 1938 the population had swelled to 3,500 and nearly 20,000 acres were under pineapple cultivation. In 1961, the Dole Corporation sold its operation to Castle & Cooke, which announced its intent to transition Lana'i from pineapple plantation to luxury resort destination. David H. Murdock subsequently bought Castle & Cooke in 1985, making him the sole owner of 98% of Lana'i. The timeline ended abruptly in the "appropriately dark corner" that Mikala had spoken of, with a cryptic note that the final harvest of pineapples took place in October of 1992.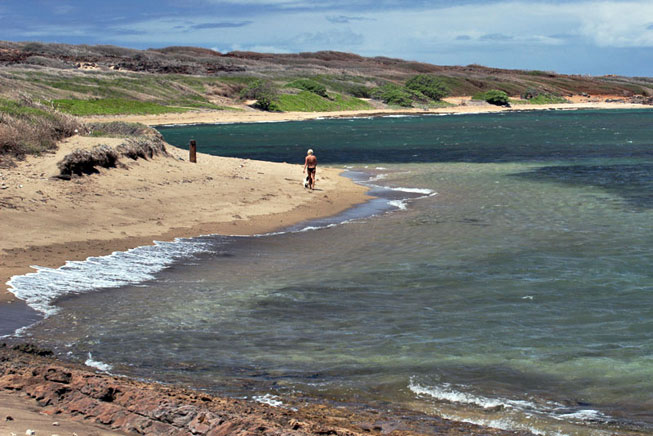 Although Murdock pursued the idea of Lana'i as a luxury resort destination, developing the Lodge at Ko'ele and Manele Bay Resort, which opened in 1990 and 1991, respectively, Lana'i has remained a stepsister to the more well known islands of Oahu, Maui, and the Big Island of Hawai'i. Today, most visitors arrive on day trips from Maui, often as part of a snorkeling trip with Trilogy Lana'i Snorkel & Sail. They make a brief visit to the Lana'i Cultural Heritage Center and do the "Dole Stroll" around Dole Park, which anchors the small community of Lana'i City, before climbing back aboard their catamaran for the return trip to Maui.
Nancy and I were more fortunate; we had six glorious days to explore the island. A four-hour luxury SUV tour by Rabaca's Limousine Service took us up through a tangled landscape known as Garden of the Gods, where giant red volcanic boulders lay strewn like marbles scattered by giants, and down to the pristine sands of lovely Shipwreck Beach on the windswept north shore. Another day, at Lana'i Grand Adventures we climbed into an open-air Utility Terrain Vehicle (UTV) which took to us high up into the hills on rough tracks that offered stunning views over red and ochre soils toward Moloka'i, the closest neighboring island. We even hit the trails on foot, taking a self-guided five mile hike from the Lodge at Ko'ele through the Lana'i highlands, where we were treated to breathtaking views from atop Kolo'iki Ridge and even spotted wild Axis deer. When we weren't enjoying outdoor activities, we were eating ourselves silly at Lana'i City Grille or the restaurants at the Four Seasons Resorts Lana'i – the Lodge at Ko'ele and Manele Bay, or luxuriating in spa treatments provided by the Four Seasons properties.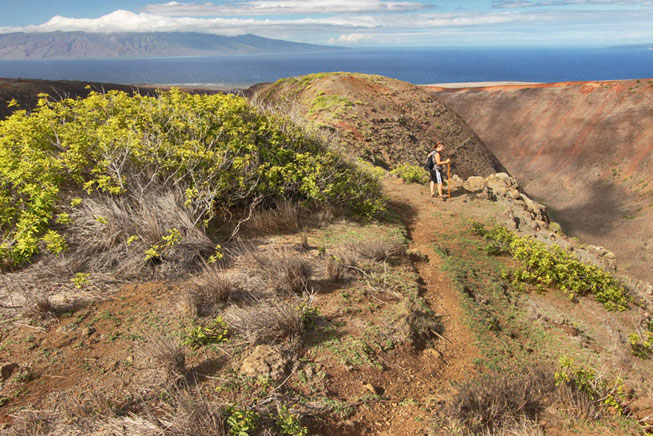 This charming little island may have had a turbulent past and the future may seem uncertain, given the fact that Murdock sold all his holdings this past June to Larry Ellison, America's third richest man and co-founder of Oracle Computer Company, but the fact that it has escaped over-development bodes well for its prospects. At the end of six days we had barely scratched the surface of all that Lana'i had to offer but we were convinced of one thing: without exception, every local person we met seemed genuinely pleased that we had chosen to visit. Perhaps more than any other place in the Hawaiian Islands, the spirit of Aloha is alive and well on Lana'i.
The Lana'i Visitors Bureau kindly hosted the author's stay as part of the #VisitLanai Artist in Residence Program. However, the receipt and acceptance of complimentary items or services will never influence the content, topics, or posts in this blog. I write the truth, the whole truth, and nothing but the truth.