"We probably will not see condors today," our guide announced as we pulled up at the Mirador de los Volcanes. "In December and January they migrate to the coast of Peru to feed on dead sea lions." The tour bus erupted with complaints. "Why weren't we told this when we booked the tour? Seeing the condor was the only reason I made this trip!" one woman spit out. I wriggled and stretched, working out the kinks from my three-hour nap in the hard plastic seat, and climbed down from the van. Jagged black rocks littered the monotone landscape that spread before me, some piled in cairns like ebony fingers pointing to the gray horizon. As if on cue, the sun peeped over the horizon, painting streaks of blue and gold on the sky. I rotated 360°, astonished to see jutting volcanoes in every direction.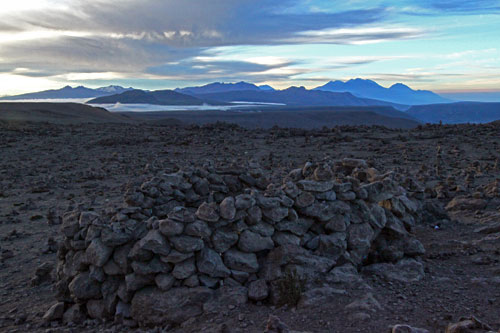 "What's all the fuss about anyway?" I wondered. "Condors are just ugly vultures with dull black feathers and naked heads." The cold finally drove me back to the tour bus, grateful that we would soon be descending from the head-throbbing 15,800-foot high altitude into Colca Canyon, located about 96 miles from Arequipa. A series of switchbacks led us past Chivay and on to the tiny village of Maca, where verdant canyon walls provided a perfect backdrop for the twin towers of a whitewashed adobe church. For the next few hours, we alternated between picturesque villages and unfenced overlooks on the edge of one of the world's deepest gorges. I peered into one abyss after another, at one point eavesdropping as a tour guide pointed out the spot across the canon where a lone backpacker had recently been discovered dead after becoming disoriented and losing his way. It was not hard to imagine in this desolate countryside. Late in the afternoon we pulled into the final overlook, Cruz of the Condor (Condor Cross), where I stood near the edge amidst a hushed crowd, scouring the uninhabitable, snaggle-toothed cliffs for Andean Condors.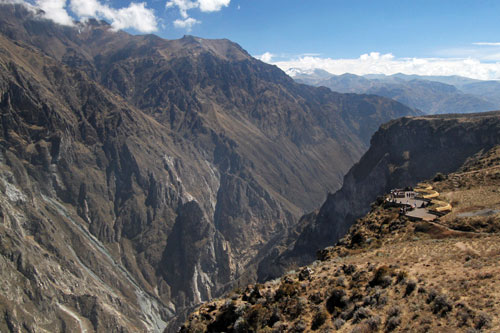 Despite my earlier antipathy, condor fever infected me when I heard rumors that a pair had been spotted earlier in the day and I started making quiet inquiries. Andean condors have the largest wingspan of any bird, in some cases stretching to 10.5 feet. They flap their wings to rise from the ground but once airborne rely on thermals to stay aloft. Colca Canyon is a perfect environment for these giant birds, as it provides high crags from which the condor can launch, especially in the morning when the rising sun heats the air, creating powerful updrafts along canyon walls. Even its naked head has a purpose. The Andean Condor is a scavenger, feeding on the carcasses of dead animals and the absence of plumage allows them to more easily poke their heads into the animal carcass without becoming soiled.
As I digested this information a murmur raced through the crowd. Far below, someone had spotted two birds spiraling upward toward the canyon rim. I shouldered my way to the edge and gasped when the first one emerged from the depths. An adult female glided regally past, red eyes searching for carrion into which she could sink her deadly hooked beak. With lustrous black wingtips curved upward at the tips to take full advantage of the thermals she circled back, proudly displaying her white neck ruff and the brilliant white feathers on her back. The spectators grew quiet, as if paying homage to this eternally silent predator that has no voice box.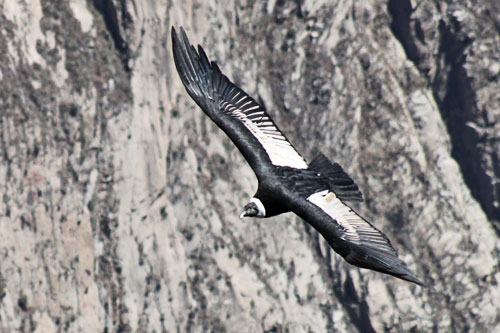 The Andean Condor has not always elicited such reverence. Farmers have killed them to prevent alleged attacks on livestock and villagers have hunted condors in the belief that their bones and organs have medicinal powers and are effective as an aphrodisiac. As a symbol of power and health, their skins are often sold for as much as $25, a fortune to a poor Peruvians. Deforestation, poisoning of food and water sources, and air pollution resulted in a decline in population that led to the Andean Condor being listed on the endangered species list. Indeed, the bird is rarely sighted in Colombia or Venezuela these days, where it once was abundant.
Fortunately, education campaigns and captive breeding programs are beginning to reverse this trend. Because they are not fully mature until about six years of age and only breed every other year, reversing the decline in Andean Condors is difficult without human intervention. North American zoos, led by the Cleveland Metroparks Zoo, are raising hatchlings from captive-bred Andean Condors, which are ultimately released back into the wild to bolster populations. Changing cultural beliefs is a far more difficult prospect. The condor has always been an important part of indigenous Andean religions, as evidenced by the Tomb of the Condor, one of three sacred sites found at Machu Picchu, and to this day the bird features prominently in indigenous cultural events. In southeastern Peru, villagers tie a condor to a bull's back for traditional bullfights, releasing it only after the bull has been killed. During the "arranque del condor" ceremony, a live Andean Condor is suspended from a frame and is punched to death by horsemen as they ride by.
Can't view the above slideshow of Colca Canyon, Peru? Click here.
For more than a half-hour I stood transfixed by the adult female and her companion, a brown-feathered immature Andean Condor not yet in full plumage. Having learned that these magnificent birds can live up to 75 years, I realized that one could be ancient and the other just beginning its journey. Reluctantly, I climbed back aboard the tour bus, casting one last glance back, knowing that I would never again consider these magnificent creatures to be "ugly vultures with dull black feathers and naked heads."
Tours of Colca Canyon from Arequipa, Peru:
There are numerous tour operators in Arequipa that offer both one-day and two-day/one-night tours to Colca Canyon. Though I did not have the time, I would have preferred the two-day trip, which would have provided an opportunity to enjoy the hot springs in the village of Chivay. My one-day tour cost 60 Peruvian Soles, or about $23 USD. Due to the amount of ground that must be covered, the tour departs at 2:30 a.m., however they do pick you up at your hotel. There is a brief stop for a light breakfast of rolls, coffee, and butter, which is included in the price, and a stop at an excellent restaurant for lunch (with many vegetarian options on their buffet), which is not included in the price but is affordably priced at 20 Soles (about $7.50). One caveat – and one that we were not informed about upon booking or even before departing for the tour – is that you must present your original passport at the entrance to Colca Canyon and pay an additional fee of 35 Soles ($13 USD) before you are allowed to enter.