Cusco Peru was one of the highlights of my three months in Ecuador and Peru, but it took me a few days to ferret out the best things to see and do, as well as the best places to stay and eat, so I wanted to share what I discovered to help others who may be planning to travel to Cusco and visit the famed Machu Picchu Incan Ruins.
Where to stay in Cusco Peru
In order to provide a recommendation that would suit all budgets, I stayed at three different hotels/guest houses in Cusco Peru:
Inkaterra La Casona Luxury Boutique Hotel:
Inkaterra La Casona is located in a colonial manor house that was one of the first Spanish constructions in the original Inca settlement and was at one time occupied by the conquistadors of Peru and their descendants. Its eleven suites surround a serene courtyard, just a short stroll from Plaza de Armas, Cusco's present-day main square. From it's luxuriously appointed common areas, which are furnished with overstuffed sofas and chairs, to its fabulous gourmet breakfast buffet, to its exquisitely appointed rooms, La Casona offers the top  of the line in luxury. Each room is equipped with high-count cotton sheets, feathered duvet covers, extra pillows, safe, mini bar, wireless internet connection and cordless phones, plus flat screen TV linked to cable TV, DVD and CD or I-Pod. The fireplace in my room was most welcome, as the nights in Cusco get chilly due to the 10,000+ foot altitude and most hotels do not offer heating of any kind. Rates for 2012 at $380 per night for a Patio Suite, $490 per night for at Balcony Suite, and $590 per night for a Plaza Suite. Rates include breakfast but do not include a 10% service charge and a local 18% tax (VAT) applicable to Peruvians and foreign residents in Peru.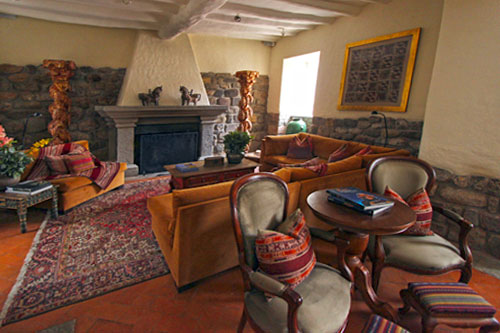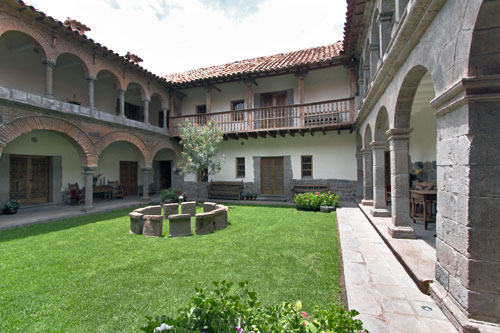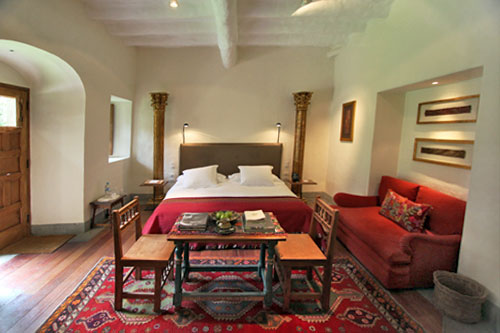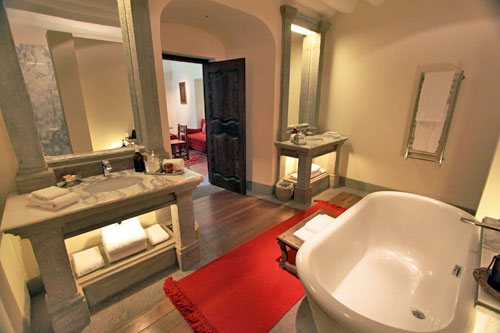 Hospedaje Turistico Recoleta budget accommodations:
Hospedaje Turistico Recoleta is a guest house in an historic building in a quiet area about a 10-minute walk from the Plaza de Armas, Cisco's main square. They offer comfortable single, double, triple, and quadruple rooms with shared bath facilities, 24-hour hot water, and a large common room with ping pong table, TV, and a collection of videos. Breakfast is included in the room prices, which start at $10 per night. Although their website indicates they offer heating, I was not able to get a portable heater during my stay.
Where to Eat in Cusco Peru
As a vegetarian, I had a bit of difficulty finding food in Cusco, until I'd spent some time there. Two of the best places, which serve both vegetarian and non-vegetarian selections, are listed below:
Don Mateo Picanteria:
Located across the street from Hospedaje Turistico Recoleta, Don Mateo Picanteria was an absolute find! Unlike most of the restaurants in Cusco, which are overpriced and cater to the tourist trade, this place serves mostly locals and thus is very affordable. The owner very kindly made me up samples of some of his best vegetarian plates to sample, including the incredible vegetable salad shown below. He also had the very best chicha morada, a drink made from purple corn that quickly became my favorite, in all of Peru. The modern interior design is warm and colorful and free wifi is available. The restaurant is located at Jr. Pumacahua 202-A in Urbanizacion Tahuantinsuyo, which is a 10-minute walk from Plaza de Armas. Telephone 84-232609 or email [email protected].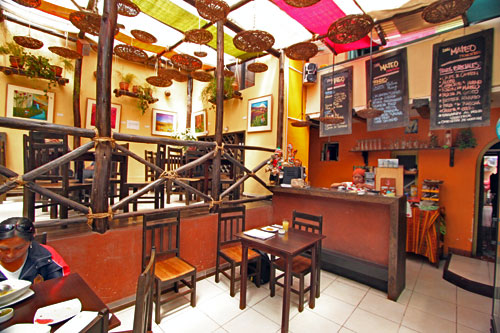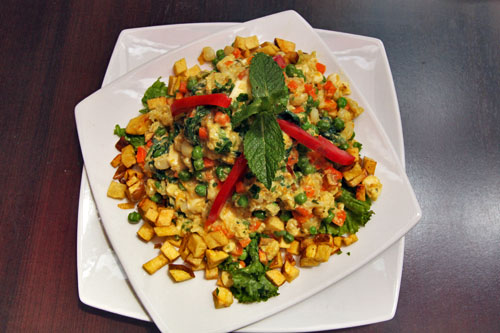 Greens Restaurant:
Just around the corner from Plaza de Armas, on the street that runs between the Cathedral and the Compania Church, is Greens Organic Restaurant. You'll have to look carefully for the sign over a small door that leads to a hallway, where you climb to the second floor establishment. Upstairs you'll find an open space with overhead beams, polished wooden floors, soothing music, and comfortable seating, either indoors or on the balcony, which overlooks part of the main square. Free wifi is a bonus. The menu offers an array of vegetarian entrees and salads, as well as many meat options. Most of the vegetables served by Greens come from their kitchen garden in the Sacred Valley or from small scale farmers who practice sustainable agriculture and raise pasture fed animals. The prices are higher that local restaurants, but not as high as most tourist places, and given the quality of the food here, the prices are quite reasonable. Open daily from noon to 9:30 p.m., located at Santa Catalina Angosta 135, second floor, phone 84-254753. Email: [email protected].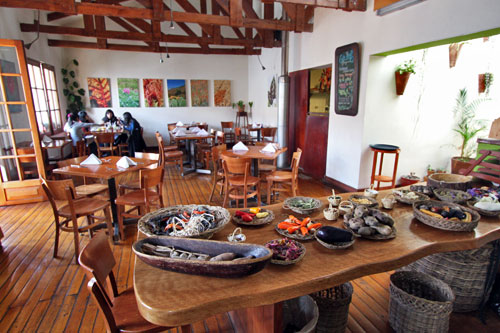 What to See in Cusco Peru
Machu Picchu Citadel (Incan Ruins):
Most tourists come to Cusco to visit the famed Machu Picchu, which should definitely be at the top of everyone's list. However, be advised that in 2011 the government of Peru decided to limit entrance to the park to no more than 2,500 people every day, therefore it is highly recommended that you purchase your tickets ahead of time.
The standard ticket for visiting the site only is 128 Peruvian Soles (about $48 USD); if you wish to visit the site and the Machu Picchu Museum the price is 150 Soles (about $56). Both of these tickets will allow you access to the entire "Citadel" ruins, including being able to climb to the top of Machu Picchu peak, the place where the most famous view of Machu Picchu can be seen and photographed. When looking down on the site from the top of Machu Picchu peak, the mountain that rises behind the ruins is Huayna Picchu (sometimes spelled Wayna Picchu). Additional ruins are located on Huayna Picchu, however only 400 people are allowed to climb this peak each day. If you would like to do this, purchase the Machu Picchu Huayna Picchu ticket, either for 7-8 a.m.or 10-11 a.m. for 152 Soles (about $57 USD).
Tickets may be purchased at the official Machu Picchu Ticket Office in Cusco, the Oficinas de la Dirección Regional de Cultura Cusco, located at Avenida de la Cultura 238 Condominio Huáscar, telephone 84-236061 (country code 51). The tickets are valid for three days from the day of purchase which means you have time to travel to Machu Picchu Pueblo (formerly the town of Aguas Calientes), stay the night and enter the ruins the following morning. Once you enter the ruins the ticket is only valid for that day, however you may exit and re-enter on the same day using the same ticket. Also consider that by waiting to purchase until you arrive in Peru, you risk tickets being sold out on the day you wish to visit. There is also a ticket office in Machu Picchu Pueblo, however it makes little sense to wait until you arrive in this town, since it requires a fairly expensive train ride or a four day hike to get there, and it would be a shame to travel all that way and then not be able to get in to see the Machu Picchu ruins because it is sold out for the day.
The final option is to join a package tour, which offers transport to Machu Picchu Pueblo, bus from the town to the ruins, and entrance to the ruins for one all-inclusive price. There are many such agencies around Cusco and Lima, and dozns can be found online.
Once you arrive in Machu Picchu Pueblo, you will catch a bus up to the ruins. The ride takes about 20 minutes and costs $12 round trip. You can walk if you prefer, but it is a long, steep, narrow dirt road. After climbing around the ruins you will likely be too tired to walk down and you will have to pay a premium price for a one-way return ticket. Though many people get up early to catch the first bus in the morning (around 5:20 a.m.), I was advised to wait until a bit later to avoid the initial crush. I boarded a bus at about 8 a.m. and had no issue with crowds. Buses leave the town for the ruins every 10 minutes throughout the day until 4 p.m. Buy your bus tickets in advance at the small office just opposite the departure point, which opens at 5:15 a.m. The last buses depart Machu Picchu at about 5:30 p.m.
The Machu Picchu ruins are open until 6 p.m., 365 days per year. The site begins to clear out by 1 p.m. and an hour later it is virtually empty. It is magical in the afternoon, as the setting sun begins to turn all the stone structures to gold. You can take small bags into the ruins but no food or drink (there is a cafe just outside the entrance), and you must present your original passport to gain entry (copies are not accepted). Just inside the entrance is a table at the left with ink pads and rubber stamps that can be stamped into your passport as evidence that you have been to Machu Picchu; this is self-service.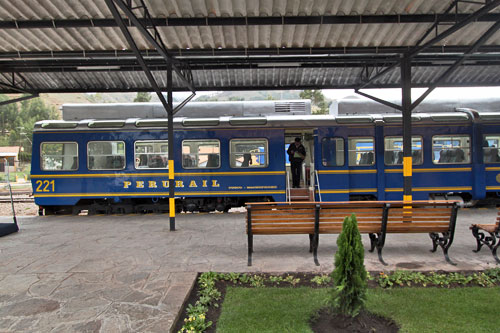 The final consideration for visiting Machu Pichu is getting there. If you wish to walk the "Inca Trail" you will need to book ahead, as the number of hikers allowed on the trail is tightly controlled. Most people, when speaking about the "Inca Trail," are referring to the classic 4-day trek that starts at kilometer 82 along the railway from Cusco to Machu Picchu Pueblo; this is the hike that is controlled and must be done with a government approved agency. In reality, however, there are many "Inca Trails" that range from two to seven-day hikes, some of which come in from the back side of Machu Picchu and travel through traditional Quechua villages where life goes on much the way it has for hundreds of years. Many of these alternative options do not have limits on the number of visitors.
Those not interested in trekking can travel to Machu Picchu in comfort aboard Peru Rail's trains which offer three levels of service ranging from backpacker to luxury. For more information on this option, please read my article on riding the train to Machu Picchu. Keep in mind that it is a good idea to purchase train tickets and entrance tickets for the ruins at the same time. Trains often sell out, especially in high season, and having a ticket to enter the ruins does you no good if you can't get there. One final caveat about the trains is that the Cusco (Poroy) to Machu Picchu Pueblo often sells out because fewer trains travel this route. If this happens, the alternative is to take a bus from Cusco to the midway point of Ollantaytambo, stay overnight, and catch the train from there. Not only do more trains leave from Ollantaytambo, the town is worth a day or two visit, as it has some spectacular Incan ruins to explore.
Other things to see and do around Cusco Peru:
Cusco offers a variety of tours and historic sites but I particularly enjoyed the following:
Qorikancha, site of the most important temple complex in the Inca Empire. Of the five temples at this site, three were almost entirely destroyed by the Spanish conquistadors in order to build the Santo Domingo Catholic Church and Convent in their place. It was particularly interesting to see the Inca foundations upon which the church was built, which have withstood numerous earthquakes while the church crumbled around them. Today, much of the original temples has been restored or reconstructed and tour guides do a good job of explaining the history of the site.
Cusco Cathedral on Plaza de Armas may be the most elaborately decorated, beautiful church I have ever visited. This enormous 1560 Gothic renaissance church, which was built over one of the most important Inca temples, houses an extensive collection of Cusqueñan art works. The entrance fee includes a self-guided audio tour with headphones that allows you to proceed at your own pace. It is well worth the price of admission; the only disappointment was that photos were not allowed.
San Blas Neighborhood. Walk up one of the streets on either side of the Cathedral and soon you will be in the San Blas neighborhood, the colorful and arts and crafts quarter of Cusco where multi-color houses hover over narrow cobblestone pedestrian streets and courtyards. Mount one of the steep stairways to the very top for a spectacular view of Cusco over the valley of red-tiled roofs. Come on a Saturday and enjoy the weekly open-air fair.
For a real taste of local life, spend a morning at the San Pedro Market. Quechua women stand on high benches over muntains of fresh fruit, making smoothies to order. Butchers stuff fresh-ground sausage into casings. Bakers stand proudly aside towers fo giant rounds of fresh-baked bread. Trinkets, souvenirs, tools, clothing, fresh vegetables, toys; almost anything you need can be purchased here, and it is a great place to get to know the locals.
Can't view the above slideshow of the Sacred Valley, near Cusco, Peru? Click here.
Finally, the Sacred Valley is highly recommended. There are many agencies around town that offer all-inclusive one-day tours that visit Ollantaytambo, the Pisac Market, the historic Quechua village of Chinchero, and stop for lunch in Urubamba. They will normally quote $15 to $25 per person, however be forewarned that this price does not include lunch or admission to historic sites such as the ruins at Ollantaytambo. Entrance to the ruins is included on the Boleto Turistico del Cusco (tourist ticket to Cusco), which will cost an additional 130 Peruvian Soles (about $48 USD). The ticket is valid for ten days and can be bought at the COSITUC office at Avenida Sol 103 office 102, or at any of the sites included on the ticket. In addition to Pisac, Ollantaytambo, and Chinchero, the ticket covers entrance to five important ruins outside Cusco (including Sacsayhuaman), as well as six additional museums/sites in Cusco. If you cannot visit all of the attractions on the Boleto Turistico, you can purchase tickets to smaller groups of attractions known as "Circuits," each of which are good for one day and cost 70 Soles (about $26 USD). The cities and sites of the Sacred Valley may also be visited independently using local buses, which is preferable, as it allows visitors to spend more time at the fascinating Pisac Market and perhaps even visit the Pisac Incan ruins.
Inkaterra La Casona Boutique Hotel kindly hosted the author for one night in Cusco, however, the receipt and acceptance of complimentary items or services will never influence the content, topics, or posts in this blog. I write the truth, the whole truth, and nothing but the truth, and in this case, La Casona is a true sanctuary of luxury. If you're considering a visit to Peru, my favorite site for finding the best prices is Booking.com. I earn a small sum if you book by clicking on the links in the above story, which helps keep this blog free for you to read.