I stepped out of my taxi and stood rooted to the ground in front of the train station. A tingle crawled from the bottom of my spine, goosebumps broke out on my arms and I blinked back the tears that threatened. Up to that point it hadn't seemed real. Up to that point, it had been just a dream. But I was suddenly struck with the full force of reality: I was going to Machu Picchu. After all these years, this dream that had begun as a child was finally coming to fruition.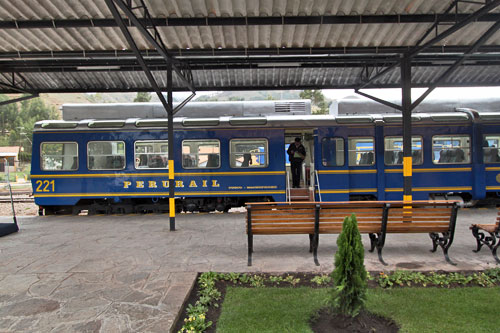 My mind was back in those childhood days as I walked across the glistening marble floors inside the station and peered at the bright blue train that awaited. I saw a young girl sitting cross-legged on the floor, leafing through the golden stacks of National Geographic Magazines, spellbound by photos of exotic cultures and distant lands. Little did I know that these images would be a driving force throughout my life, infecting me with a wanderlust for which the only cure was to go and see. And see I did. The elephants and lions of the Serengeti more than lived up to those images that had been seared into my brain, as did the wild horses of the Outer Banks in North Carolina. The Coliseum in Rome, Italy was every bit as exciting as I had imagined it would be.
Can't view the above slideshow about the train ride to Machu Picchu, Peru? Click here.
The wail of the train's whistle snapped me back to reality and once again I was overwhelmed with emotion. In less than 24 hours I would be gazing out over Machu Picchu, perhaps the most famous icon in the world for explorers. Would it also live up to my expectations? Given that I had arrived during the rainy season, would I even be able to see the view of the ruins made so famous by those National Geographic photos of yore? There was only one way to find out. I boarded the train and hoped for the best.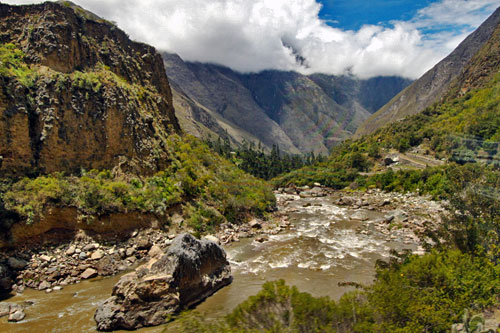 Gradually we descended from Cusco into the Sacred Valley, an ethereal landscape of jagged-toothed mountains heaved up around the latte-colored Urubamba River. Beyond Ollantaytambo we entered the magical realm of cloud forest, where eternal fog blankets the steep mountainsides and perpetual drizzle dampens everything. Rare spectacled bears roam the river banks and brilliantly hued tropical birds flit between orchid-strewn trees in this Shangri-la of eternal green. I hadn't yet glimpsed Machu Picchu and already I was in awe.
Fifty-seven miles and three and a half hours later, the train glided to a stop at Machu Picchu Pueblo, the village formerly known as Aguas Calientes. I gathered up my luggage and headed for the exit, where I was met by a representative from Inkaterra Machu Picchu Pueblo Hotel, my home for the next two days. We crossed a raging river that split the village in two, walked past decrepit houses and through a sad market where vendors sat in limp indifference. Beyond the market we crossed a second bridge and stepped onto the Inkaterra's stunning grounds. I swiped at my teary eyes and gave silent thanks for the opportunity to stay in this luxurious resort. Even if Machu Picchu's famous Inca ruins didn't live up to their reputation, the experience was already magnificent.
How to Take the Train to Machu Picchu:
PeruRail offer three classes of train to Machu Picchu: The Vistadome, which is perhaps the most popular and is the one I rode. It has exceptionally large windows and skylights, making it the perfect choice for photographers. I took it from Cusco (the station is actually 20 minutes outside of Cusco in the small suburb of Poroy) to Machu Picchu Pueblo (previously Aguas Calientes), which is the end of the line and the place where all buses depart for the Machu Pichu Citadel (ruins site). The price was $75 each way and included a nice lunch. Although PeruRail's website indicated they could not accommodate luggage, I contacted them by email and was told I could bring a small suitcase. Indeed, when I arrived there was no problem taking my 22″ carry-on, though the space available for luggage storage in each car is minimal.
Other classes include the Expedition service, which has overhead shelves designed with backpackers in mind and facing seats that share a table, and the Hiram Bingham, a luxury coach that serves a gourmet lunch with wine, has live entertainment, and a tourist guide for every group of 14 passengers. The Expedition is priced at $59 each way from Cusco, while the Hiram Bingham, which included entrance tickets to Machu Picchu, is priced at $349 each way. Visitors who wish to spend a few days in the Sacred Valley may board at Ollantaytambo rather than Poroy, and fares for this route are slightly less expensive. Trains run throughout the day and it is possible to leave Cusco early in the morning, visit the ruins upon arrival, and return to Cusco on the same day, however I highly recommend staying at least one night, as there are many things to see and do, especially if staying at the Inkaterra Hotel.
Inkaterra Machu Picchu Pueblo Hotel kindly hosted the author's stay at Machu Picchu, however, the receipt and acceptance of complimentary items/services received will never influence the content, topics, or posts in this blog.