Puma's Mother Group is normally on hand to greet the few visitors who make it to this remote mountaintop but on the day I arrived they were performing traditional songs and dances of the Gurung caste in southern Nepal. Instead, on the morning of my departure the mothers trickled into Aama's compound and climbed over the garden walls to pick flowers. Laden with blossoms, they gathered back on Aama's porch and began stringing together marigolds, daisies, and bright red flowers into long chains. Focused on gathering my luggage in time to catch the four-wheel drive jeep down the mountain, I paid little heed to what they were doing, as I was by this time used to neighbors coming and going throughout the day.
I was about to say my goodbyes to Aama, Didi, and Prakash when the mothers gathered around me. One-by-one they expressed gratitude that I had chosen to visit Puma, garlanded me with flower leis and silk scarves, and bowed to me with a Namaste, the word traditionally used for hello and goodbye. Instead of a formal welcome, I got a grand send-off, which touched me to the core. I saved the scarves and dried a selection of the flowers; both will always remind me of the love and caring that I experienced in this rare mountaintop Shangri-La.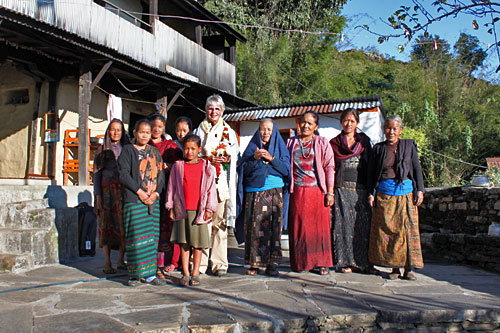 Giri Gurung, managing director of Nepal Tourism Travels & Adventures, organized a portion of my travels in and around Nepal, including my trips to Nagarkot, Changu Narayan, Chitwan National Park, and this amazing four-day home stay with his family in Puma. Nepal Tourism Travels & Adventures office is in Kathmandu, conveniently located in the Thamel backpacker district. Their website is www.nepaltourismtravels.com.np, and Giri's email is [email protected] or [email protected].