In a serene valley ringed by low mountains I strolled past fields of patchwork bronze and green where whole families had gathered to harvest the rice. Some bent low, cutting the golden stalks with small curved scythes, while others carefully spread severed stalks in the sun to dry overnight. On a cleared portion of the field, men and women swung previously dried sheaves high above their heads, slamming them down ferociously on plastic tarps to separate rice grains from the stalks. The resultant pile of amber grain was scooped up in flat round wicker baskets studded with tiny holes that allowed the wind to carry away dirt and leave the winnowed rice behind.
Elsewhere, cleared fields were already being prepared for planting a new round of crops. In one, a stick-thin man wielding a short spade bent over double, digging furrows by hand. I raised my camera to snap a shot but he spotted me; obviously proud of his small patch of slate-colored earth, he snapped to attention, smiled, and waved before continuing his backbreaking work. Everywhere I looked, workers operated like a well-oiled machine, albeit one powered only by hand tools and brawn.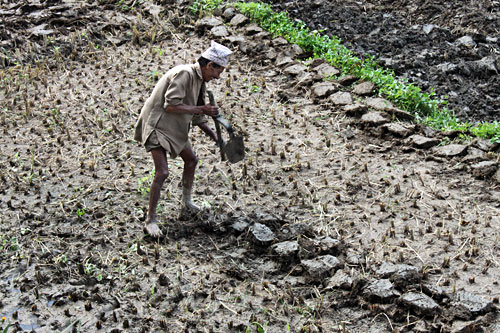 My guide for this two day trek explained that the dark green fields were planted in millet, a grain used to make hand-rolled flat bread and to brew Rakshi, a distilled liquor preferred by Sherpas. "The cleared fields will be planted with potatoes, which are a very important staple in Nepal," he continued. "Potatoes can be boiled, fried, baked, cooked in curry, or added to soup; they can be served with vegetables, with meat, or with beans." I chuckled to myself when I realized why his discourse sounded so familiar.
"Anyway, like I was sayin', shrimp is the fruit of the sea. You can barbecue it, boil it, broil it, bake it, saute it. Dey's uh, shrimp-kabobs, shrimp creole, shrimp gumbo. Pan fried, deep fried, stir-fried. There's pineapple shrimp, lemon shrimp, coconut shrimp, pepper shrimp, shrimp soup, shrimp stew, shrimp salad, shrimp and potatoes, shrimp burger, shrimp sandwich."
Halfway around the world, I was having a conversation straight out of the movie Forrest Gump.
We were headed for Nagarkot, a small village atop a mountain in the foothills of the Himalayas. I'd chosen this destination because it was supposedly a gentle three-hour trek along an improved dirt road. The knee I had injured in Mexico some months ago had refused to heal completely and each time I attempted strenuous hikes involving steep steps or uneven rocky surfaces it ached for days afterward. My recent travel in China, where I climbed around a rough, unrestored section of the Great Wall, had hobbled me for days and I didn't want a repeat.
I didn't pay much attention when my guide diverted off the road and into the fields, assuming he was taking me for a closer look at the rice harvesting activities. Beyond a crystal stream he headed up into the hillside on a narrow rocky path. Mutely, I followed, awed by the jeweled rice paddies terraced up the hillside.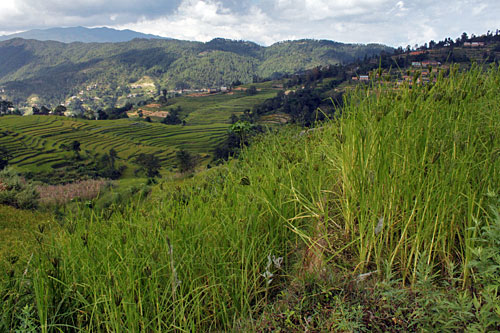 At midday, when my guide stopped to ask directions of a local farmer, I realized he had never before been on this particular trail. There was no danger of getting lost, as all trails in the area eventually led to Nagarkot, but we'd already been hiking for two hours on steep paths with rocks made slick by springs and waterfalls flowing from the mountainsides. I had plenty of energy left, but we definitely were not taking the three-hour easy hike. I was about to protest when a man and a woman breezily floated past me, each carrying massive loads of forage for their livestock on their backs. Shamed, I said nothing and after a brief rest we headed out again.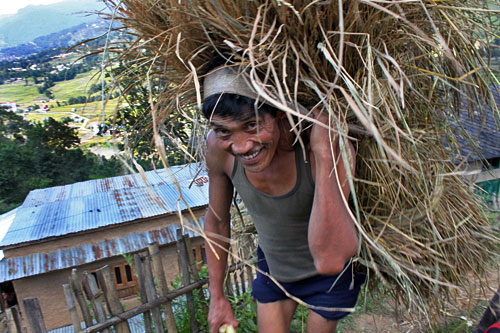 Five hours into the trek, following a particularly steep section of trail, I plopped down on the first flat rock I saw and stripped off my backpack. "How much further," I gasped.
"Not too long, maybe 45 minutes," he promised.
An hour later I limped into Nagarkot, wincing with every step, and continued another 20 minutes to a mountaintop lodge that teetered on the brink of a steep dropoff. Inside, floor-to-ceiling windows in the restaurant looked across a broad valley where I was assured the Himalayas lay, although clouds had completely obscured the range. Morning, however, held the promise of spectacular views, so I ate dinner and hit the sack early, hoping that a good night's rest would allow me to continue the trek.
Can't view the above slide show of Nagarkot, Nepal? Click here.
The next morning my knee was much better, but low lying clouds still roiled up from the valley, denying us anything more than a brief glimpse of a couple of snow-covered peaks before dense fog completely socked in the valley. By 10 a.m. we gave up and headed toward the ancient Hindu Changu Narayan Temple on another dirt road that descended gently through pine-scented high alpine forest. I was treading carefully but managing, until we turned off onto a narrow path leading steeply downhill over moss-covered boulders. A few uneven steps later my knee began to shake and I stopped dead in my tracks. Though the trail was a shortcut, for me it meant pain and potentially irreparable damage, so I insisted we stick to the road. A couple of hours later we left the forest behind and a broad valley opened up before us, with the temple clearly in view atop a far hill.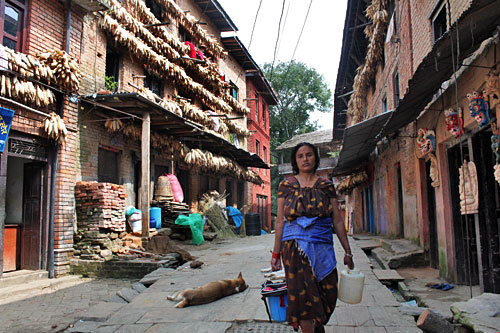 The road curved through a small village where ears of drying corn hung in thick clusters across the eaves of homes built from rough, red handmade bricks. Sacks of grain and cartons of canned goods lay atop makeshift wooden tables at the roadside and eight-foot tall marijuana plants grew wild in the ditches. Rows of kettles, dull black on the outside with shiny copper linings, sat in the front yard of nearly every home, brewing hooch from freshly harvested grains. Just past the village we began ascending to the temple complex, passing through small plazas where rice lay drying in the sun and down narrow lanes filled with vendors hawking the usual assortment of souvenirs.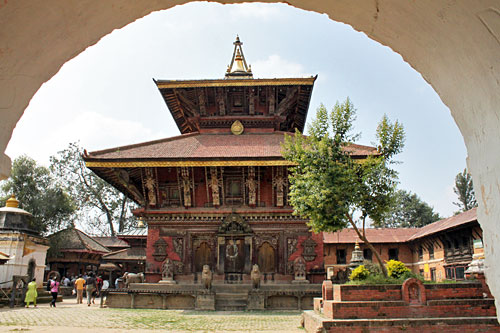 Finally, having successfully run the gauntlet of shopkeepers without buying anything, I climbed the last staircase to an arched opening that perfectly framed an exquisite double-roofed temple intricately carved with multi-limbed deities. Although the current temple was built in 1702 after a fire destroyed the original, many of the sculptures date as far back as the fourth century and depict various incarnations of the Hindu God Vishnu, including a man-lion disemboweling a demon, a six-armed dwarf who transformed into a giant, and a ten-headed/ten-armed Vishnu.
Can't view the slide show of Nepal's Changu Narayan Temple? Click here.
Strangely, although Changu Narayan is a UNESCO World Heritage site and is located a mere 13 miles from Kathmandu, it is not a popular tourist attraction; on the day I visited there were no more than a dozen people wandering around, yet it is one of the most beautiful temples I have seen in Nepal so far. Thankfully, after ample time spent wandering around the grounds, we boarded a bus back to Kathmandu, where the only danger to my knee would be dodging and weaving through massive crowds of shoppers clogging the city's streets and shops as they prepared for the approaching high Hindu Festival of Dashain.
Giri Gurung, managing director of Nepal Tourism Travels & Adventures, organized a portion of my travels in and around Nepal, including this trip to Nagarkot and Changu Narayan, along with my visit to Chitwan National Park, and an amazing four-day homestay with his family, high up in the mountains above Besishahar, in the tiny village of Puma. Nepal Tourism Travels & Adventures office is in Kathmandu, conveniently located in the Thamel backpacker district. Their website is www.nepaltourismtravels.com.np, and Giri's email is [email protected] or [email protected].