Like an old-fashioned 8mm movie rolling and flickering in an antique projector, the scene on a busy Kathmandu street unfolded frame by frame. I was on a bus bound for Chitwan National Park in southern Nepal for a three-day, two-night safari. The trip was supposed to take five hours but already we'd been sitting in backed up traffic for more than two hours and we still hadn't made it out of the capital city.
Bored and seeking any distraction that would take my mind off the hard seat that was making my butt ache, I turned my attention to the street. In a gap between trucks moving just as slowly in the opposite direction I noticed a small butcher shop sandwiched between a lunch stand and a pharmacy. Behind the open-air wooden counter, a lady butcher swept her hand through the air in a futile attempt to shoo away swarms of flies dive-bombing the pale, plucked chickens lined up in a row on the countertop, sweating under a blistering sun.
Then traffic moved and blocked my view.
A minute later a truck inched forward, providing me a new window on the scene. A young boy led a goat by a short length of frayed rope. Just as he was about to tie the goat to a telephone pole in front of the shop, traffic again rolled across the stage. How strange, I mused. Someone tying up a goat on a busy retail street in the middle of Kathmandu.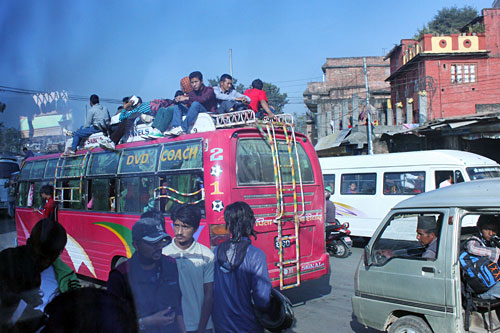 When traffic next inched forward the boy was running after his goat, which had cleverly escaped its tether. He snatched the rope, dragged the goat back to the pole, and tied it more securely.
Another bus, another wait, another scene revealed itself between vehicles.
The goat was lying on the ground, securely tied to the pole, with the boy sitting on top of it. Weird. Why would he do that? Maybe he's trying to punish the goat or teach it who's boss. My butt no longer hurt and I wasn't thinking about the fact that my bus hadn't moved an inch for more than an hour. I just wanted to know what would come next between boy and goat and waited impatiently for the behemoth truck that currently blocked my view to move.
Traffic finally provided me a fleeting glimpse and my jaw dropped open in horror. The butcher-woman was carrying the goat's head up the stairs to her shop, dripping blood and trailing sinew, while the boy sat astride the still twitching carcass. As traffic closed in I wondered if my eyes had played a trick on me. I waited anxiously for the next view but by the time traffic moved even the carcass had been removed. If not for the pool of blood on the street, I would have thought I'd imagined it.
Stunned, I asked the other passengers if they'd witnessed the grizzly scene and learned that slaughtering goats is a big part of the Hindu festival of Dashain, which would begin in just a couple of days. Goats and buffalo are sacrificed to the goddess Laxmi and their blood is painted on surfaces for good luck and dripped into grain that is later used to prepare a feast. Thousands of goats are slaughtered across the country during Dashain, which I discovered was also the reason behind the backed-up traffic, since thousands of Nepali were traveling back to their villages of origin to celebrate this most important holiday with their families.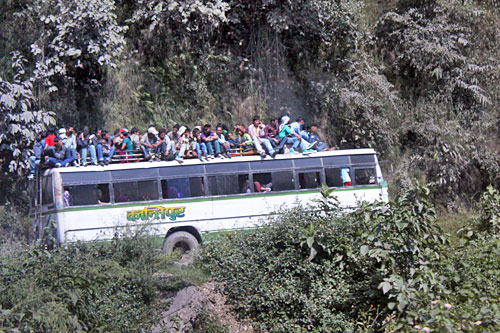 "Haven't you noticed all the goats being transported?" asked my seatmate.
I looked out my window with new eyes and saw goats being led down the side of the road in mini-herds; goats sandwiched between driver and passenger on motorcycles, their hooves dangling on either side of the seat; and even goats riding on top of buses, wedged between human passengers and mounds of luggage.
Jump off little goats! Breaking a leg is infinitely better than the fate that awaits you. But of course they paid no heed, going willingly to slaughter, and once again I was very glad to be a vegetarian.