After a good night's sleep I felt sufficiently recovered from the previous day's long layover in Bangladesh to tackle the streets of Kathmandu, Nepal. Armed with a simplistic map that showed streets but no street names, I stepped out the front door of Madhuban Guest House and tuned left, intending to head for Durbar Square to see the UNESCO World Heritage palaces of the ancient kingdom.
The hotel owner said it was easy to find Durbar Square: "Go one block to the roundabout and continue straight; you can't miss it." But once there, I found three streets radiating from the roundabout, none of which went straight. I was puzzling over my pseudo-map while keeping one eye peeled for speeding motorbikes on the traffic-clogged road when a young Indian man approached and inquired, in a delightful British accent, if he could be of assistance.
I know from experience that this is one of the most common scams in Kathmandu. "I'm not looking for a guide," I replied. "I'm just wandering," In the din of blaring horns, chiming rickshaws, revved-up engines, chanting holy men and retailers hawking their goods, I headed off in a random direction, intending to shake my would-be guide.
"Oh, I am not a guide," he insisted. "My name is Robbie and I just want to practice my English."
I stopped in mid-stride and pierced him through with a look designed to intimidate. "I know this scam and I don't want a guide."
"No scam, ma'am. I really just want to practice my English."
"You can show me around if you like, but I'm not paying you a cent."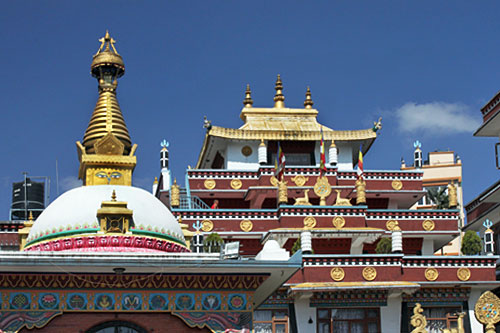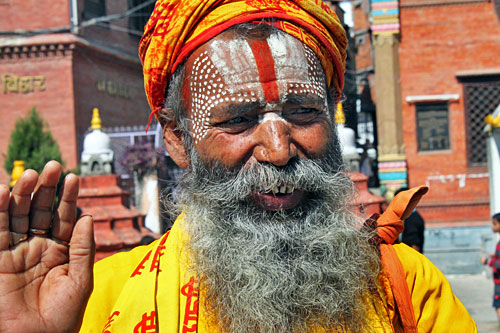 Almost immediately he diverted down a dark, virtually hidden lane, indicating I should follow. A hundred feet later the cramped alley opened upon a spacious square anchored by Buddhist and Hindu monasteries. In the center of the square stood an exquisite Buddhist stupa with a gleaming white dome topped by a gilt spire, painted with Buddha eyes that gazed out in all four directions. Chanting Om Mani Padme Hum, I spun the prayer wheels surrounding the stupa's upper platform as I circumnavigated three times in a clockwise direction, figuring that with everything that's happened so far on this six-month Asian tour, I could use all the prayer I could get.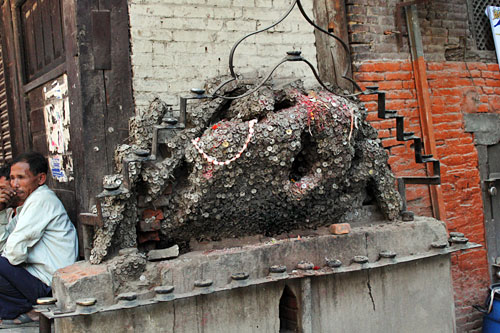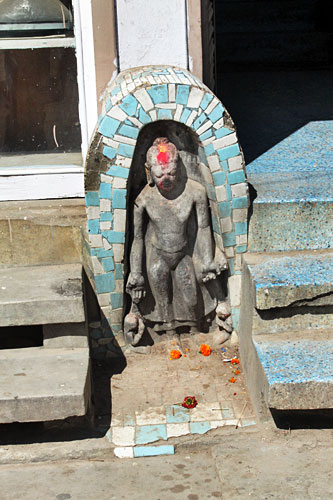 Next, Robbie led me to "The Place of Five Things," a smaller neighborhood square with five sacred sites. In addition to the Shiva, Naga, and Yamaga Temples in the center of the square, he pointed out the Tooth God, where worshipers nail round metal discs to a hunk of ancient wood as a ward against toothaches. Over the years, thousands of these metal discs have accumulated to form a grotesque blob that could be an abstract sculpture of a decayed tooth lying on its side. Across the square, Robbie pointed out a small Buddha statue wedged in a nook between two concrete stoops. Each day, worshipers scatter flower petals and colored dyes in front of this tiny, 1,500-year old representation of the Buddha.
Can't view the above slide show of Kathmandu, Nepal? Click here.
We moved on to a retail district where every street was clogged with pedestrians shopping for Dashain, the most important Hindu festival of the year, scheduled to begin in just a few days. I stood on the edge of one of the more crowded lanes and let the whirl of colors and movement rush by, astonished to see rickshaws, handcarts, bicycles, motorcycles, cars, and even trucks force their way through the throngs without harming a soul.
"Amazing, isn't it?" Robbie said.
Women in luscious colored saris; men in traditional checkered Nepali cloth hats; Sadhu holy men in orange and red robes with faces painted like African warriors; men, women and even children carrying impossibly heavy loads on their back – all flowed by me in kaleidoscopic color. "You see a little bit of everything," I answered, astonished.
The more Robbie showed me the more obligated I felt, which is exactly what he was hoping for. The moment he sensed me weakening the pressure began. First he claimed he needed a shoeshine kit, complete with polishes and brushes so that he could open a proper business and support his family. The cost was only 16,000 Nepali Rupees; surely I could help outfit him. I quickly did the math; he was asking for the equivalent of $230 in U.S. dollars. I laughed and told him he was crazy.
His second request was much more modest. Perhaps I would consider buying food for his family. Just a little rice and rice milk and a few vegetables so they would not go hungry. With prices so cheap in Nepal, I thought this sounded like a good idea; I hate for anyone to go hungry. Robbie led me to a local grocer where he ordered the goods we'd discussed. The bill came to a whopping 2,500 Rupees, or about $35 USD. This kid wanted me to pay $12 per hour for his services, when licensed guides were receiving tips, on average, of $14 per day. And since the food prices were exorbitant, I had little doubt that the grocer was in on this as well.
"There is no way I'm buying you 2,500 Rupees worth of groceries, and now I think we're done." He followed me back to my hotel, haranguing me the entire way, insisting I pay him something, whatever I like. I offered him 300 Rupees, slightly less than what a professional guide would get, and he came unglued.
"That is an insult. I can't even buy a little rice for 300 Rupees." He refused to take the money and continued to scream at me in the courtyard of my hotel.
"So you lied when you said you only wanted to practice English?" Again I offered the 300 Rupees and again he claimed to be insulted and refused, so I walked away. I must admit to feeling guilty but in the end his dishonesty won him his just reward.
I never did make it to Durbar Square, but after my three-hour tour I felt quite certain that I could find my way around Kathmandu's confusing maze of streets in the Chhetrapati and Thamel districts. Getting to Durbar Square should be a breeze.