The Eternal City of Rome is a pigsty! Litter is everywhere. Dirt coats every surface and lies an inch think in the corners of the steps of every stairway. At the National Museum, right in the center of the city, trash had collected so deep in the wells surrounding the trees that the ground could no longer be seen and a faded blue sofa that someone had long ago discarded sat on the sidewalk around the corner from the entrance. There is hardly a surface that hasn't been covered in graffiti. In fact, the taxi driver who carried me from the airport to the hotel told me the graffiti problem is so bad that they have just passed a law allowing the courts to levy fines as high as 10,000 Euros or even confer jail sentences for anyone caught in the act of defacing a property with graffiti.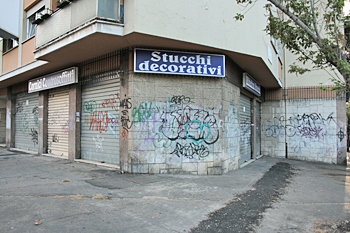 Fortunately, the city makes up for its shortcomings with the food it serves up. Within two blocks of the hotel are a dozen cafes with tables out on the sidewalk, where I can sit street side and observe the daily life of Romans as I dine and enjoy some of the best food that Rome has to offer.
Last night I had an exquisite appetizer of Polenta cubes in a cream sauce, garnished with braised radicchio, followed by rice risotto in a mushroom sauce, topped with thin strips of some exotic nutty-flavored cheese. The previous night it was three appetizers:: Bruschetta with fresh tomatoes, greens, and olive oil; Ricotta cheese and spinach balls, rolled in corn meal and deep fried; and deep-fried Polenta rolls with cheese and spices.
Another night I wandered into a steak house by mistake, but even there I had an incredible meal; they brought me a long wooden plank covered in roasted vegetables (red peppers yellow peppers, onions, zucchini and eggplant), along with a plate of sauteed spinach – delicious. And then there is the bread. Rome must have the best bread I have ever tasted in my life – foccacia, wheat, sourdough and rustic white varieties with crispy crusts – served warm by the baskets-full. Considering the exquisite cuisine, I guess I can forgive a little dirt and trash.
Rome is not a very large city, in fact it is possible to walk across the city center in about two hours. The hotel where I am staying is just to the south of the city center, in one of Rome's many neighborhoods. From the hotel it is about a 20 minute walk to the Colosseum, so I have been walking for hours each day to all the sites. Frankly, it's a good thing that I'm staying a bit far from the city center, because with all this food I'm eating I'd have gained 20 pounds if not for all the walking.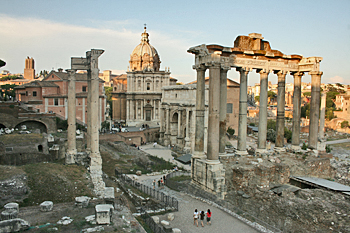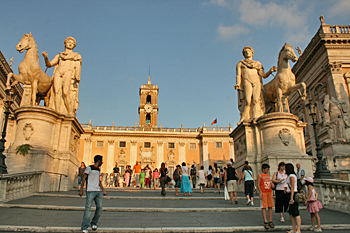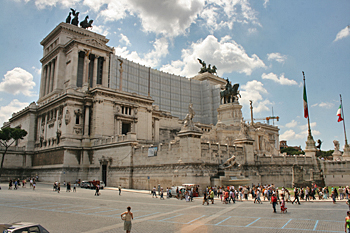 Rome is a treasure trove of historic sites, ruins and churches. You can't walk a block without coming upon a ruin of one sort or another. Everywhere, thousands of years old sites rub shoulders with new, modern construction. I've been to the Roman Forum; Ceasar's Forum; The Palatino; about 20 churches; the Baths of Caracalla; Circus Maximus; and Tiberina Island, but so far my favorite sites are:
The Colosseum
Every bloody story you have ever heard about the Colosseum is true. The games began in the morning, following a parade of all the participants, including the beasts that would be used in combat – lions, leopards, panthers, bears, rhinos, giraffes and gazelles imported by the Romans from their conquered territories. The ensuing "hunts" were preceded by a staged search for cover, skirmishes, and combat, in which more than a few of the "hunters" were killed; these were allowed to defend themselves with only a lance and a shield.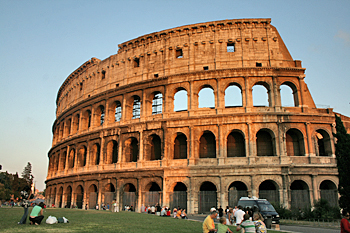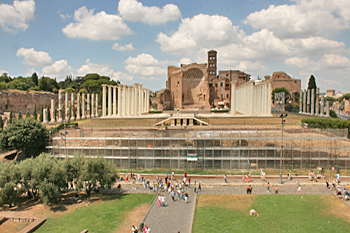 During the lunch break it was common to throw criminals to the beasts. Naked and unarmed, they would inevitably end up in pieces. Other kinds of shows would also be put on during the intervals. These ranged from jugglers, acrobats, and magicians to actors performing parodies of ancient fables which would often finish with the tearing apart of the actors to general acclaim. I wondered why anyone would choose to go into the acting profession in ancient Rome.
Santa Maria In Cosmedin Church
The Bocca Della Verita (Mouth of Truth) at Santa Maria In Cosmedin Church is a giant marble disc that has been carved into a human face with two testicles carved into its beard. Traditional lore holds that if you tell a lie while your hand is in the sculpture's mouth it will be bitten off. Legend has it that a priest used to hide behind the marble face and whack the wrists of known liars, making them yelp with pain.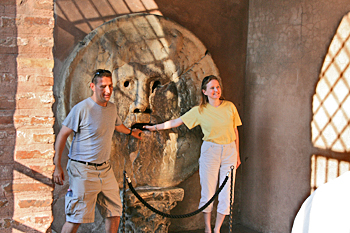 Trevi Fountain
I had always heard about the practice of throwing three coins into the fountain, so I got as close as I could and tossed my three coins over the heads of the people in front of me into the fountain. It wasn't until later that I learned the significance of throwing three coins into this fountain. A current interpretation is that two coins ensure a marriage will occur soon, while three coins leads to a divorce. Oh well. Approximately 3,000 Euros are thrown into the fountain each day and are collected at night. The money has been used to subsidize a supermarket for Rome's needy. However, there are regular attempts to steal coins from the fountain, including some using a magnetized pole.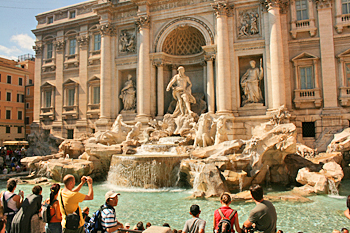 If I have one bit of advice to offer about visiting the Eternal City of Rome (other than do it!) it would be "Don't come in August." I have really only scratched the surface and have just two more days here, so I am determined to cram the Pantheon, Piazza Navona (with Bernini's famous Four Rivers Fountain), Piazza del Popolo, the Spanish Steps, and Vatican City in to my remaining time, despite the crowds and the lines. By the time I leave Italy I will need a vacation from my vacation.