Three Quechua women sitting on the steps of the Qorikancha Inca Temple smiled broadly and motioned me over. They quickly arranged their vibrant traditional costumes and struck an adorable pose, complete with infant and baby lamb. "Cuanto?" I asked suspiciously. How much? "Lo que quieres," they answered. Whatever you like. My instincts screamed "NO" but I snapped the photo anyway and held out a 5 Sole coin, the equivalent of about $2. One of the women snatched it out of my hand and secreted it within the folds of her garments. The other two held out their hands but I pantomimed that they should split it between themselves. Their smiles turned upside down. "What about the baby, something for him!" they pouted. "What happened to 'Lo que quieres?'" I grumbled, as the calculator in my head ground away, confirming that posing for ten photos per hour would earn them more than twice as much as I make writing.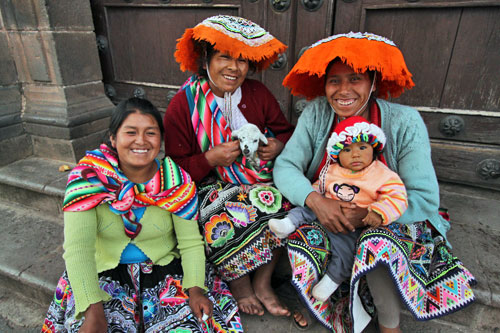 This scenario was repeated often in Cusco, with variations on a theme. So called artists roamed the streets with oil and pastel drawings of Cusco's picturesque narrow streets and Sacred Valley scenery. After the second one talked me into looking at his "portfolio" I realized the paintings were likely produced in a backroom by a handful of artists who crank out the same scenes over and over. Indigenous women strolled the cobblestone streets with lambs tucked under arms, always ready to pose for a fee, but those going about their daily business adroitly turned away from my lens. After three days in Cusco, I still knew little about local Quechua who are direct descendants of the ancient Inca civilization.
Hoping to learn more I stepped inside Qorikancha, the famed Sun Temple of Cusco, and hired a guide for a 40-minute tour of what may have been the most important temple in the Inca Empire. The complex originally consisted of the Sun, Moon, Stars, Thunderbolt (Lightning), and Rainbow Temples, with the Sun Temple being the most revered. All were constructed of dense gray volcanic rock, which was painstakingly carved into blocks with internal notches that fit together so perfectly that not even a sheet of paper could be inserted between the mortarless seams. The walls were built wider at the bottom than at the top, with doors and windows of a trapezoidal shape that provided strong support against earthquakes, and the entire building was roofed with thatch woven from a combination of wood and wild Andean bunch grass. By the time Qorikancha was completed in 1438, its floors, ceilings and walls were covered with gold plates, many of which were carved with images of deities, such as the representation of the Sun God with a round face surrounded by rays and flames that was so huge it covered all the front of the Sun Temple from wall to wall.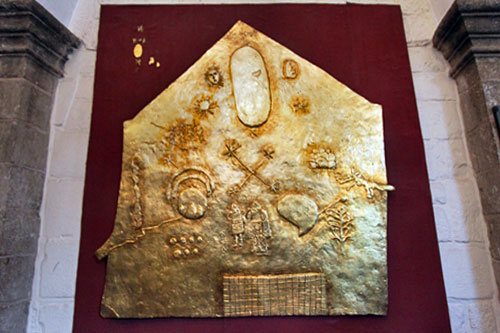 When Spanish Conquistadors captured the Inca leader Atahualpa and demanded a ransom in gold for his safe return, most of the gold was collected from Qorikancha. Ironically, Incas used the Spondylous shell, imported from the coasts of Ecuador, as their currency. Gold, silver, and copper were valued for religious and ceremonial purposes only. The Spaniards dealt a cultural and spiritual blow to the Incas when they melted down golden images of their gods into bars and coins for easy transport to Spain, which may have been more devastating than any economic measures they could have exercised.
Once the precious metals of Qoricancha had been plundered the invaders demolished much of the structure. The Moon Temple was almost completely destroyed, as was the eastern end of the Sun Temple, leaving only a portion of the original semi-circular western wall that today overlooks Avenida del Sol. Upon the remnant foundations of these two temples the Spaniards built Santo Domingo Catholic Church, while the Rainbow Temple was partially deconstructed to make way for a Dominican Convent. Best preserved of the original five are the Star and Thunderbolt Temples, where you can still walk through double doorways that were once drenched in gold and view niches in the walls that held golden deities studded with precious gems.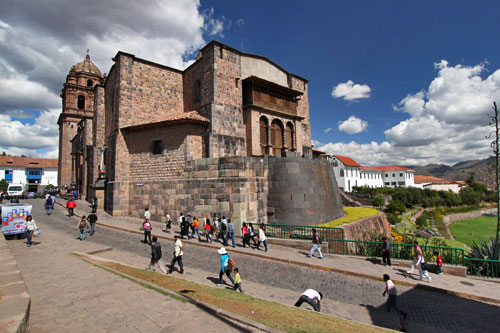 Ironically, the more modern building techniques employed by the Conquistadors were far less sound than the Inca construction. The original Santo Domingo Church was destroyed by an earthquake in 1650, and a large part of its replacement, rebuilt in 1780, was also destroyed by a violent earthquake in 1950. In both instances, the Inca foundations stood unharmed, and the latter earthquake uncovered the original semi-circular western wall of the Sun Temple, which was subsequently restored and incorporated into the church.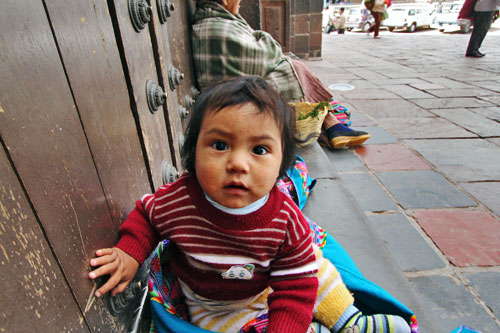 I stepped back outside, musing over the enigmatic smiles of Quechua women vendors who rested on the church steps with their baskets of handmade trinkets. Could it be that even after all these centuries, and despite the fact that most Indigenous Peruvians are now devout Catholics, they are secretly amused that the Spaniards were never entirely able to bring down their temples? Sitting on the steps amongst them, I chatted with one woman whose year-old infant was wrapped around her back with a multi-colored blanket. Each time another van load of tourists arrived she struggled to her feet, balancing the baby on her back and the basket of goods hanging from her neck. No one was interested in her small carved gourds and tiny baskets; they were just more of the same ubiquitous souvenirs available in every shop and on every street corner. Eventually she grew weary and unwrapped the child, leaving it on the steps as she approached tourists. She glanced back every few seconds to check on the baby, until it (he/she?) climbed up onto my lap. Satisfied that the child was in safe hands she worked the crowd vigorously while I entertained the baby with a yellow whistle I carry on my backpack.
Can't view the above slideshow of Cusco? Click here.
The following day, mindful of the 10,000+ foot altitude, I slowly mounted cobblestone steps to the colorful San Blas neighborhood of Cusco. Few tourists had ventured this far from the central plaza and I began to glimpse local life. A stout Quechua woman, dressed in fuchsia sweater, gray wool skirt, and yellow knee socks overtook me as I trudged upward. She spoke no Spanish but my out-of-breath gasps clearly communicated my respiratory distress. Her mocha face broke into a universe of crinkles when she smiled broadly, pointing to a nearby bench. As we rested she pulled a spindle out of the striped blanket that was fashioned into a pouch and slung over her shoulder, demonstrating with sign language how the bright blue yarn would be used to make a blanket like the one she wore. Too soon, we resumed our journey. With a wave and a final smile this wizened old woman who must have been 20 years my senior quickly left me behind.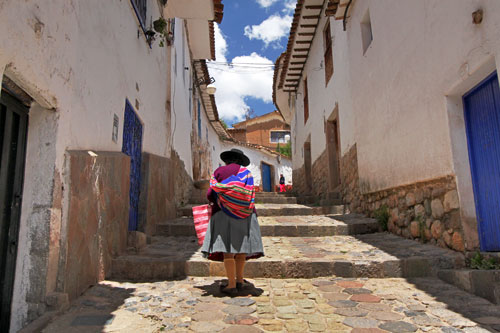 On my final day in Cusco I eschewed the more frequented tourist sites and headed for San Pedro Market, where locals shop. Endless stalls offered clothing, tools, souvenirs, cosmetics, and school supplies, but it was the food that most interested me. Stacks of dried Alpaca meat sat on some counters, while other butchers stuffed ground meat of varying spiciness into sausage casings. Quechua women wearing the traditional hats of their villages stood proudly by stacks of giant rounds of bread, each insisting that theirs was the best. In the fruit aisles were varieties I could not identify, not even when told the name in Spanish.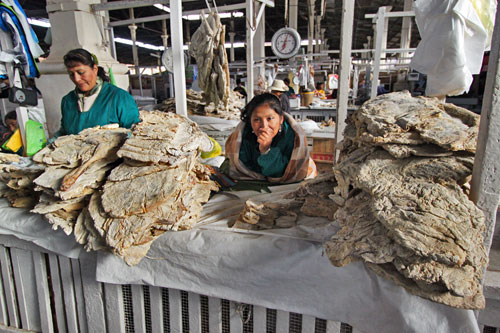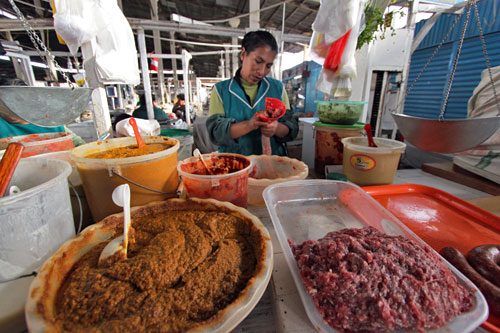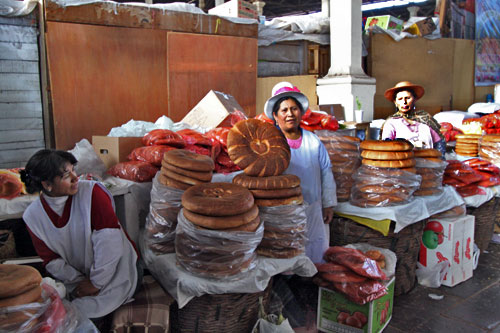 One particular display of choclo – corn on the cob – stopped me in my tracks. I couldn't resist snapping a photo of the giant, juicy kernels bursting from their fresh green husks. When I looked up from my camera, three stone-faced Quechua vendors were staring me down. One of the women held out her hand. "Un dolar," she insisted. "What? A dollar for a photo? I don't think so!" I replied in Spanish. Suddenly, all three cracked up. "Peruvians love a good joke," she explained. I grinned sheepishly, embarrassed to have been suckered, and sat on the low wooden stool they offered.
For the next hour, we chatted about life – theirs and mine – swapping stories about our jobs, the cost of living in the U.S. and Peru, the lack of affordable health care in both countries, and our respective families. They gave me samples of the unusual fruit varieties I had spotted earlier and refused to accept any money. They even offered to take me to a healer, who would provide me with an ointment guaranteed to cure my father's arthritis. I was intrigued until I learned it was composed of various animal fats and fortunately they did not press the issue, or I would have bought some so as not to seem rude. As I left the market I thought about my experience in this lovely city and wondered about the shift that had occurred. From feeling like an outcast, I had come full circle to being accepted. I would have liked to take a photo of my new friends at the market but they declined, explaining that photos steal their souls. Suddenly, I flashed back to the Quechua women sitting on the church steps and realized that $2 was meager recompense for three souls. Perhaps the camera had been the problem all along. Sometimes, the experience is more of a treasure than a photo.