In 1999, the volcano that towers over the small mountain town of Baños de Agua Santa in central Ecuador again began living up to its name. Seventy-four years after its last eruption, Tungurahua, which means "Throat of Fire" in the indigenous Quichua language, roared to life with a vengeance that required a complete evacuation of Baños for more than a year. Since then it has erupted more or less regularly (see some stunning images of activity in recent years here), but when I arrived last November it had been quiet since April 2011. I gazed up at the 16,000+ foot summit, trying to imagine molten rocks and large clouds of gas and ash spewing from its maw, but its verdant green flanks seemed more gentle giant than sleeping giant.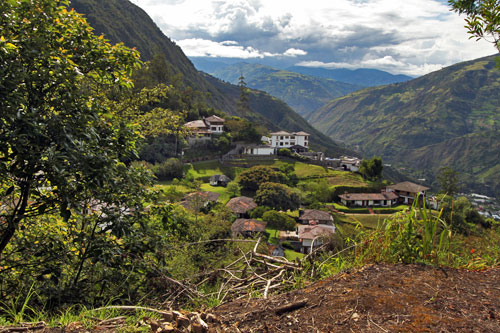 Ironically, this "Throat of Fire" spawns magnificent waterfalls that are yin to its yang. In the absence of displays of molten fireworks, I boarded a double-decker bus for a tour of the spectacular Route of the Waterfalls.
On November 26, 2011, the day after I left Ecuador, Tungurahua awoke from its brief slumber and began belching molten lava down its flanks and spewing ash into the air. Today the volcano remains in an almost permanent state of activity, with daily incandescent flows and violent explosions. Ash fall has covered the the streets, parks, terraces and roofs of buildings in the greater Baños area, forcing the closure of schools and businesses; ten explosions and 48 emission tremors were reported on December 7th alone. As if they could forget, Tungurahua continues to remind Baños residents that not even their prolific waterfalls can quench the Throat of Fire.