Still ragged from my bout with altitude sickness in Chugchilan, Ecuador, I dragged my weary bones off the bus and headed directly for my hostel in Baños de Agua Santa. My intention was to climb right into bed and sleep through the afternoon and night but the sight of a spectacular waterfall behind my hostel in Baños, as it is commonly known, got the better of my curiosity. I turned the corner at the end of the block and came face-to-face with a long ribbon of cotton candy cascading down the flanks of Tungurahua volcano, at the foot of which squatted the reason thousands of visitors flock to this tiny village in the Andes Mountains: Piscinas de la Virgen, the most famous of the town's five thermal pools.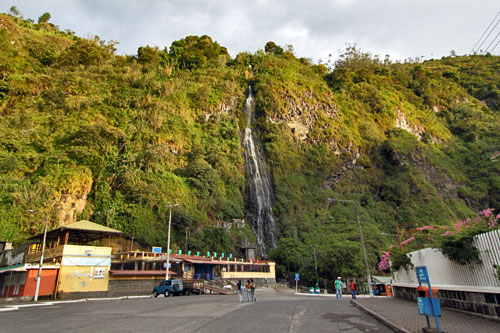 I had specifically come to Baños de Agua Santa for its hot springs, which range from 64 to 131 degrees Fahrenheit and are reputed to have healing properties. Hoping for relief from debilitating knee and hip pain that had plagued me ever since sustaining an injury in a Yoga class in Mexico nearly two years earlier, I planned long soaks in the curative waters. Cautiously, I climbed the slick, spray-soaked rock steps leading to the top of the icy waterfall and stepped onto a viewing platform. Baños spread before me, backed by lushly carpeted mountains that shimmered like emeralds in the golden late afternoon sun. Directly beneath me lay the swimming pools of Termas de la Virgen, filled with water heated by molten lava deep within the active volcano.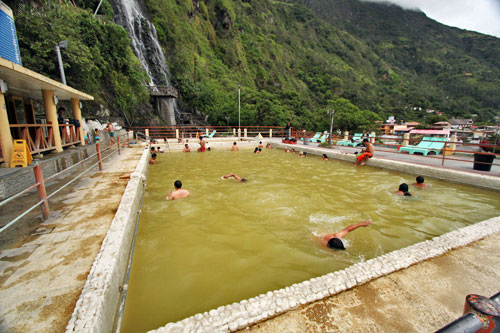 The following morning, I retraced my steps just as the sun was cresting the surrounding hills, paid my $1.50 entrance fee and took the required shower before using the facilities. Though I had my pick of baths scattered around the town and surrounding valley, I opted for Termas de la Virgen, not only because it is the most famous but also because it is popular with local Ecuadorians. Choosing the hottest of the three swimming pools on the top floor, I eased into the ocher-colored water up to my chin and closed my eyes, allowing the super-heated water to work its magic. Believing that mineral waters can heal maladies is not a stretch for me; I theorize that if Epsom Salts (magnesium sulfate crystals) provide relief from stiffness and sore muscles when dissolved in bath water, thermal springs that contain naturally occurring chlorates, sulfates and magnesium must have even better efficacy. Indeed, within minutes my tight muscles began to unwind. I rested my neck on the concrete lip of the pool and let my body float effortlessly, enjoying a blissful state of relaxation.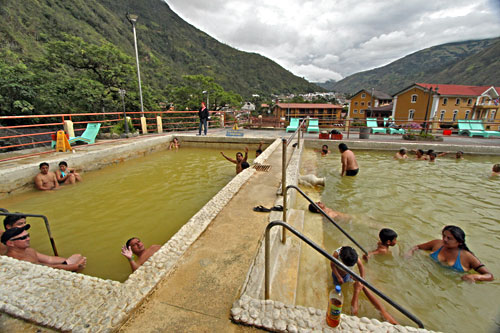 The pools soon began to fill up and I spent the rest of the day chatting with locals who had traveled from all over Ecuador to enjoy the healing waters, learning about life in this tiny country and polishing up my Spanish. Everyone was amazingly friendly and only too happy to pose for photos when I hopped out and grabbed my camera. By afternoon the stress of full time travel had been washed away, leaving me refreshed enough to walk several miles around town and up into the hills.
Can't view the above slideshow about Banos, Ecuador? Click here.
Delighted that some of my pain had abated, I returned to Piscinas de la Virgen two days later to try out their hottest bath, a small pool on the first floor that is only open after 6 p.m. because its water is too hot to stand while the sun is shining. I hopped in without first testing the temperature and howled. The volcanically heated water gushes from the bowels of the earth at a scorching 122 degrees and it cools only four degrees by the time it reaches this smallest pool. Almost immediately I became light-headed from the heat and had to sit on the edge to cool down. Over the next hour I alternately plunged in and jumped out each time the heat got the better of me.
During one of these cool-down periods I noticed that others bathers were alternating between the hot pool and a small spa a few feet away, which I learned was a plunge pool filled with ice cold water piped directly from the waterfall. I'm not a fan of cold – be it weather, water, or icing sore muscles – but I decided to give it a try; perhaps it would allow me to stay submerged in the hot water for longer periods. I tested with my big toe and immediately yanked it out; they weren't kidding when they said it was icy. Taking a deep breath, I lowered myself via the steel ladder, wincing with every step, but when the frigid water reached my knees I fled. Back in the hot pool, every square inch of skin that had been in contact with the ice cold water tingled like it was being pricked with a million tiny needles. Blood rushed to my skin and my knee and hip literally vibrated. The next time I grew overheated, I immersed in the cold water up to my waist. By the end of the night I was submerging in the cold pool up to my chin for two to three minutes at a time.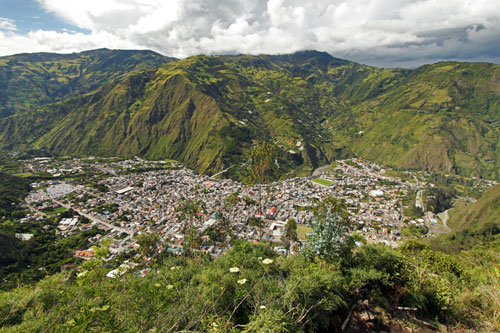 The next morning I woke feeling marvelous and decided to take a tour of the waterfalls around Baños de Agua Santa, at the end of which I hiked a steep trail to view Pailòn del Diablo waterfall. An hour and a half after beginning, my knee had not so much as twinged. I later learned that the practice of immersing injured muscles alternately in ice water and scalding hot water is a technique used by many professional athletes because cold tricks super-contracted muscles into releasing. It's been six weeks since my visit and my knee remains miraculously healed. Whether it was the ice water or the hot mineral waters that effected the cure I'll probably never know, but since I was on the verge of losing my ability to hike completely, I am thankful beyond words that I had the opportunity to visit Baños.
Visitor Information for Baños de Agua Santa, Ecuador
Arriving from the Quilotoa Loop or Cotopaxi Volcano by Bus:
Take any local bus to Latacunga, which is the transportation hub in this part of Ecuador. If coming from Chugchilan or Quilotoa, take the Iliniza bus through Zumbahua rather than Sigchos, as it offers more impressive scenery (the views from the left side of the bus are better). Fare $2.50. Transfer in Latacunga to a direct bus going to Baños.  Do not go to the Terminal Terrestre to catch this bus; ask the locals to point you to the street corner where the buses to Baños de Agua Santa all stop. Any of the companies will do, as long as they are a direct service. Fare: around $4.00, paid on board.
Where to Stay in Baños de Agua Santa, Ecuador:
Initially I stayed at Hostel Chimenea, which offers shared and private sleeping accommodations: from 4-6 beds dorms with ensuite bathroom and hot water all day, to private rooms for 1-3 people. My private room with two twin beds and ensuite (private) bath cost just $10 per night. Hostel Chimenea is the first and only hostel in Baños with a swimming pool, steam health bath, jacuzzi, spa-body massage, panoramic terrace, internet and wi-fi, guest kitchen, on-site breakfast facilities, bar/cafeteria, laundry, luggage storage, board games and dvd, books exchange, private parking and tours/travel desk. Highly recommended for the budget traveler.
On my third day in Baños I moved to Hostal La Posada del Arte. This lovely guest house has 15 rooms, nine of which are in La Posada "Classic," the original hotel on the site. Six rooms are located in a relatively new addition, "The Blue House," which is separated from the main lodge by a garden and patio. All rooms are decorated with original Ecuadorian art, and have private baths with hot water 24 hours per day. Their sala (common room) encourages guests to relax, read, listen to music, or watch TV. The gentle rush of the waterfall, which tumbles from the mountains just a half block away, filters through a skylight, providing a soothing background for reading or relaxing before a crackling fire. Posada del Arte also serves gourmet food in their on-site restaurant, and their amazing breakfasts are included in the price of the room. Prices for a single range from $29-32, double from $55-59, and triple from $77-83. The higher priced rooms within each category have extra amenities, such as jacuzzi, fireplace or private balcony. Highly recommended for those who prefer mid-range accommodations.
Thermal Hot Springs:
There are three municipal pools that use hot water from the volcano within the town limits and one outside of town, however I only visited Termas de la Virgen. It is located at the foot of the Caballera de la Virgen waterfall (the only waterfall in the center of town), at the junction of Juan Montalvo y Martínez Streets. Facilities include three hot water pools, one regular pool, a cold plunge spa, hot and cold showers, and changing rooms. Towels can be rented for $.80 however the service does not begin until 8 a.m. The facility is open every day of the week from 4 a.m. to 5 p.m., closes for one hour and then opens again from 6 to 10 p.m. The hottest pool is open only during evening hours. Daily admission (daytime hours) is $1,50; evening admission is $2.50.
Spa Services:
Baños de Agua Santa is bursting with day spas, yoga studios, and massage therapists. I asked for a recommendation of a therapist who could do deep tissue massage and was referred to Geoffrey and Edith Holmes, owners of Stay In Touch Therapeutic Massage, which is located just across the street from Hostal Posada del Arte. I had a one-hour deep tissue sports massage ($30) and, on a separate occasion, a facial combined with a head, neck and shoulders massage ($32). They also offer Neo-richean, Swedish, Esalen, Accupressure, Reflexology, Shiatsu, and spinal adjustments, as well as herbal facials and other natural treatments that utilize locally sourced herbs and ingredients, all hand-prepared by Edith. The services were outstanding and the owners are currently expanding to add private and shared accommodations, as well as a Yoga studio.
Save