When my ferry arrived in La Paz, Mexico a couple of weeks ago, I had only an hour or so to check out the town before boarding the bus that would take me across Baja California to Todos Santos. I walked along the Malecon and snapped a few photos; it seemed like a nice enough little town but I wasn't turning cartwheels over it. Fortunately, during my stay at Rancho Pescadero I met Danny the bartender, born and raised in La Paz, who convinced me to spend a few days there. Danny was so right.
Although La Paz enjoys modest tourism, it is not overrun with tourists and expats. The downtown streets are filled with locals doing their daily shopping, attending church, chatting in the town square. People are extremely friendly and everyone seems to be smiling; I even found a fantastic, extremely affordable Mexican restaurant in La Paz. But the real beauty of La Paz starts where the land meets the sea.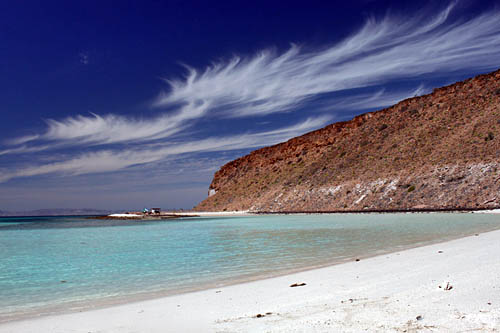 Gorgeous Balandra Bay is a picture perfect swath of powdery white sand beach backed by purple and ochre cliffs, with water so excruciatingly turquoise it is hard to believe the color is real. Beyond Balandra is Espiritu Santo Island, a nature preserve with dozens of pristine deserted beaches, coral reefs teeming with tropical fish, and sea lions that are so friendly they will swim right up to your snorkel mask. The Sea of Cortez off the coast of La Paz is also one of the few places in the world where snorkelers and divers can swim beside enormous but gentle whale sharks as they scoop up plankton and krill with their giant mouths.
I visited this water wonderland with Carey Dive Center, an excellent tour/dive operation that has designed a day trip that combines all of these activities and more. Words are simply not sufficient to describe the stunning scenery and wildlife in and around Balandra Bay and Espiritu Santo Island, so I put together the following brief video.
I've much enjoyed my time in Baja California, but it's time to head back across the Sea of Cortes to Barrancas del Cobre – Mexico's Copper Canyon – a remote area in the state of Chihuahua that encompasses the deepest canyon in North America. Copper Canyon is home to the reclusive Tarahumara Indians chronicled in the book, "Born to Run," and I hope to spend time with Tarahumara during my visit. Tomorrow evening I board the ferry back across the Sea of Cortez, this time to Topolobampo, and bus through Los Mochis to El Fuerte, where I'll spend a few days before boarding the famous El Chepe train through the canyon.