Like everyone, I appreciate a good restaurant. But perhaps because I used to be severely overweight, food is not overwhelmingly important to me when I travel. I generally eat only one meal a day, and most of the time I am happy enough with something from street vendors, who usually offer selections more appropriate for my vegetarianism than those found in most restaurants. However, once in a while I discover a really good place to eat, and in La Paz, Mexico, I hit the jackpot.
At La Fonda de los Briseno, owner Jorge Briseno Jimenez hovered over me like a mother hen. I liked him immediately and the reason soon became apparent: ten years ago, Jorge and his wife Sylvia Gonzalez Ariola both walked away from their professional careers as lawyers to open La Fonda. At the time, they weren't quite sure what they wanted to do with their lives, but they did know they no longer wanted to be attorneys. In Jorge's family, food was a passion. "I would come home from school and find my mother at the table surrounded by three kinds of bread and a half dozen cheeses, with a pot of Shoemaker soup simmering on the stove; enough food for an army! And my father studied natural foods and vegetarian cooking long before they were popular."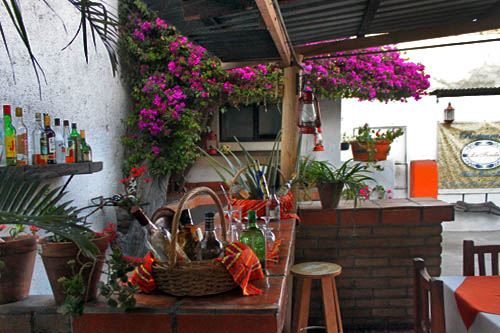 The couple decided to open a restaurant, featuring traditional Mexican recipes of Jorge's mother and the business philosophy of his father, who always insisted that it is better to make a little bit of money from many people than a lot of money from a very few. The combination has been a huge success, with the La Fonda being named as a top restaurant in La Paz by AAA Guides, Let's Go Guides, Moon Guides, Lonely Planet, and a plethora of Japanese travel guides. The restaurant became so popular that it spawned a handful of copy cat La Fondas, forcing Jorge to add "de los Briseno" to the end of his name.
Since it was my first visit I asked Jorge to choose for me. His selected menu began with a plate of homemade chips with green and red salsa and a plate of halved limes. Both of the salsas were delicious, although I especially liked the red, and the carafe of iced, slightly sweet Agua de Flor Jamaica (hibiscus tea) was an excellent accompaniment to the picante salsas. This appetizer was followed by Sopa Crema de Calabaza (creamed zucchini soup), a heavenly light cream base with a fresh, green taste that was slightly astringent and incredibly flavorful.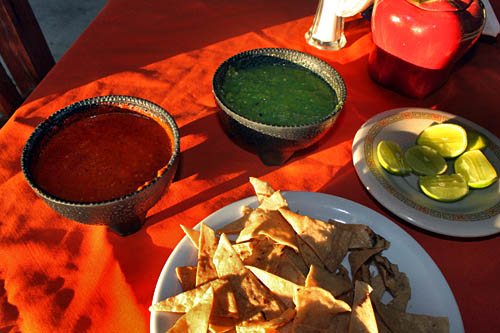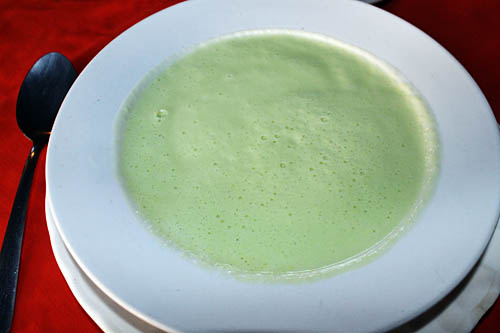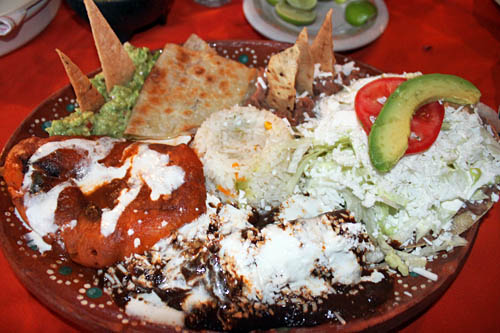 The main course, Combinacion Mexicana, was the piece de resistance. This giant platter contained seven different typical Mexican dishes and was definitely too much food for one person, but I told myself I had to do my duty. Clockwise, beginning from the center bottom, the items were as follows:
Enmolada: a corn tortilla filled with onion and cheese (chicken for non-vegetarians), covered with chocolate-infused mole sauce, melted cheese, and cream.
Chile Relleno: Poblano chile filled with melted cheese, coated in egg batter and quick fried, topped with tomato sauce and creme.
Guacamole: made from an old family recipe that includes avocado, onion, tomatoes, cilantro, and serrano chiles
Quesadilla: melted cheese wrapped in a flour tortilla
Frijoles Refritos (refried beans): made with canola or vegetable oil rather than traditional lard
Tostada: corn tortilla, spread with refried beans, tomatoes, avocado, grated cheese and finished with a creme garnish (includes grilled chicken for non-vegetarians)
White rice laced with sweet corn kernels (center)
The price for all this was a paltry $120 pesos, or less than $10 U.S.
I was so impressed with La Fonda that I returned the following day for a late afternoon Comida Corrida, literally "running dinner." Between the hours of 1 p.m. and 5 p.m., diners can choose from daily specials that include a drink, soup with pasta, and entree, all for 45-55 pesos, depending on the selection ($3.50 to $4.25 U.S.). Incredibly, La Fonda is open seven days a week from 7:30 a.m. to 10:30 p.m. To sample Jorge's mother's Shoemaker soup, a concoction of clear broth with potatoes, a cheese filled omelet, and fresh oregano, you'll have to come in the morning, since the soup is only served for breakfast. As with other meals, the gourmet breakfast selections are priced at pauper prices. Scrambled eggs, beans and tortillas are less than $2 U.S. and the 10 peso (80 cents) coffee includes free refills, which is fairly rare in Mexico.
Best of all, as I was leaving, Jorge, Sylvia, and their son, Jorge Jr., invited me to dinner at their home when I return to La Paz. I can't think of a better reason to come back.