After a week in 9,350-foot high Quito I was no longer huffing and puffing as I trekked up and down the city's ubiquitous hills, so I was totally unconcerned about altitude as I headed for the central highlands of Ecuador, home to spectacular volcanoes and some of the best hiking in the country. The dust-caked brakes of my rickety bus squealed to a halt in the center of Chugchilan, where indigenous Quichua had gathered in droves to celebrate Dia de Difuntos (Day of the Deceased). Anxious to photograph the event, I double-timed up the hill to Hostal Cloud Forest, dumped my luggage and headed back out, surprised that I was breathing heavily after such a short distance.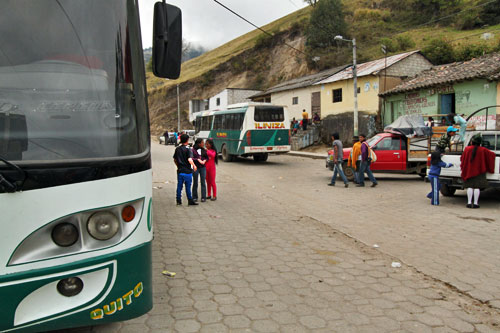 Though I had observed Quichua women in their distinctive bowler hats in Quito, this was my first opportunity to mingle with the indigenous population. My initial excitement quickly faded when my repeated requests to take photos were rebuffed with shakes of the head and turned backs. Crowds parted like the Red Sea as I walked down the main street and my smile was met with suspicious looks. Stone-faced vendors sold me snacks without so much as a thank you.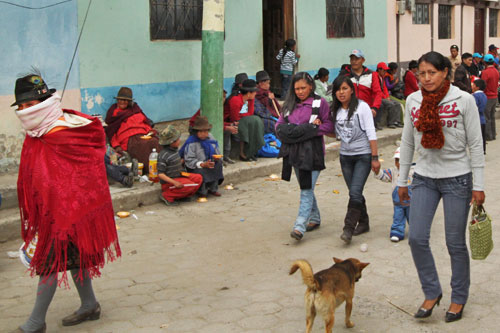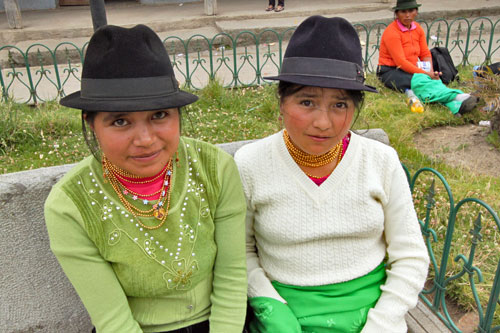 As the late afternoon light faded to twilight and temperatures dropped to bone-chilling levels, I finally convinced two beautiful young Quichua girls in the main plaza to pose for a photo before fleeing back to the warmth of the hostel's wood-burning stove. When my shivering subsided I nosed around the facilities. The dining room was furnished with rough wooden tables and benches and a cavernous below-ground common area room held only a lone computer and three plastic lawn chairs. With no comfortable place to relax I retreated to my unheated room after a tasteless dinner, hoping to catch upon email, only to discover that the Internet was not working. I tried to write but my frigid fingers fumbled on the keyboard and when my throat grew raw from the cold I stood under a scalding hot shower and jumped under a mound of woolen blankets, hoping to ward off the sinus infection that threatened.
Early the next morning I threw open the curtains to brilliant sunshine that rapidly warmed up my room. Anxious to investigate the area, I teamed up with two backpackers from France and Australia for a trek to a cheese factory located in a tiny village, high in the surrounding mountains. The hostel owner drew a crude map on a scrap of paper and assured us the round-trip hike would take about four hours, so we headed out early in order to avoid the fog that rolls in every afternoon.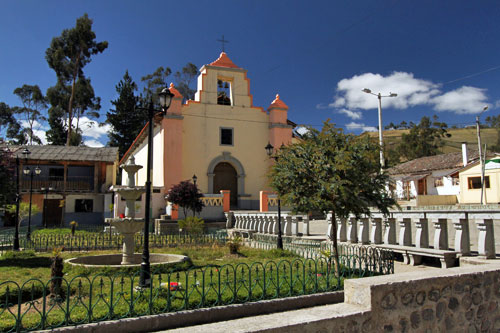 Just past the church we turned right on a dirt road that climbed steeply and within minutes I was gasping. On the pretense of oohing and aahing over a baby sheep staked to a patch of grassy hillside, I stopped to regain my breath. "How high do you thing we are?" I asked Jerome. He whipped out his altimeter. "We are almost at ze 11,000 feetz," he declared in his delightful French accent. My brow wrinkled; this was the highest I had been so far in Ecuador. Still, I hadn't felt any major effects in Quito so I pressed on, grateful that my two young companions were happy to let me rest every so often.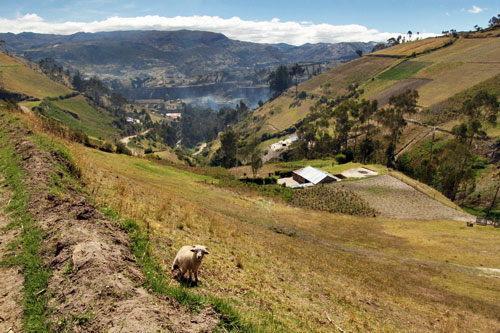 It soon became apparent that our map bore little resemblance to the actual route and we began asking locals if we were walking in the correct direction. An hour into the trek men on horseback said the factory was just a little way ahead. Soon afterward a group of children ran up the hillside and offered to be our guides for a fee; when we declined they told us the factory was just twenty minutes further up the road. Higher and higher we climbed, until snow capped peaks emerged from behind the sculpted green hills. Hoping to mask my pulmonary distress, I paused and offered tips on the best techniques for shooting photos in the mountains, but I think Jerome and Caitlin were on to my ploy. A bit further along Jerome created another excuse to rest as we sat beneath giant tussocks of grass on the side of the road and pretended to preen our long locks. I would like to believe they were as tired as me but I suspect they were just being kind.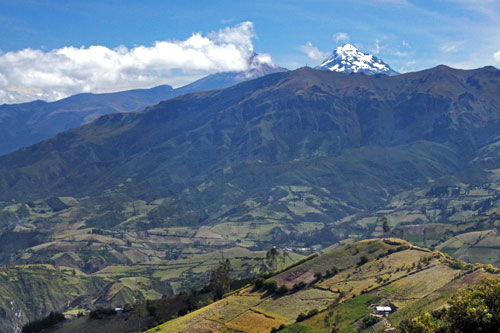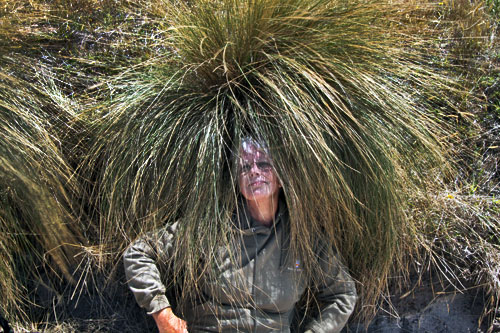 When the road finally crested at 12,000 feet I gazed over stark rounded hills covered in thigh-high grasses, amazed that anyone actually lived in such a remote place. Two and a half hours into our trip there was absolutely no sign of a village, much less a cheese factory. We descended through clouds that billowed across the road and blocked the sun, turning a warm morning into a dreary, drizzly afternoon, and finally reached a fork in the road. Our map called for a left turn but far ahead, a barely visible Quichua man and his dog had taken the right-hand path; we decided to follow him. Not long afterward tiny concrete houses that mimicked the barren hills began to appear and we soon found the turnoff to the cheese factory. Bedraggled and exhausted, I negotiated to buy some of the three varieties of cheese the owner produced, struggling to understand his mountain dialect that mixed Spanish with Kichua words.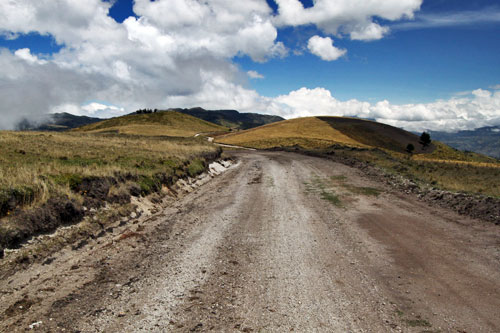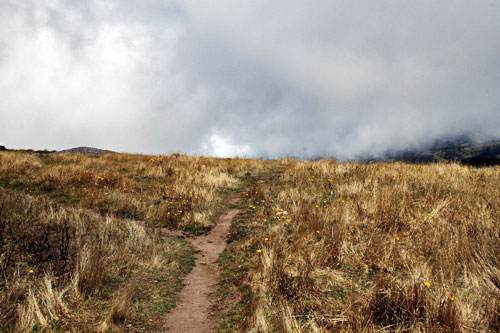 With plummeting temperatures and nothing but a sweatshirt to keep me warm I left Caitlin and Jerome and caught a ride partway down the mountain but it was too late – by the time I arrived back at the hostel I was chilled to the bone. Fully clothed, I climbed beneath the mountain of covers on my bed but still could not get warm. I turned on the shower full blast and stripped, shivering uncontrollably as I waited for hot water that never arrived. For the remainder of that long, miserable night, I tossed and turned, unable to warm my icicle feet and fingers; by morning I was willing to pay almost anything to find more comfortable accommodations. Fortunately, Hostal Mama Hilda was right next door and the owner's daughter showed me common rooms furnished with comfy overstuffed furniture that were heated by wood stoves every evening. Best of all, she promised me a room with a portable heater. I lost no time in transferring my luggage and settled into the sun room to write.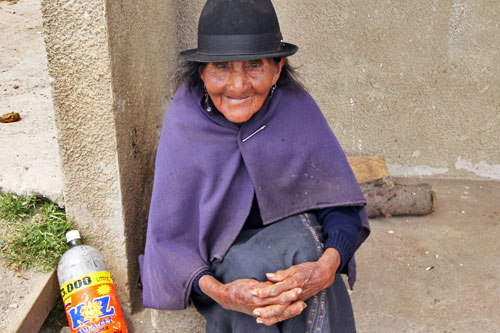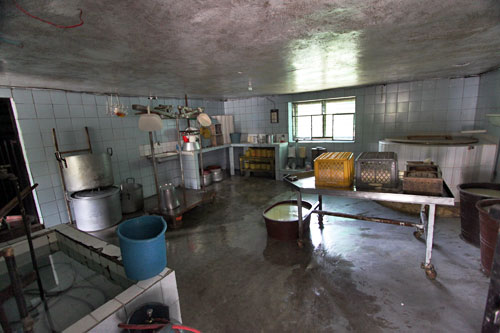 My contentment was short lived. The soothing background music that had been playing on the radio when I arrived was changed to heavy rock and a group of men gathered in the lobby to hold a community meeting, talking and arguing in loud voices for the next two hours. Trucks rumbled by outside, dogs barked incessantly, and car alarms went off every few minutes. My head throbbed, my throat was raw. By late afternoon I began to shiver again and asked if someone would light the stove but was repeatedly told it would be done "later." After dinner I just wanted to climb into bed but my promised heater had never materialized and when I requested it I was handed a hot water bottle. I wriggled beneath the covers wearing three layers of clothes and slept fitfully for a few hours but woke at 3 a.m. with a serious case of diarrhea, upset stomach, severe dizziness, and chills, all classic symptoms of altitude sickness, also known as acute mountain sickness (AMS). For two miserable days I languished in bed, wishing I was dead. Every couple of hours I woke up gasping from the weight of the bed covers on my chest; I would throw them off until I got too cold, then burrow beneath the covers and the entire process would begin anew. There was no clinic in town and I was too sick to go down the mountain, which is the best remedy for AMS, so I just had to suffer through it. I now understand that I went up too high, too quickly after arriving; I should have taken a day to acclimate to the altitude in Chugchilan prior to hiking to the cheese factory.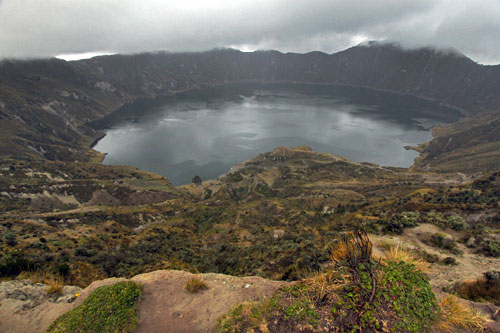 Three days later I was still too weak even to take the crowded local bus down the mountain and instead had to hire a private truck. Fortunately, my driver was kind enough to make a brief stop at the Quilotoa Caldera, the most popular site on the Quilotoa Loop. Wearily, I dragged myself up the short trail to the crater rim and snapped a photo of the collapsed volcanic cone filled with a deep blue lake. It would have been a shame to come all this way and not see the caldera, but I can honestly say that all I wanted at that moment was to come down from the mountain.