The pickup truck squealed to a stop in front of me and six suit-clad men scrambled out of the open bed. A tall, thin, mustachioed man held out his hand. "Bienvenidos a Ecuador," he said. Welcome to Ecuador. Surprised, I looked around and realized I was the only white face on the street; it was obvious that I was a tourist. He pumped my hand and smiled broadly, his brilliant white teeth gleaming in the light streaming from the school gymnasium in front of which we stood. I had previously peeked into the gym, where thousands of indigenous Quichua were seated in the bleachers, but had hesitated to enter because I had no idea if I would be welcome. "Where are you from?" He asked. "The United States," I answered. "Please, I invite you to be our honored guest tonight. We are celebrating the Independence of our town."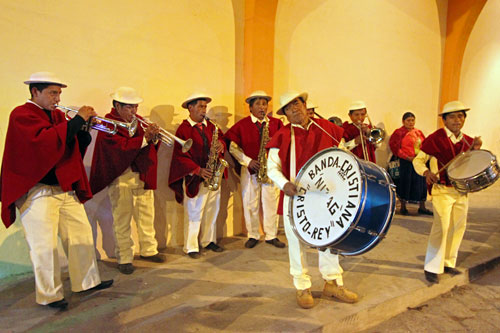 The city fathers escorted me to a seat in the second row of plastic folding chairs set up on on the main floor. Music boomed from giant speakers and the room erupted in song. I stood and clapped along, marveling at the passionate faith and the brilliantly colored Quichua costumes on display. Green skirts were topped by pink capes, orange over maroon, red and turquoise; hats and long stockings in contrasting colors completed the traditional ensembles. Groups of Quichua women, each from a different sector within the canton of Alausi, shyly walked to the front of the room, stood shoulder-to-shoulder and recited a biblical verse in their sing-song Kichua language. Their testimony was followed by a song of worship, performed as they rocked to and fro in unison.
Four hours later, having been introduced as an honored guest, serenaded by a male solo vocalist, and gifted with christian music CD's, I finally begged off. At midnight, the celebrations were still going strong but I had to return to my guest house before it was locked down for the night. I thanked my hosts profusely for providing me with a unique opportunity to witness Quichua culture up close, cognizant that I had seen in one night what might otherwise have taken months of travel throughout Ecuador.