If you're looking for a party, don't go to Puerto Lopez, Ecuador. The loudest noise I heard during my week stay in this tiny coastal village was a rooster crow and many of the shops that cater to tourists were closed during the week. But after eight days of cruising in heavy seas around the Galapagos Islands, I needed a quiet place where I could drop anchor and let the ground stop rocking. Puerto Lopez turned out to be the perfect choice.
I arrived in darkness after a five-hour bus ride, took a 50-cent moto-taxi to my hotel, dragged my weary carcass to my room and collapsed into bed. The next morning I wound through spectacular gardens at Hosteria Mandala to the main lodge and sank into a chair on the wrap-around deck. Spread before me, as far as I could see in either direction, was a stretch of pristine golden beach dotted with precisely planted palms spaced perfectly for hammocks. I sighed contentedly and kicked off my shoes.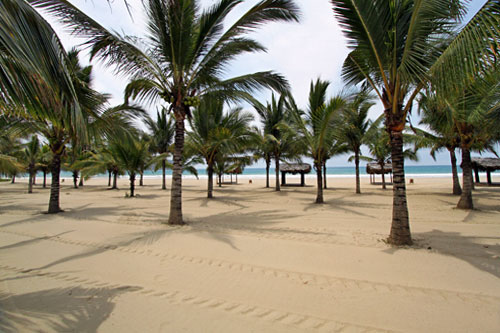 This sleepy little fishing village located in the center of Ecuador's coastline is best known as a gateway to other attractions. A short ride to the north are beautiful Los Frailes Beach in Machililla National Park and the indigenous community of Agua Blanca. I visited both in one day, starting with Agua Blanca. Residents of this communal village are all descendants of the Manteña Culture that inhabited the area from 800 AC to 1532 A.C. They provide personal tours of a small museum that houses a collection of artifacts dating back to 3500 B.C., all of which were discovered in archeological digs around the area. After the museum, a half-hour walk through brittle forests and a bone-dry river bed led to an unexpected sulfur lagoon, the last remnant of an eroded volcanic caldera. Gratefully, I stripped down to my swimsuit and began spreading mud from the bottom of the spring on every square inch of exposed skin. The slate-colored clay dried quickly in the sun and I jumped in the warm water to wash it away.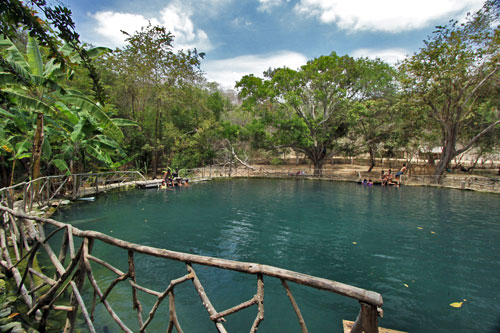 Later that afternoon, refreshed from my swim and sporting silky smooth, baby soft skin, my moto-taxi driver whisked me to Los Frailes Beach, part of the greater Machalilla National Park. At the end of a short sand path I mounted a low rise and a surveyed a perfect crescent of white sand. A lone sun umbrella, gleaming sea-foam green in the dazzling midday light, canted toward the ocean at the edge of the surf. I sank into the powdery sand and wriggled my toes, reveling in the feeling of having the exquisite beach all to myself.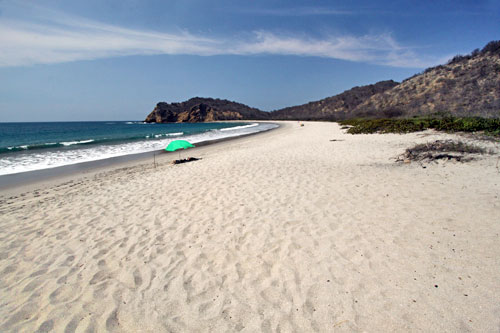 Another day I headed south to the tiny fishing commune of Salango and its small but impressive museum, the first in-situ museum in Ecuador. Its extraordinary collection of authentic pottery and artifacts tells the story of pre-Columbian peoples who inhabited what is today known as the Spondylus Route. As early as 3500 B.C., coastal inhabitants valued the Spondylus shell for its vibrant red color, diving to great depths to find the coveted mollusk. Initially used to craft elaborate necklaces and highly polished ornamental pieces, Spondylus eventually was as highly valued as gold is today. In addition to being great divers, the ancients of Salango were excellent navigators. Abundant sources of balsa wood and the cultivation of cotton allowed them to develop elaborate balsa wood rafts, in which they sailed from the southern tip of Chile up to present-day Acapulco, diffusing their new ideas and technologies to the diverse people with whom they came into contact and spreading the use of Spondylus as a currency.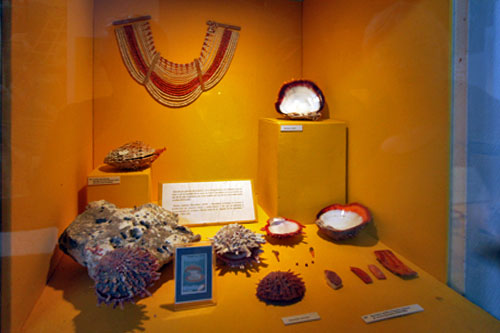 Though the museum and ancient history of Salango and its offshore island of the same name was fascinating, it was the present day history that interested me the most. I followed the museum caretaker around back to a second building and waited while he struggled with a giant padlock. Inside, he led me around displays that explained the fishing industry that sustains most of Ecuador's coastal villages. Twenty-two days each month (excluding full and near-full moon nights, during which the fish won't bite) the small boats that litter the coves and beaches head out to sea with an average of twelve men each, though how 12 people can possibly fit into such small vessels and still be able to fish is a mystery to me. The boats are loaded down with five gallon plastic containers of fuel, bottles of water, supplies, bait, and giant blocks of ice to keep the catch from spoiling. They stay out for up to 24 hours or until the boat is full. On a good day, a boat will haul in $2,000 worth of fish, which is split equally between all hands after the captain takes his larger share.
Can't view the above slide show about Puerto Lopez, Ecuador? Click here.
The following day I witnessed this ritual first-hand in Puerto Lopez. Standing on the beach between vessels laden down with green nets and baited hooks, I watched the ballet of boats being loaded with practiced efficiency. A fire-engine red ice cart pulled up to the water's edge and men hefted the enormous blocks onto their shoulders. Sno cone vendors and food carts dished out snacks. Late crew members roared up on motorcycles, abandoned them on the sand and ran to their boats. The men laughed and bantered, waving at me and flashing brilliant smiles as I filmed.
When the last boat was a speck on the horizon I left the beach and went in search of food. I didn't have far to go. Just beyond the sea wall, delicious smells wafting from La Isla Restaurant stopped me in my tracks. The owners, who were gathered around a large table on the front porch enjoying a late afternoon meal, waved me in with broad smiles. I chatted with their two young daughters while waiting for my $4 fresh fish dinner to arrive, coaxing them to pose for photos as their father beamed in the background. After seeing the first photo their shyness disappeared and they pestered me to take more all through dinner.
During my seven lovely days in Puerto Lopez I went to bed when it got dark and rose with the sun, as the locals do. I ate myself silly and tesrted amazing local dishes like rice and vegetables in Mani peanut sauce. I bought Spondylus jewelry and swung lazily in a hammock for hours, reading a book. If you're looking for a beach party in Ecuador, go to Montañita or Atacames. But if you're interested in learning about ancient civilizations that molded the culture of coastal Ecuador; watching whales off the coast; visiting Isla de la Plata, known as the "Poor Man's Galapagos;" or spending quality time with warm and welcoming locals, you just can't beat Puerto Lopez.