I have few remaining vices in life. I don't smoke, drink, use drugs, gamble or even eat meat, but when it comes to chocolate I am a self-confessed addict, so when master chocolatier Jeffrey Stern left a comment on my blog inviting me to "come by for some chocolate and to learn about the fine flavor cacao industry in Ecuador," I could barely contain my excitement. Of course I was interested in his story – how a young man from San Diego ended up owning a gourmet chocolate factory in Ecuador – but I must confess it was the prospect of free samples that had me in a taxi, bound for his factory, the morning after arriving in Quito.
Stern came to his passion quite accidentally. He arrived in Ecuador fresh out of college in 1994, newly hired by the U.S. Agency for International Development (USAID). Two years later, disenchanted with the integrity of foreign aid work, he returned to the United States with his Ecuadorian wife, Maria, and went back to school to pursue his interest in culinary arts. After graduating in 2002 he worked for restaurants, catering services, and as a personal chef, but it was his part time position in a chocolate shop that changed his life forever. "I got really interested in chocolate and started playing around with other methods and creations," says Stern.
About that time, he and his wife and two children decided to come back to Quito for a visit. "At the time I had no idea that Ecuador is the world's largest producer of fine grade cacao," Stern admitted. He checked out the local chocolate stores looking for new ideas and soon learned that Ecuador was the leading source of Arriba Nacional Cacao, a native bean that produces the world's most flavorful chocolate. Shortly afterward the couple decided to relocate to Quito and open a gourmet chocolate factory that they named Gianduja Chocolates.
I arrived mid-morning and knocked on the steel door marked only by the address Stern had provided. He buzzed me in and met me at the door of his tiny shop, from which emanated the most heavenly smell on earth – melted chocolate. Maria and the firm's only employee were hard at work, placing chocolate ganache squares on metal rollers that carried the bonbons beneath a drenching machine in a scene eerily reminiscent of the famous "I Love Lucy" episode. When the chocolate-coated bonbons bounced out the other side, small squares of plastic known as "transfers" were applied to the top of each piece. Some transfers sport multi-colored designs in cocoa butter; the plastic is pressed into place on top of the hot bonbon and peeled off when the chocolate has cooled, transferring the design to the candy. In this case, however, Stern was using a transfer with a geometric design that left a checkerboard design on the finished chocolates.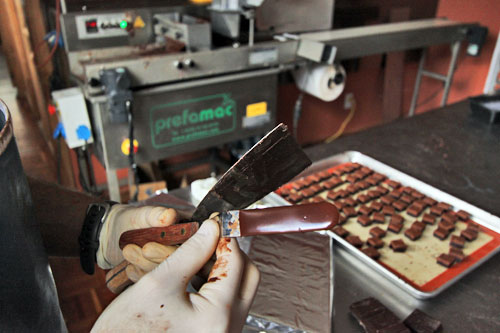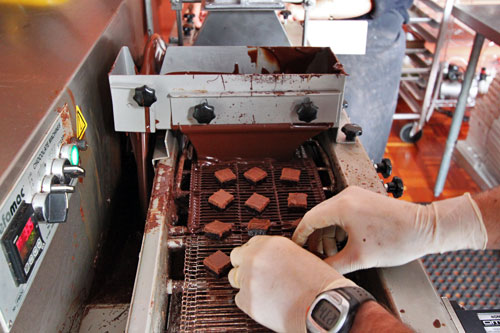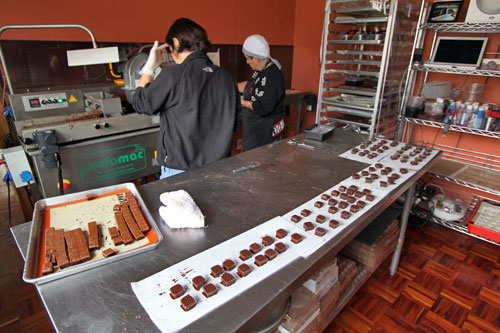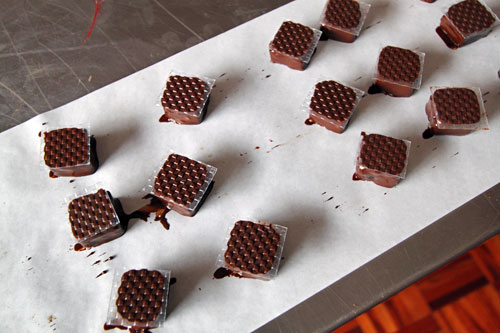 An hour into the interview and tour, my mouth was watering and I was beginning to wonder if samples would be offered. Something in my face must have given me away, for Stern suddenly grinned and asked, "Would you like to taste one?" He handed me a bonbon that could not be sold because the transfer had accidentally been applied upside down. "It's one of our specialties, blackberry pate de fruit (a jelly made from the local Mora berry), topped with a milk chocolate ganache and enrobed in 70% dark chocolate made from pure Nacional cacao beans." My eyes rolled back in my head and I almost swooned. It was the best chocolate I have ever tasted.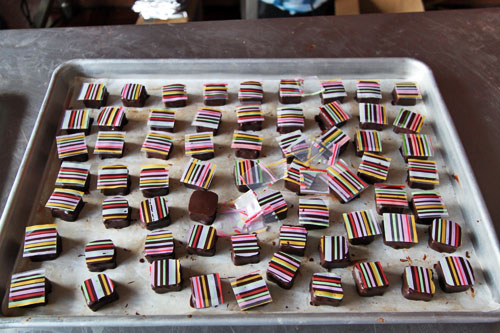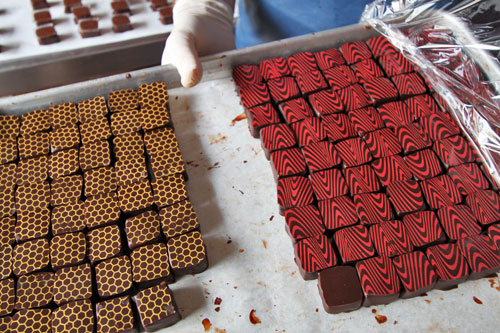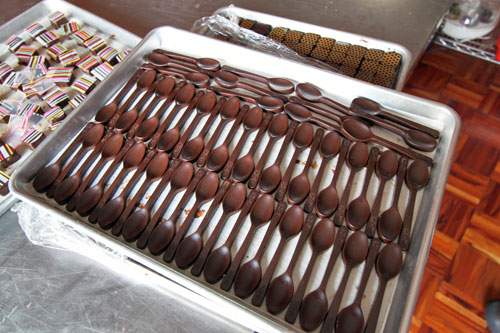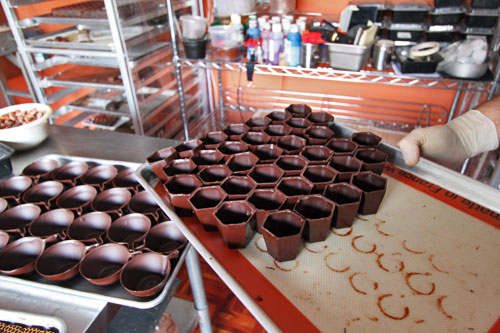 Though Stern has finally begun to turn a profit after five years of operation, he is concerned about the cacao industry in Ecuador.  Many farmers have converted to a new hybrid cacao bean with the unglamorous moniker of CCN-51, since it has triple the yield of the Nacional bean and is more pest resistant. Unfortunately, CCN-51 is a lower quality bean that has a poorer flavor. Exacerbating the problem is the tendency to mix the two beans during fermentation. "The two varieties of cacao have different requirements for fermentation time (the first step in making chocolate that creates many of the precursors to chocolate flavor) but when they are processed together an average time is used, which
is not optimum for either bean," Stern explained. As a result, both beans are degraded in quality.
Worried that Ecuador is in danger of losing its status as the world's largest producer of fine flavored cocoa, the master chocolatier recently partnered with the owners of Millcreek Cacao Roasters to save the prized cacao variety. They hope to purchase raw Nacional beans from local growers for export to the U.S., where it will be painstakingly roasted at their a Salt Lake City plant. The resultant chocolate will be molded into shiny bars, hand-packaged, and sold at Millcreek Cacao's existing locations, as well as online and through other venues. "Everyone wins in this scenario. Local growers get a fair price for their product and the world gets to enjoy the finest chocolate in the world," says Stern.
I left Gianduja that afternoon on a chocolate high, having pledged to support Stern in the best way I know how – to spread the word about his project. Having sampled his blackberry, hazelnut, orange, lemon and caramel varieties on site, and purchased a box of additional flavors for later indulging, I can only hope that he is successful in his plans to expand.