I tried to like Arequipa. Really, I did. But try as I might, I just couldn't get past the feeling of boredom in Peru's second largest city, despite the fact that the historic city center, known as the "White City" due to the many buildings constructed from a white volcanic rock known as sillar, is a UNESCO World Heritage Site.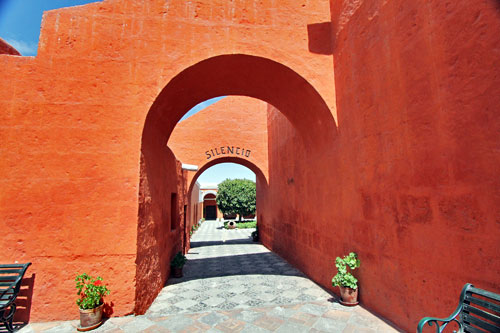 One of the few highlights was the Santa Catalina Monastery. Built in the mid-1500's, the monastery covered nearly five acres and functioned like a city within a city. Wealthy families often sent one of their daughters to be initiates, paying large sums to support them. As a result, many nuns lived in conditions that were far better than the commoners of the day. Today the convent is still occupied by nuns wearing pale blue and green habits who go about their daily business behind the cloistered walls. Walking through the site with a guide I was amazed by its immense size, the brilliant cobalt blue and rich salmon walls, and most of all by the serenity that pervades the complex.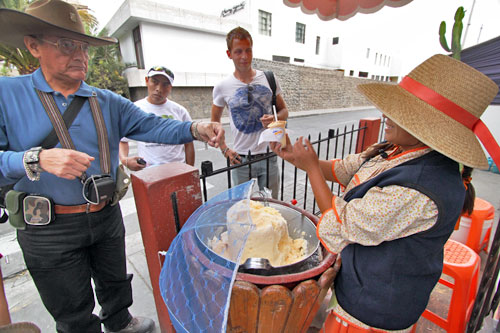 Aside from the convent, my visit was somewhat lackluster. Smoggy gray skies obscured views of volcanoes Misti, Pichu Pichu, and Chachani at both the Mirador de Carmen Alto and Mirador de Yanahuara. At the latter I stopped to try queso helado, cheese ice cream, named not because it is made with cheese but because the block into which it is formed resembles a giant round of cheese. To me it tasted overly sweet and terribly grainy.
I tried several different restaurants around the Plaza de Armas but never really found any that served what I would call good food, and though I made every effort to ferret out local music, every place I was directed to either had no performances or was closed. Frankly, Arequipa bored me. Had it not been the ideal jumping off place for my tour to Colca Canyon I could have easily bypassed this city.
Can't view the above slideshow of Arequipa, Peru? Click here.
On my final day in Arequipa I sat down on a bench in the Plaza de Armas, happy to bask in a sun that had finally emerged after several gray days. Thousands of pigeons bobbed and waddled around the plaza, diving for roasted corn kernels tossed out by visitors. When a mass of pigeons swarmed in front of my bench, the twenty-something man sitting next to me raised both arms straight out in front of his body. Before long, half a dozen pigeons had roosted on his long arms. Laughing delightedly, he displayed his menagerie to me to; the moment he spoke I realized he suffered from a mental disability, most likely some form of Downs syndrome. He insisted I try, so I stuck out both my arms but the pigeons had no interest in me. Instead, more of them landed on the young man's shoulders and one even perched on top of his head.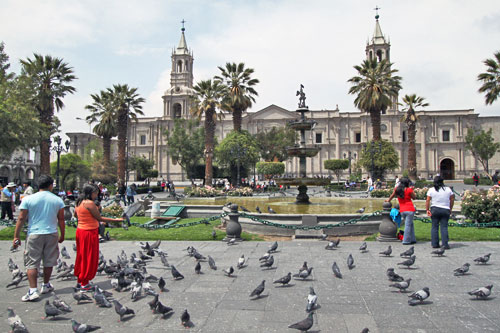 I rushed over to a vendor, bought a bag of corn feed, and poured it into the man's open palms. The birds flocked to his cupped hands, jostling one another as they competed for the kernels. "You too!" he insisted. I poured corn into my own hand and held it out tenuously; within moments my arms and legs were covered with the birds and we were both laughing uproariously. I doled out the corn until it was gone and my reward – surely the best part of my visit to Arequipa – was the smile on that young man's face. But for my interaction with him, my visit to the White City would have remained unremarkable and unmemorable.