Some years ago an elfin man approached me as I walked along a boulevard in Ho Chi Minh City, Vietnam. He could see I was puzzled and wanted to help. What did I need? Holding out my handfull of trash, I pantomimed dumping it, then shrugged my shoulders and swept my hand in a semicircle to indicate my search for a trash bin. He pointed to the street pavement. No! I shook my head. Yes! he replied with a nod. Springing forward, he grabbed the trash from my hand and threw it on top of a pile at the curb then, flashing a huge grin, turned on his heel and ambled away unconcernedly. Had it not been tossed upon a fetid, stinking garbage heap I would have picked it back up.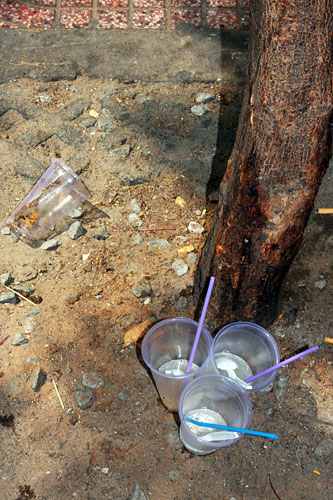 Later that same afternoon I came back to the same neighborhood after a day of traipsing around old Saigon and noticed a woman clad in a green smock and conical straw hat pushing a two-wheeled cart. Every few feet she stopped and bent to the asphalt with her hand broom of twigs to sweep up piles of trash and deposit them in her bin. The pile that had horrified me earlier in the day was long gone, and I suddenly realized that my trash was her job security.
Flash forward to 2010 and my four months of travel around Mexico. A beach bum from way back, I was stunned by the dazzling white sands and crystalline turquoise waters of the Yucatan. The beaches of Tulum and Playa del Carmen are among the most magnificent in the world. As I traveled further south to a largely undeveloped part of the peninsula, mile after mile of exquisite beaches stretched as far as I could see. Unfortunately, so did piles of rubbish. Shampoo bottles, shoes, needles, plastic containers of all kinds had washed up just above the high tide mark; where there were no houses or resorts there were no efforts to clean it up and in places the trash was a foot deep. At the southernmost point of the Yucatan I rolled into Xcalak, a sleepy town best known for its diving and deep sea fishing, and put down roots for a few days.
I brought up the subject of litter with the managers of Casa de Suenos Resort, who insisted that it did not originate in Mexico. Although some claim it comes from cruise ships that dump their trash at sea, current regulations for the cruise ship industry require weighing of the trash when ships return to port. Using available data about the average number of pounds of trash generated per person at sea, a formula is applied according to how many passengers were aboard. If the load is light, the cruise line is subject to severe financial penalties. The more commonly accepted explanation is that currents wash trash up from Central and South America and as evidence that the theory is sound, the resort manager produced a yellow hard hat he had picked up on the beach. Scrawled across the front were the words "Panama Canal."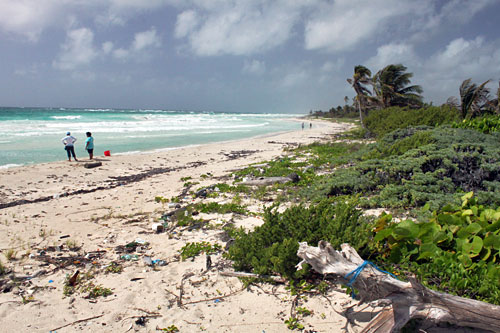 For the past several months I have been back in Asia, where the problem is as severe as anywhere in the world. To a large degree I have learned to look past the garbage; though I still cringe each time someone leans across me to toss their trash out of a bus window, I find myself reasoning that even the plate is made from biodegradable palm leaves. Rather than being appalled, I am simply chagrined when I encounter heaps of trash like the ones around Durbar Square in Kathmandu, Nepal. Last fall, after spending a few days in the cacophonous capital city I made my way to Pokhara where, despite its severely polluted lake and landscape littered with plastic bottles and bags, I fell in love. I planned for three weeks and stayed three months, and it was in Pokhara that I began to understand how the trash problem came about.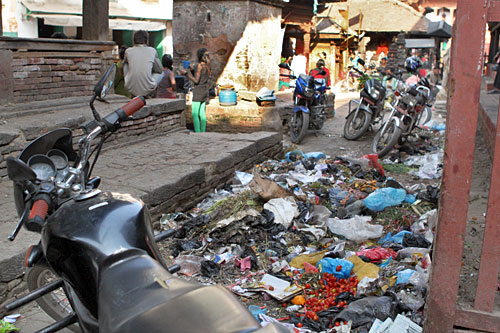 One day last fall I stopped to chat with a group of students who were gathered around a vendor selling oranges. Nepal grows the most delicious oranges in the world, tiny bundles of sweetness so small that four can fit in the palm of my hand. I bought a few, zippered off the smooth skin of one, tossed it into my mouth whole and let the taste of sunshine trickle down my throat. Then I looked for a waste bin which, of course, was nowhere to be found. The kids laughed at me, cavalierly telling me to toss the peels on the ground. No! I may not be as shocked by trash these days but I still refuse to add to the problem.
Seeing my distress, the kids tutored. "It goes back into earth. Make orange sweet." It was like a light bulb going off in my brain. For hundreds of years Nepalis have been recycling organic waste. Even today it is common to see men and women walking with five-gallon buckets, picking up buffalo and cow dung for use on the fields. For centuries their waste was all organic; there were no plastic bottles, inorganic packaging, no batteries or cell phones. Then, in the early 1950's Nepal opened its borders to foreigners and money from NGO's and INGO's flooded into the country. Along with money came the modern world of packaged products and gadgets. Unfortunately, no one thought to educate Nepalis about inorganic waste and as a result, it was thought of and treated no differently than organic trash.
I don't buy into the argument that eliminating trash on the ground will take away jobs; certainly jobs in the recycling industry could be created to replace those of trash collectors. What I do know is that changing the attitudes of peoples who have thought about trash as a resource for as far back as history has been recorded will take time and education, along with development of industries to manufacture goods from recycled materials. With no end use market, the process is doomed. Yet I do see progress. In Pokhara, one local businessman is now delivering five-gallon bottles of purified water to homes and businesses. Hotels who have opted in to the program are offering guests refills for half the price of buying a new bottle of water, and the larger bottles are picked up, sterilized, and reused. As for organics, I'm not sure I think it should change. I devoured my last orange that afternoon, hesitated for a moment, and then threw my peels into the field next to the road. The kids beamed their approval.