If Saigon is the irrepressible teenager, then Hanoi, Vietnam is the genteel, elderly aunt. There is a strange energy about this city. Wherever I went, I felt a heaviness; an oppression. Stone-faced police are everywhere, standing around in groups. Whereas in Saigon smiles come easily, in Hanoi most people scowl. Hanoi residents in general are thicker-bodied and move more languidly than their Saigon counterpart – as if they are just going through the motions of getting through another day. Even the traffic here is more sedate. I can't quite put my finger on it, but perhaps it has to do with an almost unbelievable corruption that permeates the north of Vietnam.
For example, I have been exploring all the best places to see in Vietnam using a bus tour company named Sinh Cafe. They're a good company and come highly recommended by Lonely Planet, but there is a problem with the Sinh Cafe name in Hanoi. Sinh Cafe holds the copyright for that name from the southern tip of Vietnam, all the way to Hue. North of Hue, however, there are no copyright laws, so there are a total of 86 Sinh Cafes in Hanoi – 85 of them being copycats that regularly steal the money of clients who think they are booking with the real Sinh Cafe. Fortunately I knew about this ahead of time, because I passed four other Sinh Cafes on my way to the real one this morning to book a city tour for tomorrow and a Halong Bay tour on Monday.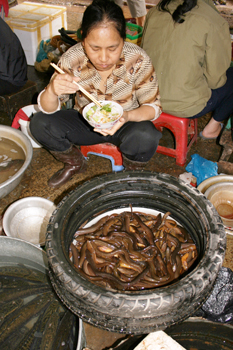 After arranging these two tours I took a walking tour around the Old Quarter, snaking through impossibly narrow streets where vendors set up in the middle of the road, leaving only 18 inches or so on either side for pedestrians, motorbikes, and bicycles. You have to see this market to believe it. One lane was nothing but clothing. Another was fruits and vegetables. A third was fresh meat – huge beef and pork slabs were carelessly tossed out on wooden plank tables and freshly plucked chickens were suspended from makeshift roofs while flies buzzed around the carcasses. Yet another lane featured seafood of all types – huge live catfish swimming around in white porcelain pans bowls full of squirming live eels. Running water from hoses is continually pumped into the pans to keep the fish alive and the excess water overflows onto the narrow concrete walkway, making for slippery, treacherous footing,especially whenever I had to dodge a speeding motorbike.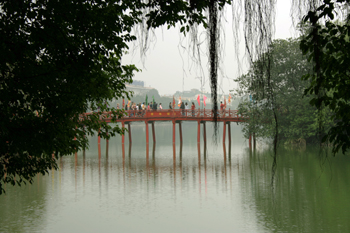 I finally found my way out of these narrow alleyways and headed for Hoan Kiem Lake, which is located at the city center and is a favorite place for strolling, people watching, or romancing. It was misty this morning, giving the lake an ethereal feel, which somehow seemed suitable for this mysterious city. In the middle of the lake is a famous Pagoda, where I ran into three girls who struck up a conversation with me. They are studying English in preparation for being diplomats and wanted to practice. I spent an hour with them – Li, Twee, and Hahn – sounds so lyrical. And they were delightful – full of laughter and smiles, they really made my morning. They were astounded by my blue eyes and made me take my glasses off so they could look at them.
After lunch (braised spinach in garlic, fried tofu, steamed rice with fish sauce, and lychee nut for dessert), I walked over to the Opera Theatre and then ended my day at the Hanoi Hilton – the prison where the American pilots were held captive during the Vietnam War. It was an eerie building, made even more so by a display of the clothes that Senator John McCain was wearing on the day of his capture. Strangely, there was also a room full of old black and white photos of Vietnam War protest marches that were held all over the US in the late 60's. The captions under these photos explain that the Americans were supporting the Vietnamese people's desire to reunite north and south. Surely they know the truth – that these protests were a statement against US involvement in Vietnam rather than support for the North Vietnamese government – but I have to wonder whether they really believe this or it is just their peculiar brand of propaganda. Strange, strange, strange. It is hard to believe there can be such distinct contrast between the north and the south of this country.