Vietnam has been ruled by a series dynasties. The most recent of these was the Nguyen Dynasty, which lasted until 1945, when the last emperor abdicated power. Due to its central location, Hue, Vietnam and its environs was home to each of these dynasties and the countryside is fairly littered with historical temples, palaces, tombs, and pagodas. Although many of these architectural gems were destroyed during the Tet Offensive in 1968, there are still many fascinating sites to visit. Hue is divided between the old fortified city and the new urban sprawl that has grown up on the south side of the Huong River. It was this suburb that I found myself in last night – thus my comment about finding Hue disappointing after Hoi An. By the light of day, however, I discovered that I was only a short walk from the Citadel and the Forbidden Purple Palace, so I set out early this morning to see what I could discover.
Walking anywhere in Vietnam is difficult. First, no one understands my desire to walk. They think I am crazy to be out walking in the hot sun when I could be riding. Second, every few steps I was accosted by an enterprising motorbike, taxi, or pedicab driver who tried to sell me a tour or convince me to take a ride with them. It always starts with the same opening: "Hello, madame, where you from?" If you answer them, then you have to fend them off for the next 15 minutes. I literally had one pedicab driver follow me around for half a mile today, sure I would relent and hire him. So, eventually, I resort to ignoring them and being totally rude, which makes me feel guilty. There has to be a better way but I haven't found it yet.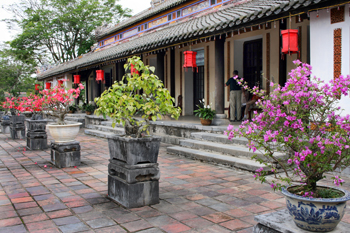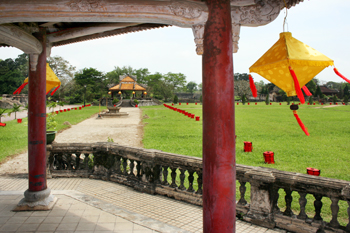 At the Forbidden Purple Palace I wandered the palaces and pagodas for well over two hours. At one point I happened into a room where Vietnamese women were donning exquisite red and gold silk robes – copies of the garments worn by the royal Nguyen family – in order to have their photos taken. A bit later I found myself in the same room, now filled with a German tour group. Their guide was translating from Vietnamese into German, explaining about the royal robes. My German is not good – I studied it for two years in college and I remember only a few words, but I did understand the German word "konkubina." I had a good laugh over all those Vietnamese women, posing for portraits in what they believed to be raiments of a Queen, when in reality they were dressed in concubines' costumes.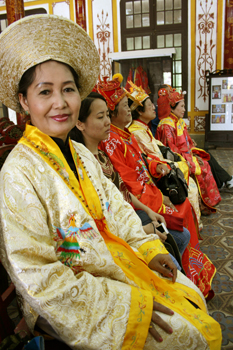 At 1 PM I headed back to the hotel, where I met another motorbike driver I had hired for a tour of the outlying areas. He took me to the Tu Duc Tomb, another amazing site from the 1800's, as well as several other smaller sites scattered over the hillsides in the area. There are literally thousands of ruins in Hue – we only scratched the surface.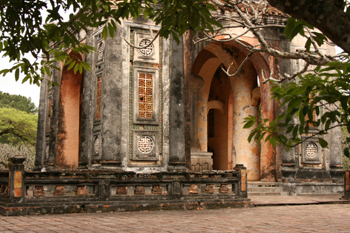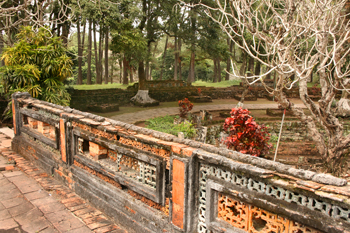 Then it was time to head into the hills (in the rain now) to see Bunker Hill, a gun fortification built by the Americans during the Vietnam War. From this vantage point, soldiers could see for miles in every direction and monitor the traffic on the river below.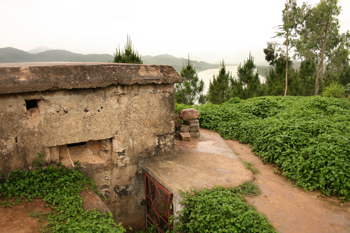 By now we were hurrying because I wanted to arrive at the Thich Nhat Hanh Pagoda by 4 PM to see the Buddhist monks chant and pray.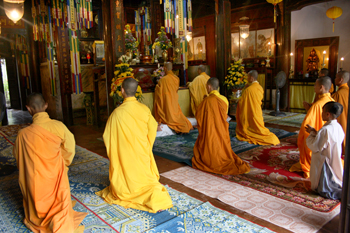 As usual, I tried to cram too much into too little time – I had to catch a bus at 5:10 PM for the all-night ride to Hanoi and I really sweat whether I would make it in time, since I still had to go back to the hotel to pick up my suitcase. I was fully prepared to make a run for it when I realized my driver was waiting for me outside. I've said it before – they can carry anything on a motorbike. He balanced my suitcase on the front handlebars, had me climb on back, loaded down with backpack and purse, and off we went. Made the bus with plenty of time to spare.
Fortunately, this time I remembered to go to the bathroom before getting on the bus, so when we stopped for dinner at 7 PM I didn't really have to use the restroom but I figured I'd go just for good measure. Once again, I found a filthy squat toilet and decided to wait for the next stop. A couple of hours later the bus pulled over and four young girls on the bus picked their way over a drainage ditch, balancing on a series of rocks, until they disappeared around a low wall. Boy, they really must have had to go if they couldn't even wait for the next rest stop, I thought. No way you'd catch me baring my butt out in the middle of nowhere with a bus full of passengers looking on. Two hours later I was wondering when we'd stop. We stopped alright – in a field. We stopped twice more, too, both times by the side of the road. Each time, all the men got off, turned their backs to us, and peed right there on the road, with traffic whizzing by in both directions. We arrived in Hanoi around 5:30 AM. I have never been so glad to get off a bus in my life.
I climbed in a taxi and gave him the address of the hotel I was supposed to stay in, but when we arrived, the metal door was pulled down over the entrance and there was no sign of life anywhere in the neighborhood. On the way we had passed a Sofitel – wide open, brightly lit, obviously a nice place. My driver pointed it out and told me how expensive it was. Well, you've probably guessed by now that I sold out. I've spent less than $400 so far over the past 12 days, including hotel, meals and transportation within Vietnam. I was tired, cranky, had to use the bathroom, and simply couldn't deal with waiting around for the other hotel to open. Besides, I really need a bath! So I am here at the Sofitel Metropole (at $220 a night for the next three nights). I figure I can splurge a couple of times a month and stay on the backpacker trail the rest of the time. I am SO looking forward to climbing into that fluffy, soft bed tonight.