Bougainvillea bursting with magenta blossoms hang over doorways and awnings. Fishermen drift lazily along the river, casting long coils of box nets over the side of their simple wooden boats. Delicious aromas waft out of Pho shops. By 6 a.m. I am walking the streets of Hoi An. In the soft dawn light and misty rain, the colors of these ancient houses merge into a suffused golden glow. Classical music being played on a piano drifts through the shutters of one golden house. Everywhere I look, another photo is screaming to be taken.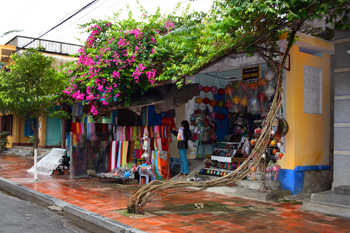 I walk street after street, wandering, mouth agape at the sights, sounds and smells of this UNESCO World Heritage city.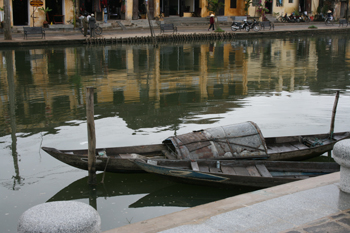 I follow the river to the Central Market, where I join the throng of pedestrians, bicycles, pedicabs, and motorbikes. Here one can buy food, clothing, shoes, tools, cooking utensils – almost anything – and every shopkeeper tries to lure me into their stall, "You come look my shop, Madame?" Being on the road for six months has provided me with an easy excuse not to buy anything. I simply can't carry it.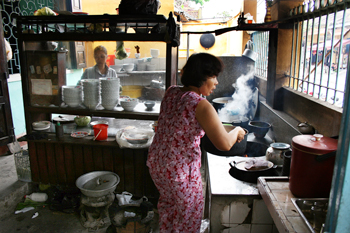 My intended destination is a restaurant that the front desk clerk recommended as the best Pho in town, Pho Lien. I walk in circles trying to find it and finally get so caught up in the beauty of this place that I forget all about food. By 10 AM I am starving. I start asking locals how to find the restaurant by holding out the map that the front desk clerk has marked with the name of the restaurant. Every person I ask nods and points down the street. I walk up and down, searching, but simply cannot find a restaurant of any type. Finally, one woman who speaks a little English takes pity on me, explaining, "Next corner – where all motorcycle."
No wonder I couldn't find it. The restaurant is located in the courtyard of a private home, hidden behind a tall block fence, with no sign and a single bare bulb hanging from the ceiling. Three women toil in the smoke-filled space. I poke my head in questioningly and they motioning for me to sit. The table I choose is adjacent to the front window of what appears to be a living room, however it is filled with women sewing garments on ancient machines. As I wait for my meal, people stream in and out of the house, carrying in additional sewing machines and carrying out bundles of finished goods.
My attention is drawn back to the restaurant. In the center of the courtyard sits an old wooden cart, from which all the food preparation is done. Three circular concrete pits hold wood fires that the women continually stoke. Smoke from the wood fires mingles with steam from long steel strainers used to dunk the rice noodles in boiling water. From my table across the courtyard I suddenly see that chunks of meat are being added to what is supposed to be my vegetarian Pho. Ah… "thoi ang tchao?" I say. I must have said it correctly because they remove the meat.
The hotel clerk was right, this is some of the most delicious Pho I have ever eaten. Total cost of the meal, including a bottle of water, is $20,000 Dong, or about $1.25. After breakfast (brunch?) I have a sweet tooth so I go in search of desserts. The Vietnamese seem not to be big on desserts but I find one street stall that has coconut and bean pastries. I am especially fond of the small cookies that are stuffed with sweet bean paste. I have had these somewhere else – in some other country – but cannot remember where. No longer hungry I resume my leisurely stroll, taking in the sights.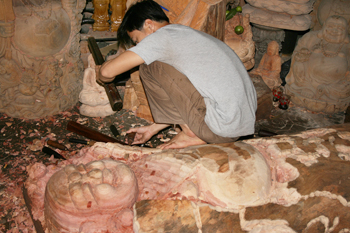 At one storefront I watch as craftsmen chip away at huge logs until they are transformed into intricate carvings. At another I speak with an artist who has painted some of the most stunning oils I have ever seen; his price for a 3′ x 5′ framed oil is $125.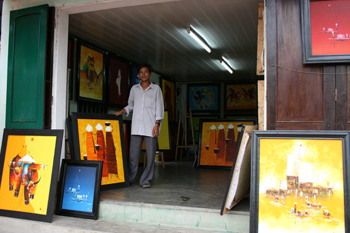 I linger a while in front of a dark, smoky storefront where men crouch on low stools in front of a board game that looks something like checkers. A few of the men glance up at me curiously, wondering why I am watching. The bulk of the real work in Vietnam is done by women; they run all the shops, prepare all the food, do all the shopping, raise the children, do all the laundry – seemingly everything – while the men smoke and socialize.
Around noon I head back to my hotel to see about a tour for the afternoon. I believe I will leave here tomorrow morning, so I want to take a half-day trip to Danang, China Beach, Hai Van Pass and Marble Mountain. So far, Hoi An is my favorite place in Vietnam.
Planning a trip to Vietnam? Hoi An is easily visited in a day trip from Danang, though I highly recommend a longer stay. Check out this article about how to get from Danang to Hoi An.