Good morning everyone! First, I want to say a big thank you to everyone who is reading this blog on a daily basis. I know there are many of you because you have left comments or sent me emails. I simply cannot answer them all, but please know that I read them all and am most grateful that you are tuning in on a regular basis. Hopefully I am amazing you, entertaining you, and making you laugh. I am certainly laughing – because if I didn't I'd probably be VERY frustrated – traveling in a country where you don't know the language is extremely challenging.
I am dedicating this portion of the post to my good friend and Yoga teacher, Mary Jo. You see, in Yoga, we do hip openers – a series of asanas (poses) that are designed to help open up hips that have become tight from sitting behind a desk all day long. Well, Mary Jo, I have discovered a new hip opener asana. It's the "sitting astride a motorcycle all day long" pose. Mind you, it's been MANY years since I even rode a motorcycle, much less spent an entire day on one.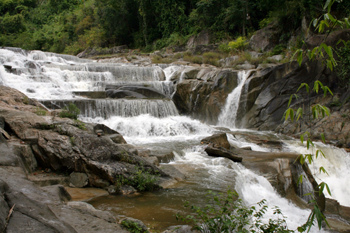 My guide for the day, Dung (pronounced Yung), arrived at 8:30 yesterday morning and I haltingly climbed on behind him for our motorcycle tour into the countryside. After an hour of being seated in a spread-eagle position my hips began to ache – I mean really hurt, like they were going into a spasm. I was too embarrassed to ask him to stop, so I just breathed into it like we do in Yoga and about five minutes later I felt my hip muscles totally relax. Wow! From that point on I was able to enjoy the trip.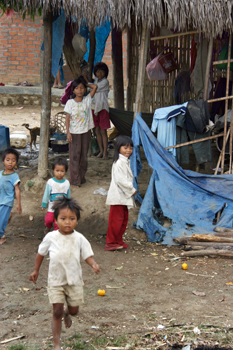 Our first stop was way up into the hills to see the Yang Bay waterfall. It's an impressive cascade over giant granite boulders, alternating with serene pools for swimming. Since it has been raining off and on the last couple of days the granite boulders were damp but we slipped and slid our way to the top of the waterfall anyway. At the top, Dung had intended to cross over to the other side via a small wooden footbridge that was strung from boulder to boulder. When we reached the bridge he looked at it, then eyeballed me, and said we'd better go back the way we came. No doubt. That little rickety bridge would never had held my weight. The Vietnamese people are TINY beyond belief. I would guess that most of the women weigh less than 100 pounds.
Next stop was a crocodile farm. They do have crocodiles in the wild in Vietnam, however they are native only in the southern Mekong Delta area. These crocs are bred in captivity for their skins, which are used for shoes and purses. There were literally thousands of them – creepy.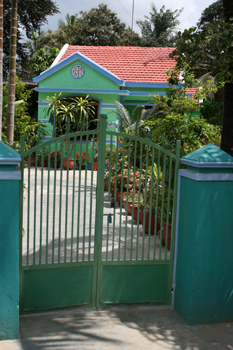 One of the great things about being on the motorcycle rather than a bus was the custom nature of the tour. Dung let me stop anywhere I wanted to. We visited homes of peasants in the countryside, giving a handful of hard candy to each of the kids. These kids must have recognized Dung because they came running the moment his motorcycle came to a stop in front of their house. The poorer homes are nothing more than woven reed mats strung between poles. When the family saves a little money they dab mud and water over the reed mats, creating a more substantial structure. As the Vietnamese economy improves, more and more homes are being built of brick or the granite block that is mined here locally – some are even built from poured concrete. We stopped in an adorable little village so I could take photos of the more upscale concrete box homes that have been painted a multitude of colors.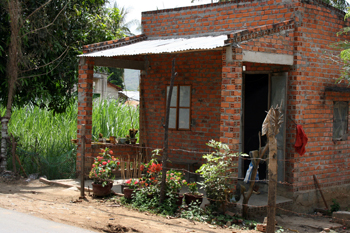 We stopped at several rice paddies. They are luscious in dozens of shades of green, with flags of many colors flying from poles stuck in the ground – the Vietnamese version of a scarecrow. At one of several rice paddies, Dung picked a stalk of rice so I could see how it grows. And then there was this amazing shot of an old man who had spread his rice out to dry on the entire length of a bridge – the traffic just went around him.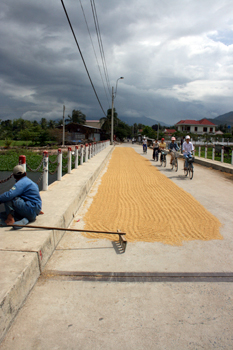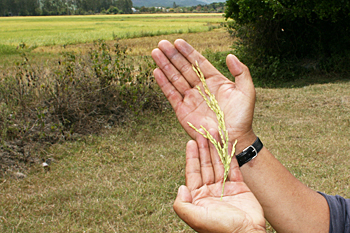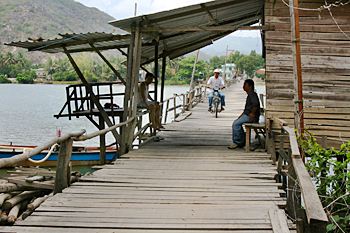 Around 2PM, Dung took me to see the wooden bridge that the locals use when they don't want to go all the way into town to cross the river. It is nothing more than planks atop bamboo poles, yet bicycles and motorbikes bump across it in a steady stream. Dung says that every rainy season the water gets high enough to take out the bridge but they just wait for the waters to recede and rebuild it.
Lunch was at a restaurant on the banks of the river, where I had tofu and vegetables over noodles. It was delicious – in fact, all the food here is delicious. My only problem has been that they eat a lot of meat, so I have had to learn to say "thai ang tchao" – I am a vegetarian. Actually, I've picked up a few words already. I can count to ten, say hello, good night, thank you, ask for water, ask where the toilets are, and say yes, no, and no thank you. Really, the pronunciation is quite easy for me. It's the inflection that's hard. As with most Asian languages, the tone is as much an indicator of meaning as the word itself. For instance, I was told that when saying Hello (Sinh Ciao) I must be careful to say the word Ciao with a descending tone because if I use a rising tone it means that I am a baaaaad girl – in a way that I don't want anyone to think I am bad, if you get my drift.
While waiting for my food I noticed that the young girls who had waited on me were looking at me curiously. It was obvious they were talking about me. Dung told me they were complimenting me on my very white skin and my beautiful blond hair. I've seen other people staring at me and even been aware that they were talking about me, but I just thought they were amazed to see a woman traveling alone. I am beginning to realize what a sensation the blond hair is making in this country.
After lunch we went to a private home where they were weaving traditional Vietnamese sleeping mats. Except in the poorest homes, these mats are no longer used for sleeping, but they are still used as floor coverings. Each day the weaver squats on a long wooden bench, upon which the mat is balanced. Using a long bamboo stick, the older woman on the ground feeds a length of reed through the mat, then the younger woman uses a long, flat piece of wood to compress the strand into the emerging mat. In this fashion they can produce two mats per day, which they sell for about $6 each at the market. They stopped working for a moment and asked Dung if I wanted to try. Nooooooooo! My legs are a little like jelly from the motorcycle, so the thought of having to squat down, balance on that bench, and work that wooden press all at the same time struck fear into my heart. I had visions of falling through the half completed mat and costing them half a day's work. As they rested, I again noticed a few furtive glances my way and some talk between the two women. I thought I recognized some familiar words. "It's the hair again, right?" I asked Dung. "Yes, she say you have good body, very slim, very beautiful hair," he translated. Yeah, right. Good for a laugh, though.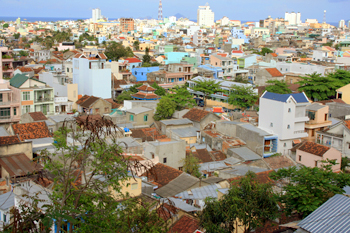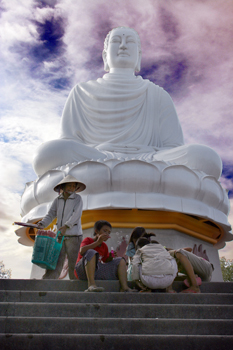 Our final stop was at the Buddhist Temple in town that is famous for its giant white Buddha statues. This is an extremely beautiful temple built atop one of the highest hills in Nha Trang. Normally I would have been able to tell you EXACTLY how many stairs there were to the top. But today I was caught in the rain twice while riding the motorcycle, forced to use two squat toilets with no paper (ah, but I had my portable toilet paper with me!), and fought off a half-dozen very persistent beggars (apparently the government hasn't been as successful eradicating the begging in the rural areas). I am hot, covered in sweat, sunburned and exhausted. I stopped counting half way up and I was at over one hundred steep, granite steps. It was worth it, though – at the top I was rewarded with a panoramic view of the city all the way to the ocean.
We returned to my hotel around 4:30 PM and, although I had checked out early that morning, Dung arranged for the hotel to allow me to use an empty room to shower and change clothes before boarding the night bus to Hoi An. As usual, I have tried to cram too much into too little time, but there is so much to see in Vietnam and 14 days is just not enough. I must have been crazy to book this day tour back-to-back with the 11 hours night bus trip, but it worked out just fine. Fortunately I had no seatmate this time, so I was able to stretch out across two seats.
We arrived in Hoi An at 6:30 AM and I sat patiently while the bus shuttled around to various hotels in town (obviously hotels owned by friends of the driver), encouraging passengers to get out and take a look at the rooms in each location. I made my reservation yesterday – I'm at the Tranh Binh III Hotel, right in the center of town. We finally arrived at my hotel about 7:30 and the front desk clerk told me I'd have to wait about an hour for my room to be ready, so I headed for the breakfast buffet. The bellboy fetched me an hour later and carried my suitcase up the two flights of stairs to my room (no elevator). Nice room, I think, when he opens the door. After he leaves I snap a few photos of the room and take a look around. Every Vietnamese hotel I have stayed in so far has a set of rules posted on the wall and in each case one of the rules was "no prostitutes allowed." This hotel, however, has a bit of a different twist on the rule: "Bicycles, motorbikes, pets, fire, arms, explosives, inflammables, stinking things, and even prostitutes are not allowed in the hotel." I can't figure out if that means they don't have much of a problem with prostitutes, or if t means that stinking things are much less desirable than prostitutes. Or maybe they've just had one too many non-Vietnamese speaking guests say Sin Chao with a rising inflection….
At the moment, it's pouring rain again, so I figure it's a good time to catch up on my blogging. Please, I pray, let the electric plugs in this hotel work (at the last one, sometimes they worked, sometimes they didn't). The first couple of times I plug in the adapter and the plug I get nothing but a low electrical buzzing. I figure, maybe it's just not getting a good enough connection, so I pull a stool over to the plug, set my purse on top of the stool to attain exactly the height I need, and push the entire affair up against the adapter and plug. Voila!!! Power to the laptop. But no Internet connection in the room, despite representations to the contrary when I booked this place. Oh well, they have free Internet access on computers in the lobby, so I'll just have to go through a few more steps to post my blogs and photos. For the time being, I'll compose on the laptop, then copy to a CD, and upload from the CD using the computers downstairs. There's more than one way to skin a cat. Now, I'd better go for a walk, rain or no rain, before I stiffen up (groan).