This morning I threw back the curtains of my hotel room and was rewarded with a gorgeous view of Nha Trang beach. Nha Trang sits on the coast of Vietnam, located only 450 kilometers north of Saigon but a world away from Saigon in every other respect. It is a small town by Vietnamese standards, with a population of only 300,000. Bicycles are more prevalent here so the traffic (and the noise) is not as bad as in Saigon.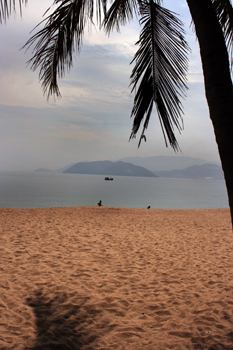 The climate is tropical, the streets are lined with palm trees, and a broad promenade runs along the beach for miles. I wanted to walk but first I needed food – by the time I'd checked in and gotten settled last night it was 9PM and the hotel's restaurant was closed. I was simply too tired to go out and find a restaurant that was open. I drank a bottle of water and hit the sack.
My $20 per night hotel (Hotel 52) includes a delicious breakfast buffet. I started with a bit of rice porridge, to which I added some hot sauce and several slices of raw cucumber. Then I had a bowl of Pho, which is Vietnamese noodle soup. This dish is a Vietnamese staple and they eat it for breakfast, lunch, and sometimes even dinner. It is generally made with beef broth, but there is a vegetarian version made with vegetable broth. To the broth they add flat rice noodles, cilantro, chives, lettuce, mints, basil and sometimes hot chilies. It is eaten with chopsticks and is not as hard as it sounds. Leaning over the bowl you grab a bunch of the noodles with the chopsticks and shove them in your mouth. Once you have a mouthful, you use the chopsticks to continue feeding the noodles into your mouth while you slurp up the noodles! As they say, "be sure to slurp the noodles."
With my hunger sated I headed out to walk the town. Immediately upon leaving the hotel I was approached by a couple of tour guides hawking day trips. One of them lured me over to the curb, where I joined his entire family at their street-side food stall. I squatted on the foot-high plastic kitchen stool that was offered to me and leafed through his photo album and book of guest comments. All of the reviews were glowing and although I am interested in going into the hills to see how the villagers live and work, we couldn't agree on a price. He started at $50 for the day and we got down to $40, but I figured I'd wander a bit and check out some other prices.
I headed north up the beach and ran into this little Vietnamese lady who was in charge of renting out the beach chairs. First I walk, then I hit the beach – that's the plan. Plus, I'm on a mission to find a pair of cotton shorts and a simple beach bag. The bag will be easy but the shorts are going to be a challenge in a country where all the women are so very tiny. I walked a couple of miles up the beach, then reversed direction and headed into town.
Upon turning into the first side-street I heard chanting and stopped to pinpoint its source – a small temple tucked behind a white and blue wall with lotus flower pillar caps. I peered through the darkened door, where monks were bowing and making offerings at the altar, amazed that they could maintain their composure and concentration despite the revving of a motorcycle being tuned up by a street-side mechanic just outside the temple's door. I turned to look at the mechanic and with a start realized that tucked between the mechanic and the temple, a barber was calmly shaving a customer out on the street.
I did finally find a great pair of shorts in a tiny shop on a side street. Three women crowded around me as I tried on the shorts over my capris. They were all talking to me and gesturing. I had no idea what they were saying and just shook my head. Finally, one of the women reached up and touched my blonde hair, nodding and smiling broadly at me.
On the way back to the hotel I happened upon this fruit vendor, who was selling lots of varieties I've never seen. I pointed to one – a red bulb with spines sticking out of it – and asked what it was. She couldn't understand English, but with sign language I made her understand I wanted her to cut it for me. Inside, was a surprise, bright white flesh flecked with black polka dots. One of my fellow travelers on the bus yesterday told me about this fruit and said to try it if I had a chance because it is delicious. She was right – it is absolutely delicious. Sweet and juicy. It's called Dragon Fruit, or Thanh Long in Vietnamese, and is considered a local delicacy.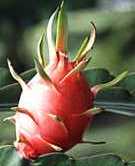 Throughout my walk I was constantly stopped by men on motorbikes, asking me if I wanted to ride or hawking tours. One of them finally reeled me in. His name is Papa Han and his English is amazingly good. I stopped in his storefront to look at the photos of his tour and got his price down to $30 so I booked it for tomorrow. The awning over his store advertises his business as "Easy Rider" after the American film of the same name, and he claimed that Easy Rider tours is featured in Lonely Planet as the best tour guide. That impressed me – until I walked back to the tour and every other motorcycle guy made the same claim:
"You no worry – me Easy Rider – very good tour guide. I give you best tour."
It's sorta like in real estate – when you're the agent on duty it's your job to reel them in. If you don't, they'll just go on to the next company. Papa Han was just the first Easy Rider to hit me up. I'm sure the tour will be good. We're going up into the hills to see the ethnic tribes, for a ride on the river, to the Big Buddha temple, and to a supposedly spectacular waterfall and lake where we can swim.
A block from my hotel I wandered into a building that advertised itself as a historical arts center. The bricked courtyard was an open-air tea house where customers were invited to help themselves to tea from pots that were perched above white-hot coals at each table. A lovely Vietnamese girl dressed in the traditional ao dai showed me around the center, which is devoted to Vietnamese embroidery. This is like no other embroidery I have ever seem – it is stunning. The work is so intricate that each piece takes at least two months to finish, with some taking up to two years. They are created as framed art and as sheer curtains that hang from ceiling to floor and they are pricey – $2500 for the one sheer I liked the best. It's probably a good thing I have no room to carry anything. I am going back this evening when I can see the artisans at work – when I arrived it was the middle of the day and everyone was napping. Which, by the way is what I am about to do because the wind has picked up and it doesn't look like a good afternoon for the beach.
Wish I had more time for this part of the country – there is so much more I would like to see. We passed through Pan Thiet and Mui Ne on the way here yesterday and I'd like to go back to both places. Pan Thiet is the center of anchovy fishing in Vietnam and the place they make the wildly popular fish sauce (I love this stuff and use it all the time.) As we sped by I got a quick glimpse of a bay crammed with traditional Vietnamese fishing boats – I hate a lost photo opportunity. In Mui Ne we stopped for lunch and it is a first-class resort area with gorgeous hotels. I'd love to go back there someday as well. So many places, so little time. More later, folks.