I arrived in Saigon about 11:30 PM Tuesday evening and was picked up by the hotel's car. I am staying at the Indochine Hotel, located in District 1, which is in the heart of the business district down by the Saigon River. Most of the sites I want to visit are within easy walking distance of the hotel so it is ideally located. The room is fine – basic but nothing wrong with it – especially since it only cost $25 per night. It took me four trips down to the front desk to get settled, though. First, I couldn't figure out how to call the front desk from the phone in the room. Pressing "O" did nothing. Turns out you have to dial "100." Then I needed bottled water. And then I couldn't figure out how to connect to the Internet. I looked in every corner of the room and behind every piece of furniture but there was no jack to be found, nor was there a wireless connection. The guy at the front desk finally came upstairs to show me how to hook up because, despite the fact that he claimed to speak English, he couldn't understand me very well and I certainly couldn't understand him. (Most of the people I have met who "speak English" have only a few words of vocabulary. My pantomime skills are improving by the minute).
Did I feel stupid when he walked in to my room and pointed up to the ceiling, where a bundle of cat5 cable dangled, just waiting for me to untie it and plug in. I checked my email, launched Skype and called my Dad to let him know I'd made it OK, then hit the sack. No use. Couldn't sleep. It was 2:30 AM here but 1:30 PM at home and I was still on Florida time. After and turning tossing for an hour I finally got up and went back on the Internet, using the time to figure out where I want to go in the next 2 weeks. I just stayed awake all night and headed down to breakfast at 6AM. Actually, I do this a lot when I travel to Asia because it gets rid of the jet lag.
In the morning I changed US dollars to Dong. The exchange rate is 16,000 Dong for each US dollar, so I got $1,600,000 Dong for my hundred dollar bill. Crazy. Breakfast was included in the room price, such as it was. Ham and egg sandwiches didn't exactly suit my vegetarian tastes, so I headed out to the bakery across the street. The first problem was how to cross the street. No crosswalks, no traffic lights in view, and incessant traffic. Each time I tentatively stuck a foot out another stream of traffic came out of nowhere and shot in front of me. I finally made it across and got a chocolate croissant for 8,000 Dong (50 cents). Tasty but not very healthy. Took it back to the hotel and ordered coffee. It came in this strange looking tin cup contraption.
I had no idea how to use it but I watched others out of the corner of my eye and figured out that was a one cup press-pot. The top half contains the coffee grounds and hot water. You just let the water seep through the grounds into the cup below, then remove the top and set it on the lid to catch the remaining liquid. Adding hot water from the ceramic pitcher dilutes the coffee to a strength that is drinkable. I love strong coffee so this was a delight for me.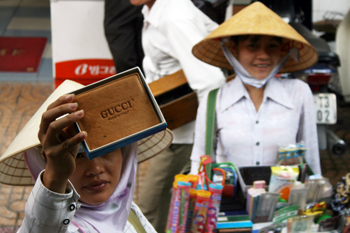 After breakfast I headed to SinhCafe, which is the backpacker's favorite tour company in Vietnam. I always try to do a city tour right off the bat in an unfamiliar place because it helps me get oriented and feel comfortable. SinhCafe offered an all-day tour on an air conditioned bus for about $6 US that visited all the places I wanted to go. The hawkers were there in force, including these two charming Vietnamese lades who did their level best to get us to buy something up to the last moment before our bus departed.
Saigon is an enormous, sprawling city of eight million people and ALL of them are going somewhere – most of them on one of the six million motorbikes in this city. I'm not talking big motorcycles here, I'm talking small motorbikes that dart in and out of traffic, cutting in front of buses and taxis with inches to spare. In many ways, Saigon is a typical Asian city; in other ways it is very different from the Asian cities I have previously visited. There are no tuk-tuks like those found in Thailand, or rickshaws, like this one I rode in Delhi, India. I saw only the occasional pedicab and bicycle. It is certainly less developed than Bangkok or other Thai cities but it is leaps and bounds ahead of anyplace in India. The people here are friendly and have an easy smile for foreigners but English is not as widespread as they would have you believe. And as with most Asian travel experiences, I am a bit overwhelmed. I like to arrive at a destination with very little upfront research. Having no expectations is better for my travel writing. But if, unlike me, you want to be fully prepared, check out this article on the Passport Symphony blog, which provides in-depth information about things to know before visiting Vietnam.