They told me it couldn't be done. They said, at age 54, with no portfolio or clips of previously published work, I couldn't possibly break into travel writing. Fortunately, I am not the kind of person to whom you can say "can't," because I will do it just to prove you wrong. It's been five glorious years since I walked away from corporate life and started my travel blog, Hole in the Donut Cultural Travel. It hasn't been easy, but I persevered, and today I proved the naysayers all wrong. Today, I realized just how much of a favor they did me. Because today I was featured on ABC News.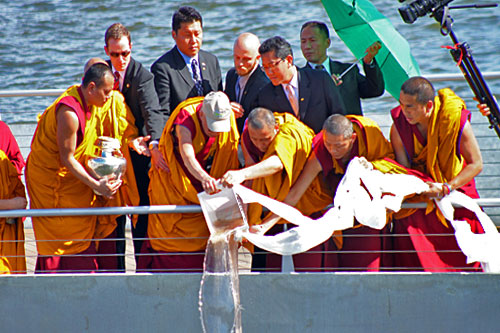 When I was in Washington DC last week covering the Dalai Lama during his Kalachakra for World Peace, I met Tom Guisto, a producer from ABC TV. He loved my personal story and invited me into the studio for an on-camera interview. He thought it would probably only go on their website, but apparently it was on Good Morning America today, as well as being plastered all over the ABC and Washington News Network websites. Read the story here: Living the Dream and Filling the 'Hole in the Donut'
Thank you, Tom Giusto and ABC TV, for helping to make my dream come true.