On the final day of the Kalachakra for World Peace 2011 I drove to Yard Park in Washington, DC and waited for the Dalai Lama to arrive. Earlier that day the mandala, a beautiful circular sand painting that monks had been building and praying over for the past 10 days, was dissolved and swept up into a silver urn, bound for the Anacostia River, where His Holiness would pour it into the water as a blessing for aquatic life and the greater environment.
Unlike other events I had attended as a member of the press contingent, this special ceremony was not open to Kalachakra attendees or the general public and I realized this would be my one and only opportunity to get close enough to the Dalai Lama to receive his personal blessing. When we were advised that the he was ten minutes out I claimed my spot at the curb, checked my telephoto lens, pulled a kata – silk scarf – out of my backpack and wrapped it around my neck. Moments later, a caravan of black SUV's rolled up and jerked to a stop. State Department agents jumped out to help the Dalai Lama out of a long, sleek black sedan and surrounded him as he walked toward the crowd.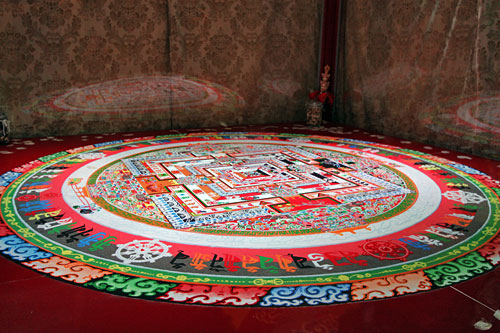 I snapped a single shot of His Holiness as he walked slowly past journalists to my left, then dropped my camera and grabbed the scarf from around my neck. Draping it over my hands, I held it out and bowed my head, hoping that he would place it around my neck in a traditional blessing. Suddenly, my right hand was firmly grasped and a warmth coursed through my body. Startled, I looked up into the smiling countenance of His Holiness, who was holding my hand. I opened my mouth but nothing came out; for the first time in my life I was completely speechless. His clear liquid eyes looked directly into mine and that famous little boy grin spread across his face; he knew I was incapable of speech and seemed inordinately amused by it. He finally let go and continued toward the tent where the ceremony would begin. In ninety degree temperatures I shivered, feeling his magnetic energy withdraw.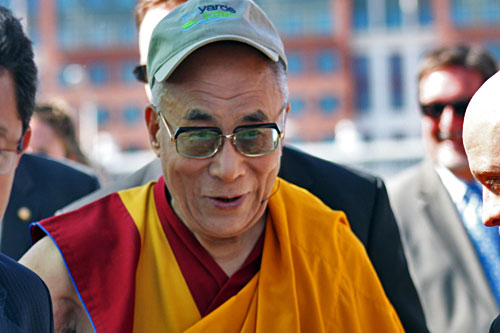 Being singled out by the Dalai Lama for personal attention was an indescribable joy, especially since I am fairly new to Tibetan Buddhism. My path to Buddhism began many years ago when I read a book about Eastern religions, but it wasn't until I visited Thailand some ten years go that I truly committed to the philosophy of enlightenment espoused by Buddha. Over the ensuing years I struggled to achieve a deeper understanding, learning bits and pieces from the occasional monk who spoke English and attending teachings when my hectic work schedule allowed.
Despite my efforts, I remained mystified by the plethora of sects and traditions within Buddhism. Thailand and most countries in SE Asia practice conservative Theravada Buddhism, Japan has Zen Buddhism, and China's practice is rooted in making donations to intercede with the deities for success, good luck, and fortune. Though I felt the undeniable truth of the Four Noble Truths that are a constant in all Buddhist traditions (suffering does exist; the principle cause of suffering is attachment to desire or craving; the end of suffering is non-attachment, or letting go of desire or craving; and the end to suffering results when the Eightfold Path is followed), it still felt like something was missing.
Then last year, I went to Nepal for three weeks. Three months later, I was still there. I fell in love with the country and culture, especially the Tibetan refugees who fled to Nepal to escape the invading Chinese army in 1959. From the moment I stepped into the tiny Dhargay Ling Monastery in Tashiling Tibetan Refugee Settlement I knew that Tibetan Buddhism was what I had been seeking. The monks quickly grew used to me being around and automatically unlocked the door to the monastery whenever I arrived. I attended pujas, reveling in the clashing cymbals, blaring brass horns and ringing bells that accompanied their gutteral throat chanting. During breaks, I was brought sodas, along with all the other monks. I had finally found my place.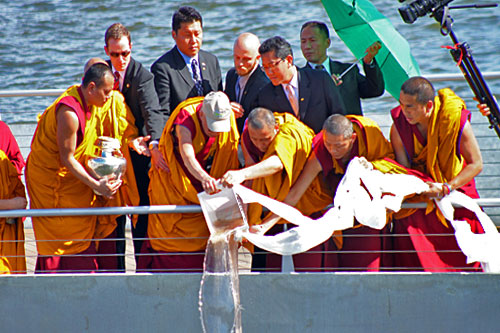 When I learned that the Dalai Lama would be conferring the Kalachakra in Washington, DC this summer I applied for and was granted press credentials in order to bring the story of this sacred tradition to my readers. A Sanskrit word that means time-wheel or time-cycles, Kalachakra focuses on the concept of time and cycles, from the cycles of the planets to the cycles of our breath and the practice of controlling the subtle energies within our bodies as we travel the path to enlightenment.
I arrived for the first day of teachings full of hope and anxious to achieve greater understanding but complex, esoteric concepts such as clear-light mind and independent arising were beyond my level of comprehension, leaving me frustrated and floundering. Over the next few days, with the help of others who had attended multiple empowerments, I realized that the Kalachakra is like peeling an onion; more is revealed with each successive layer. Each day I understood a little more and I was able to absorb what I could and leave the rest for next time. I focused on the Kalachakra's goal of developing a pure inner world while still living in our imperfect, earthly one. A pure mind is trained away from angry, hateful and selfish thoughts. Once each of us purifies our body, speech and mind, we can find inner peace. When we have inner peace, it is possible to experience the state of bliss, or perfect happiness.
His Holiness' three days of teaching were followed by three days of empowerment, or initiation. Each of the 15,000 attendees made a personal, private decision whether to commit to a lifelong Kalachakra practice that incorporates 18 root and 46 ancillary vows, including vows to eat healthy; to refrain from smoking, drinking alcohol, or taking drugs; to be pure in speech, which means not gossiping or saying unkind things about others; and to meditate and recite specific yogic verses six times each day. Most importantly, those who chose to receive the empowerment were agreeing to be reincarnated for as long as there are sentient beings who still suffer, in order to help them achieve enlightenment. Anyone who was not ready for such a commitment simply accepted a blessing from His Holiness when he conferred the Kalachakra empowerment.
Can't view the  slideshow of the Dalai Lama and Kalachakra for World Peace 2011? Click here.
For me, there were no half measures. I committed to the practice and took the empowerment. I have no idea how I will find time to meditate and recite mantras six times a day, but I can try. At the very least, taking the empowerment renewed my personal commitment to be the best possible person and that determination was tested almost immediately. This morning, as I drove toward my next assignment in Adirondack Park in upstate New York, I pulled out into the fast lane to pass two 18-wheelers. An SUV bore down and climbed up my tailpipe. The driver flashed his headlights and honked, trying to get me to speed up. I pulled back into the slow lane after passing and he sped by, mouthing epithets and shaking his fist at me. Hateful words formed on my lips but I recalled the loving energy that coursed through my body when His Holiness clutched my hand and the ball of anger in my stomach dissipated, replaced with compassion. I suspect that the memory of the Dalai Lama's childlike smile and twinkling eyes will act as a deterrent against improper behavior for the remainder of my life.
Kalachakra for World Peace 2012
His Holiness the Dalai Lama has agreed to confer the Kalachakra Initiation in the sacred Buddhist site of Bodh Gaya, India from December 31, 2011 to January 10, 2012. All are welcome to attend and details will be made available on the official website as they become available.