I cover my head with a towel to get some small relief from the scorching sun. Cameras strung around my neck and lenses stuffed in pockets, I jockey for position at the front rail in an area that has been set aside for members of the media covering the Dalai Lama's Kalachakra for World Peace event in Washington, DC. Today will be His Holiness' only public appearance and the crowds have arrived early, filling the west lawn of the Capitol building to capacity. No bags are searched and no metal detectors have been set up and the lack of security is somewhat alarming, considering that the media has been subject to an hour-long security screening including metal detectors, bag searches and bomb-sniffing dogs on each of the previous days of the event before being allowed into the Verizon Center. I wondered how members of the press could pose more of a threat to the Dalai Lama than thousands of people arriving with backpacks and suitcases.
Our nation's capital is a strange choice for a conference on world peace. In one restaurant, I grabbed the only available seat at a table where diners were comparing generals who insist on salutes and 'sirs' to those who are more casual. Snatches of political conversations fade in and out as I walk the streets. One whole afternoon was wasted trying to gain entrance to a press conference where the Dalai Lama explained his decision to step down as the political leader of Tibet to Nancy Pelosi and Speaker John Boehner.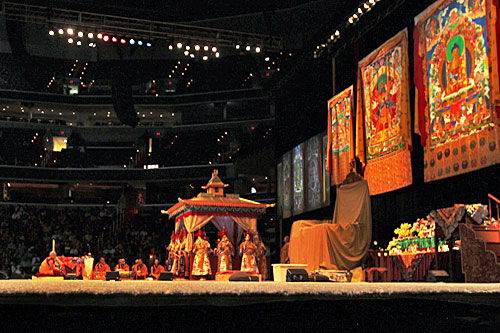 In between, I take refuge in the Verizon Center, attending prayers and the elaborate Earth Ritual Dance, where Tibetan monks in exquisitely ornamented silk robes consecrate the venue and prepare the platform upon which the Kalachakra mandala will be painted in sand. The stadium overflows with love and compassion. I want to carry this inner peace with me but within minutes of leaving I am thrust back into the real world, once again dealing with traffic, crowds, angry people, unhappy people, power struggles. Monks have it easy, I think.
Contention arises even on the Capitol lawn. The media enclosure is about a hundred feet from the stage, in a roped-off area on the lawn with no platform or backdrop, and hundreds of people have massed directly behind us. We need to be standing to get our shot but the crowd is unhappy about their blocked view and begin angrily yelling for us to sit down. To keep the peace we comply; my resultant video footage of the musical performance is filled with people crossing in front of me and is virtually unusable. Finally, the Dalai Lama speech begins. He insists that it is possible to maintain inner peace, despite tremendous difficulties. When he speaks of the trials he has endured, I am ashamed that I cannot maintain inner peace in the face of my petty difficulties. I must find a way to do better.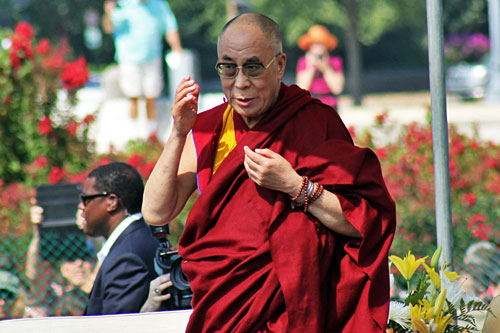 One piece of advice that he offers strikes me: "We have one unique thing – our smile. Genuine human smile can only come from warm-heartedness." After the event I trek back to the hostel to deposit my camera equipment, which is allowed in the Verizon Center only during official photo-ops, then return to the venue for the first day of Kalachakra teachings. The audio quality in the press box is horrible and we can hear only about half of what His Holiness is saying. My smile fades and I wonder if I will ever get this right.