I emerged from the warren of Old Delhi backstreets, bloated and exhausted. Bloated because my guide had insisted I sample all the best street food in Old Delhi. Exhausted because every few seconds, motorbikes roaring through the crowds willy-nilly had sent me scrambling for safety. Five hours after we'd first set foot in the crazy maze, I was more than ready to head back to the comfort and serenity of my bed and breakfast.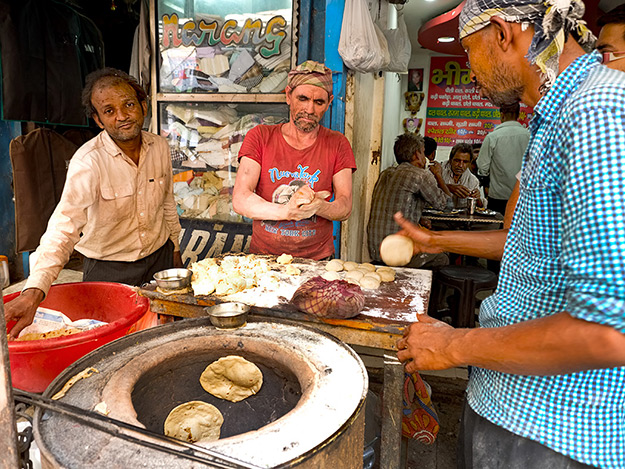 The sun hovered above the horizon, prolonging the hazy half-light of late afternoon. Workers poured out of offices and onto the main street. But no one was headed home just yet. It was just two days before Diwali, one of the most important Hindu holidays of the year, and there was shopping to do. Within minutes, a sea of pedestrians choked the sidewalks. I forced my way against the tidal wave, desperately trying to keep my guide in sight.
"Sagar," I yelled. "I have to get out of this crowd. My bad hip can't take all the jostling and pushing."
He turned around and pointed to the opposite side of the street, which was remarkably clear of traffic. "No problem, we can take a rickshaw."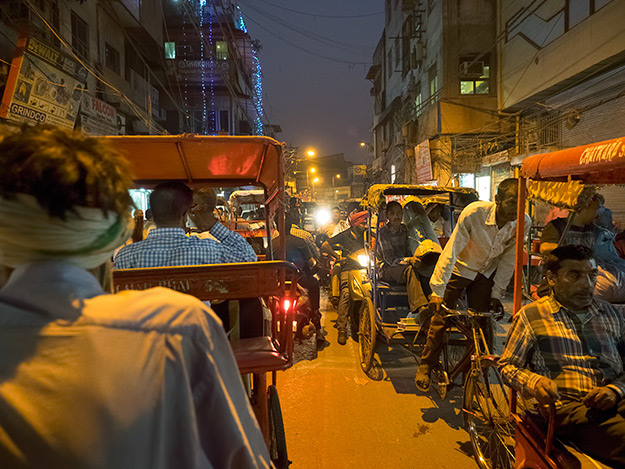 The first rickshaw driver wanted too much – 100 Rupees. Sagar shook his head and walked up to the next one. "He'll take us to the Metro Station for 80 Rupees. It's a good price." I assessed the driver, an older man dressed in white pants and tunic, with a raggedy strip of white fabric wound around his head turban-style. Deep creases lined his face and his arms were so painfully thin I could see the sinews and bone.
"Are you sure he can handle both of us?" I asked Sagar. "Oh yes, yes, it's fine," he assured me. I settled into the narrow metal carriage as we set off. Standing for leverage, our driver pumped one, two three times. Quickly, we gained speed. Fascinated, I watched his calf muscles ripple and bulge – the legs of a twenty-year old.
As dusk fell, our rickshaw turned back into Old Delhi. Light spilled from the open shops, bathing the narrow lanes in a golden glow. The driver expertly wove among the handcarts, motorbikes, bicycles, and pedestrians, only once bumping wheels with another vehicle. Each time we hit an uphill grade, our driver gracefully hopped off and pushed the bike. Bending forward for leverage, he grasped the handlebars and dug his heels into the pavement. We inched forward. I squirmed in discomfort as he struggled with our weight.
"I feel so bad for him. I want to get out and help."
"It's the way they earn their living," Sagar shrugged.
When we finally alighted, twenty minutes later, I handed the driver a 100 Rupee bill. He reached for change but I waved him off.
"Are you sure?" Sagar asked.
"It's about $1.50 U.S. I'm sure." The rickshaw driver looked up at me with his watery eyes and grinned so broadly I thought his cheeks would split.
"Namaste," he said, putting his hands together in front of his chest and wai-ing to me. "Namaste," I replied, returning the gesture of respect.
Disclosure: I was a guest of Prakash Kutir Homestay during my visit to Delhi. However, the receipt and acceptance of complimentary items or services will never influence the content, topics, or posts in this blog. I write the truth, the whole truth, and nothing but the truth.