How do I describe Saigon? It is difficult to find words that will do it justice. I finally decided it would be best to simply tell you about some of the things I have seen over the past couple of days, so here goes:
In the midst of rush hour traffic a motorbike carrying a family of four (Mom, Dad, child about 3 years old and an infant about 18 months old) approaches the right hand side of my bus. As Dad maneuvers the bike so that her can cut in front of the bus with only inches of clearance, the infant gets restless so Mom helps him stand up on the motorcycle seat as they race by.
In 85-90 degree weather, Vietnamese girls on motorbikes cover every inch of their body as they motor through the day. In addition to long pants and a long sleeve shirt they add shoulder length gloves, a hat, and a scarf or face mask that covers the nose and mouth and is tied on top of the head over their hat. In most cases the only part of their bodies that is visible is their eyes and sometimes even those are covered by sunglasses. The story told by the tour guides is that the Vietnamese women covet white skin and cover themselves to avoid the sun's rays.
I finally figured out how to cross a street on foot. You simply step out, regardless of the traffic and take slow, even steps, as the motorbikes and the occasional car or bus maneuvers around you. The trick is not to stop. I saw people do this all day long – even children of 6 and 7 years old. I did it myself when we arrived at the Chinese Market and had to cross a hugely busy intersection. It was very intimidating at first, but once you get the hang of it there's really nothing to it.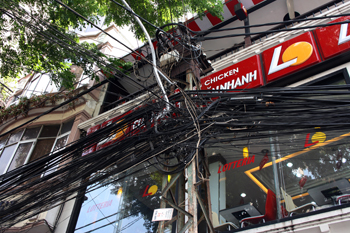 This photo is for my father, who is a retired electrician. A bird's nest of electrical wires hangs over every street. Apparently everything works fine until a typhoon comes along and rips it part.
Everything here is incredibly cheap. Last night my entire dinner was $2.25; lunch was $1.65. As I sat at a sidewalk table last night eating dinner, I watched as a parade of children, young girls, and older women, paraded along the sidewalk, selling everything from flowers to kitchen utensils. I just finished reading a book I brought along, so when a tiny woman walked by carrying a stack of paperback books taller than her, I beckoned her over. I negotiated hard and paid $3.12 for a non-fiction book about Vietnam. I probably overpaid, but even so the woman made a sorry face, as if I had robbed her and sadly walked away. My hotel rooms are about $25 per night, and you can go anywhere in town for a $2 taxi ride.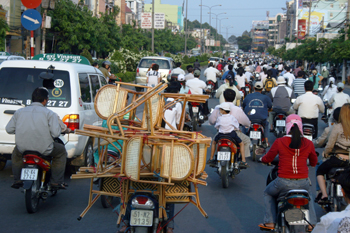 I have come to believe that this country is run on motorbikes. Not only do they carry entire families, but I have seen incredible things carried on motorbikes. In one instance, a man balanced a hunky old computer monitor on the back of his bike as he rode along. He steered with one hand and wrapped the other hand around his back, holding onto the monitor, which was not strapped down in any way. I have seen bikes that were carrying 5 or 6 hundred pound sacks full of some sort of grain, a set of chairs, 8 foot lengths of pipe (I kid you not), a box of 8 ten-foot high palm trees, racks of flowers for a funeral, etc. When the motorbike fails to be big enough to carry something, they improvise a hitch onto the back of the bike and attach a two-wheel cart or trailer.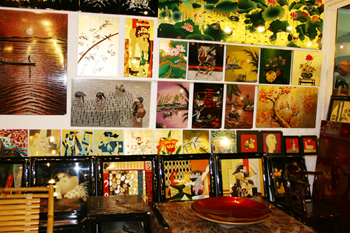 Vietnamese Lacquerware – ahh, beautiful stuff. I toured two Lacqueware factories. If I had a house to decorate I would fill it with this stuff. The amazing thing is that this is an industry set up by the government to provide an income for their extensive handicapped population. While the spraying of Agent Orange during the Vietnam war did not harm those who were exposed, it did resulted in a generation of children with birth defects. Many were born without hands or legs and while I did not see any of these impaired individuals actually creating the art, I did indeed see many of these limbless folks on the factory sites performing administrative functions. As the government has provided means for their support, there does not seem to be a homeless problem here; I have yet to see the first beggar or street person!
Food, food FOOD! It is amazing here. Not just the prices, either. The tour I took on Wednesday stopped at the Chinese market, allowing us to shop for an hour. I am not in a shopping mode, as I hardly intend to carry stuff around the world for six months, but by the time we arrived at the Market I was famished because I had skipped breakfast. I went from stall to stall until I found something that looked good and just held out a wad of bills, allowing them to take what they needed to pay for my meal. I knew it was some kind of seafood – turned out to be a sort of Crawdad over rice with vegetables and hot sauce. They have the best hot sauce here! I perched on a small blue plastic stool as I wolfed down the food, while all the locals grinned and nodded at me.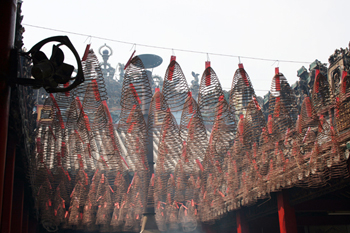 I went to the most amazing Buddhist temple in Chinatown. The courtyard was filled with smoke from incense stuck in giant clay pots of sand and prayer coils hanging from the ceiling. The coils are like giant mosquito coils; the end is lit by the priest on behalf of the person who has a prayer request, then the coil is hung from the rafters, sending its smoke up and out the open roof in its journey to honor the ancestors and ask for their help. I fancy myself a Buddhist; at least it is the closest thing to what I believe, so I found this place incredibly moving and too a few moments to kneel in front of the Buddha altar and give thanks for all that I have been given.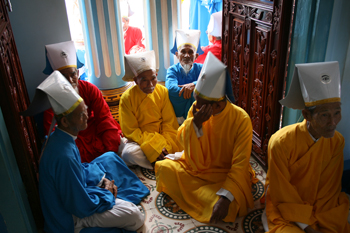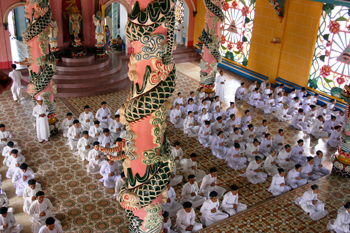 Yesterday I took a second tour to locations in the countryside about 80 kilometers northwest of Saigon. Out first stop was the Cao Dai Temple, a sect that merges Buddhism, Confucianism, Taoism, traditional Vietnamese spiritual beliefs, and Catholicism. We arrived just as a worship service was beginning and were allowed into the upstairs galleries to view the procession. It is a most beautiful temple and I think the photos below speak far better than any words can describe.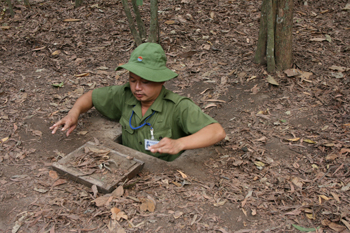 In the afternoon we headed for the Cu Chi Tunnels. These are underground tunnels that were used by the Viet Cong during the war. Upon viewing the tunnels I began to have a greater appreciation for the enormity of the task that faced the US forces during the war. This tunnel complex is less that 50 miles from Saigon, which was the headquarters of the American forces during the war. Yet nearly 10,000 guerrillas lived in these tunnel complexes, undiscovered and unreachable. There was no way to know if the person sitting next to you in a cafe was a South Vietnamese supporter or a Viet Cong. There were many people in the South who did not support the war and they didn't wear signs on their foreheads saying, "Look, I am the enemy." It was so terribly futile. I had the opportunity to crawl through a section of the tunnel that was 30 meters long and I couldn't wait to get out. It was hot, stifling, and so dark you couldn't see your hand in front of your face. I inched along until I got to the first exit. Almost everyone in our group left at the 30 meter mark; only three hearty souls did the entire 100 meters.
The party line here (pun intended) is that the Vietnamese people never wanted the help of the Americans. In fact, before we were allowed into the tunnel site we were ushered into an auditorium and made to watch a God-awful propaganda film that vilified the actions of the Americans, featuring photos of mangled bodies and children maimed beyond recognition by chemical burns, etc. I walked out and refused to watch it. Instead, I sat on the steps and talked to our guide. I asked him where he is from and he told me he was born in Saigon. I then asked if he was here during the war, or if he was too young. He looked round furtively, then leaned over and whispered in my ear, "I was officer with South Vietnamese Air Force and they send me to US for specialized training in communications. That why my English OK." He asked me why I wasn't watching the film and I told him I didn't need to watch his government's propaganda about the Americans being baby killers. "What that word mean?" he asked. I explained that propaganda is a message that the government wants to put forth, regardless of its truth. He pulled out a notebook and asked me to write down the word so he could improve his English. At the bottom of a long list of words that had been written by tourists who had come before me, I added the word propaganda. He added "film" behind that and then wrote a note to himself in Vietnamese so he would remember what it means. I am quite sure that on his next tour he will incorporate some spiel about the "propaganda film" that everyone must watch before going into the tunnels.
One thing I must add, though. I don't mean to suggest that any of this is done in an accusatory manner. Vietnamese love Americans and welcome us with open arms and easy smiles. It's just that they were the victors and the victors write the history. This is their version of the truth and mostly, it's not too far from the truth), but it omits any mention to an entire population that was in favor of the war and wished to withdraw from Communism. History does have its quirks, though. After being one of the 10 poorest countries in the world for many years, the Vietnamese government, in 1986, changed their policy and opened up the country to foreign visitors and investment. Since that day, the country has moved inexorably toward capitalism. I wonder whether this would have happened if there had never been a war, or if in some way, the war was a catalyst for this eventuality.
Well, I am soon to be homeless, so I must finish for the moment. I decided to stay one more day in Saigon before heading for the coast and my hotel is full, so I have to hit the streets to find a room for tonight. More later. In the meantime, I've posted lots more photos on a separate page. Simply click on the "Photo" button on the left hand side and then scroll down until you find the link for the Vietnam page.