No sooner had my feet hit the ground in Sydney, Australia, on Friday morning than my friend, Jane Walker, whisked me off to the Sydney Writer's Festival. This is the third largest Writer's Festival in the world, after Wales and Edinborough. Jane was attending to hear her friend, Claire Scobie, give a presentation about her recently published book, "Last Seen in Lhasa: The True Story of an Extraordinary Friendship in Modern Tibet." This book relates the story of Claire's seven journeys to Pemako, Tibet, where the myth of Shangri-La was born. Initially she went in search of a rare red lily. She never found the lily but she met Ani, a Tibetan nun who is a member of a vanishing sect that conducts their religious practice as wandering nomads, living in bone-chilling caves with only the clothes on their backs and a few meager possessions. Over the years, Ani risked arrest and persecution to maintain this enduring friendship. Now Claire, having made the decision to go public with the book (and with Ani's consent), knows she may never again be allowed back into Tibet to see this incredible woman, who has made such an impact in her life. Claire's book is available through Amazon.com.
Jane knows that I am passionate about writing – especially travel writing – and knew I would want to attend as well. It was thrilling to be in the company of so many successful, published authors. Incredibly, following the afternoon session, Claire and her mate, Aden, invited Jane and I to tag along to a reception that Claire's publisher was having for their authors. We walked from the Writer's Festival to the reception, crossing under Sydney's illuminated Harbour Bridge and rounding the corner for my first view of Sydney's famous waterfront Opera House. Just beginning to peek over the white sails that comprise the roof of the Opera House was the most beautiful full moon I have ever seen. We passed through 'The Rocks,' the very oldest part of Sydney, where old brick mills and warehouses have been converted to shops and restaurants and eventually arrived at the Museum of Contemporary Art, where the reception was being held. On the sixth floor terrace of the Museum, with wait staff serving gourmet hors'd oeuvres from silver trays, I got to hobnob with a bunch of successful writers and publishing types (how I hope this can be me one day!) while watching the beacon moon rise in the sky over Sydney's Harbour and downtown skyline. I can't imagine having a better first day anywhere in the world.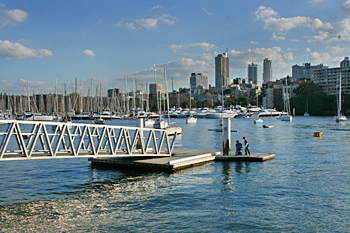 Yesterday, I decided to take it easy. Every now and then when I a traveling I need to take a day to just relax and regroup. I caught up on my email and online bill paying, bought groceries for dinner, and took a walk around Jane's neighborhood. She lives a quick 20 minute bus ride from the city center in Rushcutter's Bay. With the downtown skyscrapers providing a backdrop for the lovely blue bay and marina, homes here have stunning views, thus real estate in this part of town is in high demand. I enjoyed a leisurely two hour stroll along the bay and up into the hills surrounding it, hoping that I would run into Nicole Kidman, who is perhaps the most famous resident of this neighborhood. Alas, no Nicole, but I did have a lovely walk.
This city is simply delicious! Not only is it great for extended holidays, it's the perfect base for taking weekend getaways from Sydney. In just the two days I have been here I've discovered a well-developed cultural scene. Museums, dance troupes, theater, playhouses, etc. are all in huge supply. Every restaurant has vegetarian options on the menu. The variety of fresh produce available at the grocery store was mind-boggling (although everything is priced in kilos and it took me a while to figure THAT one out). The people are friendly and the prices seem more affordable than in New Zealand. Public transportation is excellent. Even the weather never gets too cold here – I am walking around in shirtsleeves again. I could really learn to love it here……