Originally I had intended to stay only two days in Saigon, so I crammed a couple of tours into the last couple of days to see everything that was highly recommended by the intrepid travelers on the Thorn Tree Forum at Lonely Planet. But I rather like Ho Chi Minh City, formerly Saigon, and felt I wasn't quite done with it, so I decided to stay another day. Therein lies the beauty of unscheduled travel. The only problem was that my hotel was booked up and didn't have a room available for an additional night. And that is an example of the challenge of unscheduled travel. You have to be able to roll with the punches and not get upset. My mantra – which works for me – is, "Everything happens for a reason." So I checked out of the Indochine Hotel, stashed my luggage behind their front desk, and headed out in search of new digs. I've purchased an "Open Tour" bus ticket through SinhCafe that allows me to hop on and hop off the bus wherever I like and resume my travels with a day's notice. I leave early tomorrow for Nha Trang, so I figured it would be better to have a room close to SinhCafe anyway, since that's where I board the bus.
I found a hotel two doors down from the agency (based upon their recommendation) and by noon I had retrieved my luggage and was settled in. This place, the Lan Anh Hotel, is not as nice as the last one but it's in the heart of the backpacker district, so it is dirt cheap – are you ready for this – $13 per night. And yes, it's air-conditioned and has a window. It's a bit noisy, but that doesn't bother me. No Internet connection in the room but there's an Internet Cafe next door where I can plug in my laptop. Sweet! I think if I ever came back I'd stay here rather than the Indochine because there are great restaurants up and down the street, not to mention a fabulous juice store across the street where I can get a large banana coffee smoothie for about 35 cents.
I was drawn to stay another day because I believe you can never get the full flavor of a city until you walk it. I didn't do that right off the bat because I wanted to feel more comfortable before striking off on foot. Between the city tour I took on Wednesday and a couple of days of observing what was going on around me, I felt confident enough to hit the streets this afternoon. One thing that strikes me about this city is that it is so clean. There is no litter or graffiti; no smells waft up from the sewers. Every day, brigades of government workers sweep the streets with long-handled brooms made of bundled twigs, leaving the trash in mounds every 100 feet or so. A second worker follows with a handcart, into which the trash is placed, but only after the recyclable cardboard is separated and flattened into bundles. The infrastructure is good and there is new construction everywhere: office buildings, bridges, highways, etc.
I decided to walk to the Cho Ben Thanh Market, just half a mile away. Along the way I had an opportunity to lean against a lamppost and snap some shots of the girls on motorbikes who are covered from head to toe – thought I'd share one with you: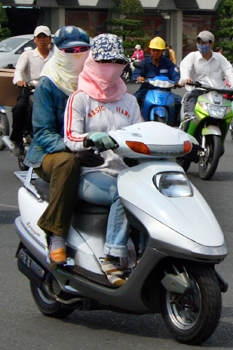 I had heard several people rave about the Cho Ben Thanh Market but I was less than impressed, perhaps because I have been to the Bangkok Flea Market, which is nearly a half-mile square and offers everything from live bait to giant robots made out of discarded auto parts. Although I did not intend to buy anything, I ended up with two Capri pants. I have packing down to a science and am carrying only a 22″ carry-on and a backpack for this entire six-month trip but both are loaded to the gills. Really, I have packed too much but I will be visiting New Zealand and Australia in the late fall and early winter, so I needed to take clothing for both hot and cold climates. My other problem is that I am losing weight (I always do when I travel) and the clothes I packed are all getting too big on me – not big enough to throw away just yet, but I'll soon need smaller sizes and these Capris are just the ticket. Where I am going to put them, though, is a mystery. Guess I'll have to unpack, jettison a couple of unnecessary items, and repack tonight.
After the Market I decided to head for the river and make my way back to the hotel along the waterfront. Unfortunately, there was no view of the river because an eight-foot high corrugated steel wall separated the street from the river due to construction along the waterfront. Instead, I concentrated on the neighborhood. Here I found what I had initially expected – some trash strewn around and the ubiquitous stray dogs, piles of construction materials in front of half-finished structures, even an occasional beggar. But not bad, certainly nothing like India. Lots of people had set up shop on the sidewalk, selling everything from vegetables to motorcycle parts and there were food stalls every few feet.
I tried to walk on the sidewalk but between the merchandise and the hundreds of motorcycles that had been parked on the sidewalk it was impossible, so I walked in the street. At one point I had to cross an extremely busy highway and did so in true Vietnamese fashion. I waited for the slightest break in the traffic then walked right out into the street, holding my arm straight out from my side and waggling my hand up and down as a signal for the cars to slow down and let me cross. Worked like a charm!
Just down the street from my hotel I walked by two young men who were squatting down on the sidewalk, engrossed in a board game that reminded me of checkers. I walked on by but then couldn't resist and turned around to snap a photo. It was then I saw the circular marks on the lower back of the younger man. Earlier in the day, as I'd climbed into a taxi to retrieve my luggage, I'd noticed a woman sitting in a plastic chair on the sidewalk with red, circular marks on her upper arms. I assumed that she had a bad case of ringworm but when I saw this young man with identical marks I realized that the marks were from "cupping," an ancient Chinese healing technique where a small glass (such as a shot glass) is inverted over a candle until the air inside the glass is heated up. The glass is then quickly applied to the skin. From the heating, the air inside the glass is lighter than the air outside, so the glass sticks to the skin. The premise is that the pressure of the suction brings the blood to the surface, which is thought to be healing. My acupuncturist on the Outer Banks performed cupping on me three times and it left marks just like these on one occasion, but it did indeed help alleviate the pain in my shoulder.
I've just returned from having dinner – a dish called Bun, which is a big soup bowl full of broth, seafood, vegetables, bean sprouts, and rice vermicelli, along with a large bottle of water and a pot of coffee. The price was 39,000 Dong, or $2.44 US (one of the pricier meals I've had). As luck would have it, I made a friend at dinner. The man sitting at the table next to me was alone as well and we struck up a conversation. As the evening progressed, Danny finished his meal but stuck around to chat while I finished mine. Eventually, the restaurant needed his table, so they asked him to move over to my table. It was a delightful conversation and we exchanged emails. I look forward to staying in touch with him, as he lives in Oregon. One of the best things about travel is the people you meet. In fact, on this trip I am going to either visit or stay with friends from Thailand, Bali, and Australia I have met on my travels. And I have offers to visit other friends in Israel, Scotland, Japan, and China, all of whom I met while traveling.
Tomorrow I'm headed to the coast to relax on what is regarded as one of Vietnam's most beautiful beaches. It will be a welcome respite from the craziness of the city.